You don't know my Nana. But she is ultra-chic with fiery red hair, and she lives in an apartment in which every closet is bursting with what she calls "old things" and I call "treasure."
So when I started working in fashion, I knew almost immediately that in some way or another, I had to get her involved. After all, she has pretty much taught me every fashion truth I know to this day. When the opportunity to bring her along to Nanette Lepore's Fall / Winter 2015 runway show came up, I knew it was go time.
9:20 AM: I arrive at Port Authority. To my delight and surprise, Nana's bus has not pulled in yet. POINT FOR ME!
9:25 AM: Nana gets off the bus. I make her pose for a photo in Port Authority. She says "Stop taking photos of me... Let me see the photo."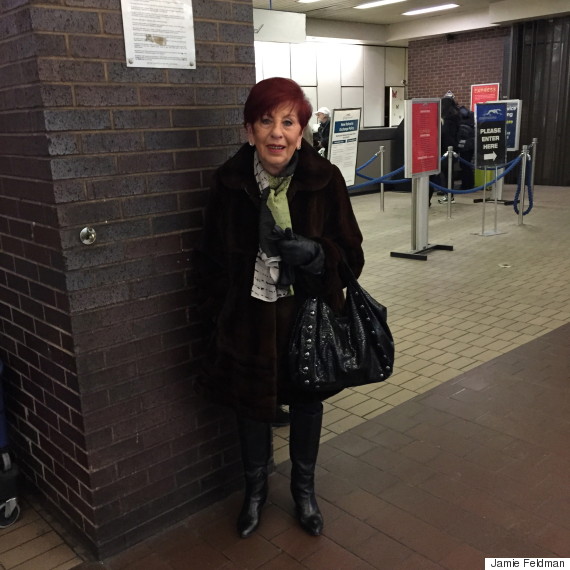 9:26 AM: I suggest walking to 9th Avenue, which runs downtown, the direction we're headed, instead of waiting with the crowd on 8th.
9:30 AM: There are absolutely no cabs on 9th Avenue. Nana says "I thought we should have stayed on 8th Avenue." We are both very cold. She then says "No gloves?" POINT REVOKED.
9:35 AM: I call us an Uber. Nana has no idea what an Uber is. It's surge pricing, but Nana's nose is starting to run so YOLO.
9:36 AM: I spot a cab! Crisis averted and Uber cancelled. Sorry, Uber.
9:40 AM: I make Nana take a selfie with me in the cab. She does not like selfies. She tells me she walked in a runway show for a store once.
9:42 AM: Nana asks about the holes in my jeans. "But why?"
9:50 AM: We arrive! Our interview with Nanette is not until 10:15. I worry we won't have anything to do until then. I am wrong.
9:52 AM: We are escorted downstairs where backstage prep is happening. Models are in hair and makeup. There is a lot to take in, but first, coffee and croissants.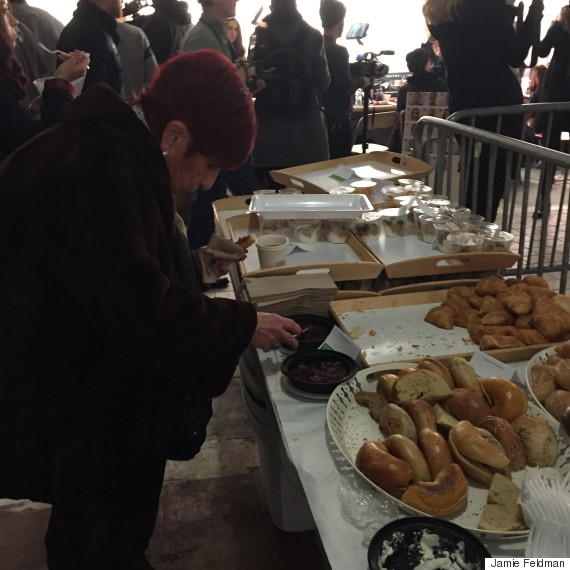 10:00 AM: I chat with one of the models and tell her I've brought my Nana to the show. She is one of many people I will tell that to today because well, everyone thinks it's adorable and quite frankly I think Nana gets a secret kick out of it. The model I'm talking to, whose name I find out is Mick, also loves the idea. She tells me she can play Scrabble or crochet with Nana. I tell her Nana is not into those things. They hit it off immediately.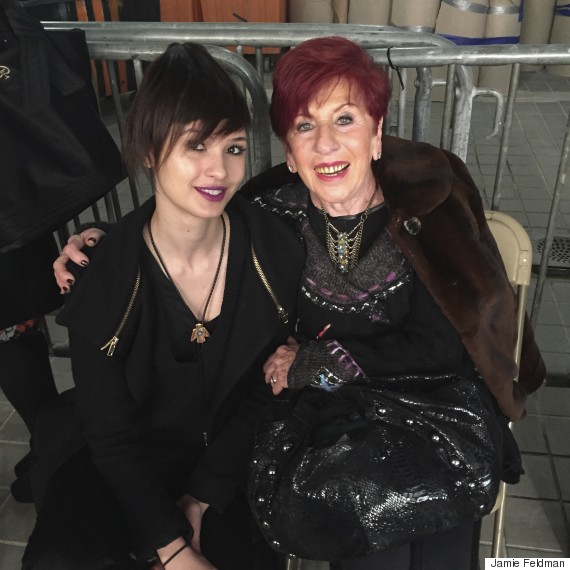 10:15 AM: Time for our interview with Nanette! Nana tells Nanette she loves her clothes but they are too small. I am both embarrassed and get a kick out of this. #NoFilter
10:20 AM: Nana listens on while I chat with Nanette about her collection. Nanette tells us it is meant to feel like a "private women's club." When asked why that is, she explains, "It's the best time to be a woman right now. It's all about women supporting each other, rising up and taking power. I'm having a lot of fun as a designer because you can still have a career, be very serious and rule the world and still love fashion." As a strong, independent woman, Nana LOVES this.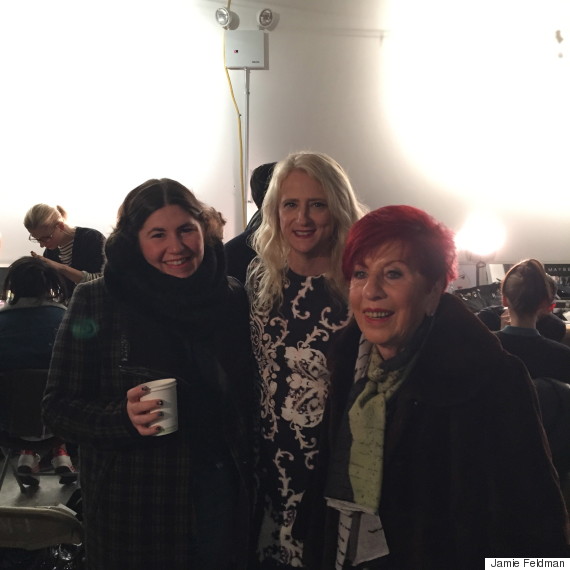 10:30 AM: We pick a bit more at the catering and I introduce Nana to some more people who dote on her. I can tell she loves this even though she is pretending to be embarrassed. I can also tell she is proud of me in this moment, which is wonderful as I spend most of my time thinking of new ways to impress her.
10:40 AM: A very nice woman from the Elizabeth Arden Red Door Spa (which has been hired to do hair for the show) hands me a paper explaining hair how-to. Nana says she wants to take it home to give to Paul. Paul, of course, is her faithful hair stylist.
10:45 AM: An hour is a very long time to be backstage, and we (Nana) is starting to get restless. But I hear that my boss Arianna Huffington is making her way over to the venue, so I make Nana stick it out a little longer. A photographer takes a photo of Nana and tells her he LOVES her hair. She can't wait to tell Paul.
10:50 AM: Nana meets Arianna! They make jokes about their accents, we all take a photo. Everyone is very happy at this point.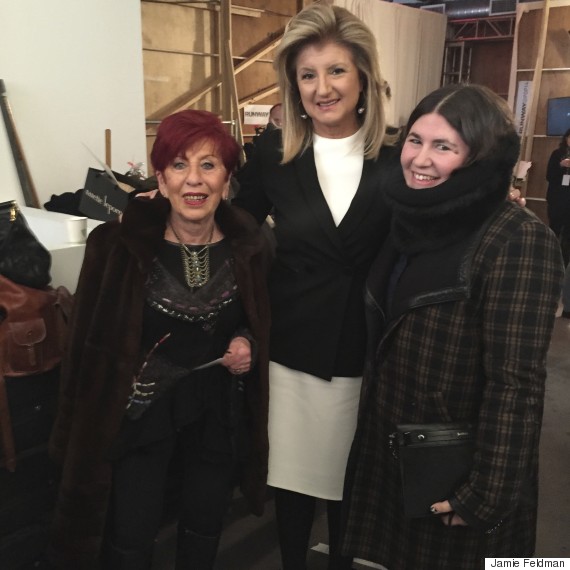 11:00 AM: We go to our seats. I introduce Nana to Michelle, who is also wearing ripped jeans. I am very grateful for that.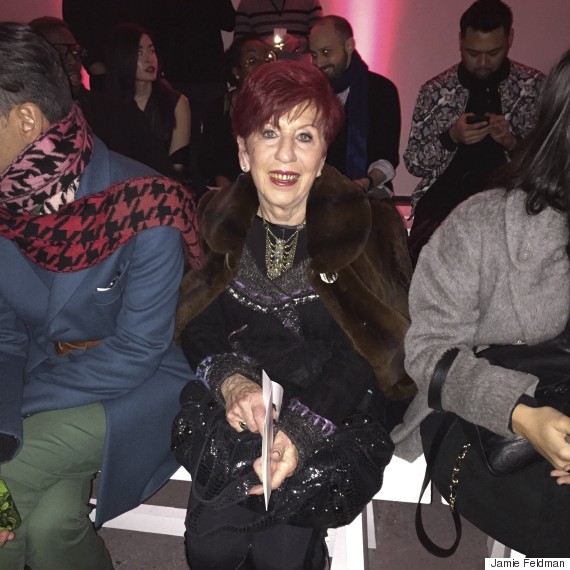 11:15 AM: Nana is confused as to why the show hasn't started yet. I tell her shows never start on time. This does not seem like a satisfactory answer.
11:30 AM: The show starts! Nana is talking to me but I can't really hear her over the music. I am catching snippets of "so skinny," "socks with sandals?" and "I like that."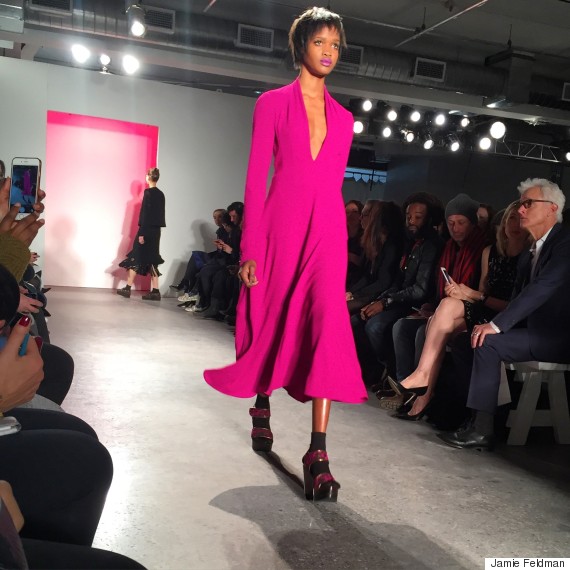 11:40 AM: The show is over. "THAT'S IT?" she asks. I explain to her that a fashion show is like a wedding. It takes forever to plan and five seconds to execute. I immediately regret opening the door to talking about weddings.
12:00 PM: I take Nana to Jack's Wife Freda for lunch. She is the one who told me about the restaurant a few years ago, but claims I am making that up. I'm not making that up.
12:20 PM: We order shakshuka and it's green. Nana has never seen green shakshuka before. She is not sure how to feel about it. I think it's delicious.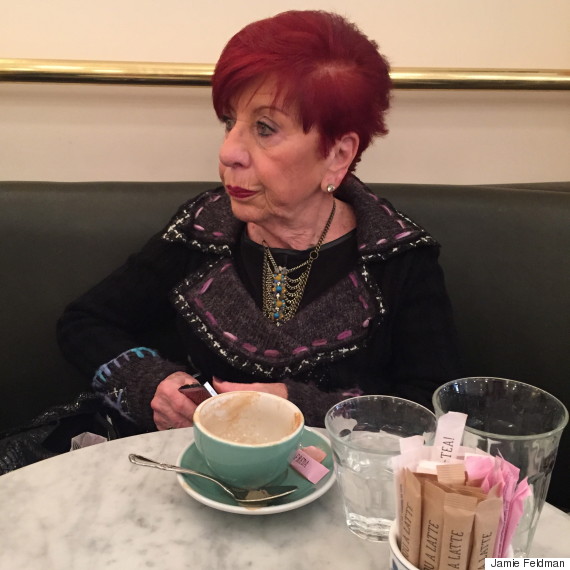 1:00 PM: We make our way back to Port Authority and say our goodbyes. Nana goes home and I go straight to the office to have photos printed for her. I say I think her first fashion show was a success and she AGREES! Because if there is one thing we can agree on, it's fashion.