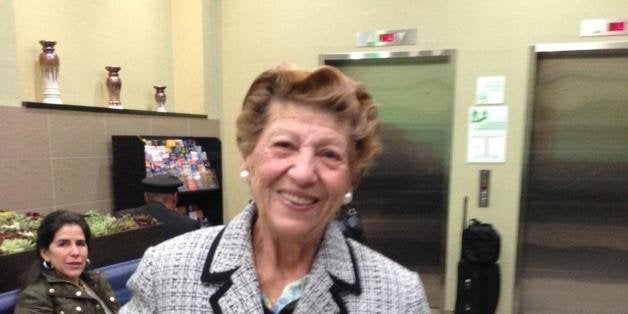 When one grandma got lost in a foreign country, a stranger with a huge heart came to her aid.
Rosa Levy, 88, from Buenos Aires, Argentina, was visiting her family in Boston. She was headed home on Oct. 31 via a connecting flight from JFK airport in New York that she'd flown on a dozen times before. But this time, her flight was delayed until the next morning. Levy does not speak English and was without a cell phone so her family panicked, not knowing where she was or how to reach her.
"This had never happened before in all the years of traveling through JFK," Leila Wons, Levy's granddaughter, told The Huffington Post in an email. "We learned that the airline had given the passengers vouchers to go to a nearby hotel but 2 hours later, my grandmother still had not checked in."
Knowing that her alma mater, Wellesley College, has a very active online community, Wons reached out to alums through Facebook. Less than 15 minutes later, Maryann Ford, who lives in New York City, responded to the frantic plea Wons posted, and offered to take a taxi to the airport in search of Levy. After hours of searching, Ford finally hunted down the 88-year-old at a hotel and escorted her back to the airport, staying with her until she was able to board her new flight.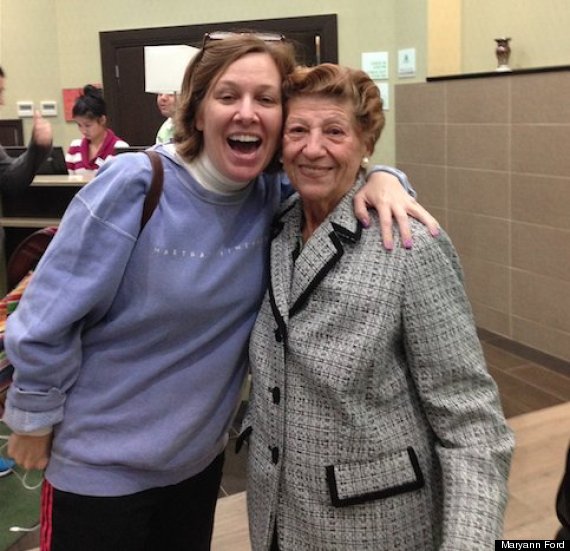 Ford and a safe and sound Levy.
"Leila's grandmother is 88 years old and speaks no English and does not walk well. That is a real emergency to me. She needed help," Ford told HuffPost in an email. "I would certainly want someone, friend or stranger, to help me to make sure that my loved one was safe and comforted if it was I that was looking for help and sending up a bat signal like that."
The search for Levy was no easy task. Armed with a photo of her, Ford first looked around the airport to no avail. She eventually found a manager who was able to confirm that the 88-year-old had gone to a nearby Holiday Inn. However, when Ford reached the hotel, the staff had no record that Levy was staying there. So, Ford turned to the police for help.
"I called the police and they ... got the hotel to show them their registry, start calling rooms and then show them security camera footage ... to see if they could see [Levy] entering the hotel at any point that night," Ford said.
In the early hours of the next morning, Ford finally spotted Levy coming down the hotel stairs. The pair went back to the airport together where Ford kept Levy company until her departure, and made sure her worried family members knew she was safe.
"Not knowing the language and being scared in a big city, my grandmother didn't have the staff call us when she arrived," Wons said. "My grandmother describes Maryann as an angel who did not leave her side until she was safely at the airport, on her way to the departing gate."
Wons said she was grateful for Ford's help, and since she's gotten to know her a little better, she realized the good deed was not out of character.
"I couldn't have imagined that a complete stranger would have so selflessly helped us in this way," Wons said. "She donated a kidney to a complete stranger a few years ago ... that's the kind of person she is!"
REAL LIFE. REAL NEWS. REAL VOICES.
Help us tell more of the stories that matter from voices that too often remain unheard.
BEFORE YOU GO
PHOTO GALLERY
LOOK: Edmonton Grandma Knits 1,000 Hats