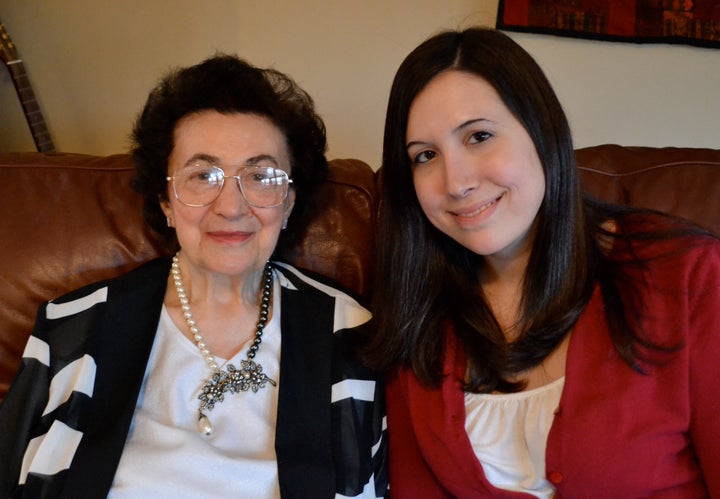 Never, ever have anal sex, and find the happiness you deserve.
Those are the loving words of Grandma Carmela, who sought to share her wisdom with her granddaughter, Alison DeNisco.
After inquiring about the sexual experiences of her then 20-year-old granddaughter, Grandma Carmela put pen to paper to relay experiences from her past and share some rather intimate relationship advice with DeNisco.
"I want to give you my thoughts and hints on sex and love and a few lessons about people, from your grandmother who has been there to you who are just beginning," she wrote in the letter, which DeNisco first published on Nerve.com.
DeNisco, now 22, said she's always had an open, friendly relationship with her grandmother, who she describes as "very much a character."
But when DeNisco stumbled upon the letter, she had mixed feelings about the information, which included advice about oral sex, pre-mature ejaculation, and the importance of foreplay.
"This is hilarious, really funny and very sweet too," DeNisco told The Huffington Post in a telephone interview.
The letter includes tips, such as the following few examples:

4. Always make sure the man's penis is CLEAN. Make sure he washes it with soap and water before coming to bed.

6. Never, never do ANAL sex! You can get diseases, especially if after anal, he goes vaginal. Also ORAL sex is dangerous if there are cuts in your mouth, or sores. Men love it. Don't swallow his SEMEN! You can get throat STDs. There is no cure for herpes. Chlamydia and gonorrhea have no symptoms and can leave you sterile. You both would need antibiotics!

7. Some men are pre-mature ejaculators; that is very frustrating and bad for the female. He needs help to learn to control himself until the female is ready.

8. There should be foreplay to get the girl ready. As you get older, more experienced, you can skip all that and it is over in 7 minutes.

16. Hope you find the happiness you deserve. There should be love, respect, admiration, trust, and a mental and physical connection. If you find "true love," you will live happily every after. That is true.
Denisco explained that Grandma Carmela, who turns 87 on April 27, married someone who wasn't her soulmate, and believes it's important for women to learn about love and sex so they can choose the perfect partner.
Beyond the blunt advice regarding hand jobs and gold diggers, DeNisco said she recognizes that the core of the letter is what's important.
"I know it comes from a place of love," DeNisco told HuffPost. The advice, however, "should be taken with a grain of salt."
The grandmother, who has two other grandchildren, has also written a letter to DeNisco's younger brother, though his note dealt more with relationship advice than sex tips.
So, what does Grandma Carmela think about her words of wisdom being made public? She's totally thrilled, DeNisco said.
Click through the slideshow below for pictures of Grandma Carmela's letter.
Calling all HuffPost superfans!
Sign up for membership to become a founding member and help shape HuffPost's next chapter
BEFORE YOU GO
PHOTO GALLERY
Grandmotherly Sex Advice