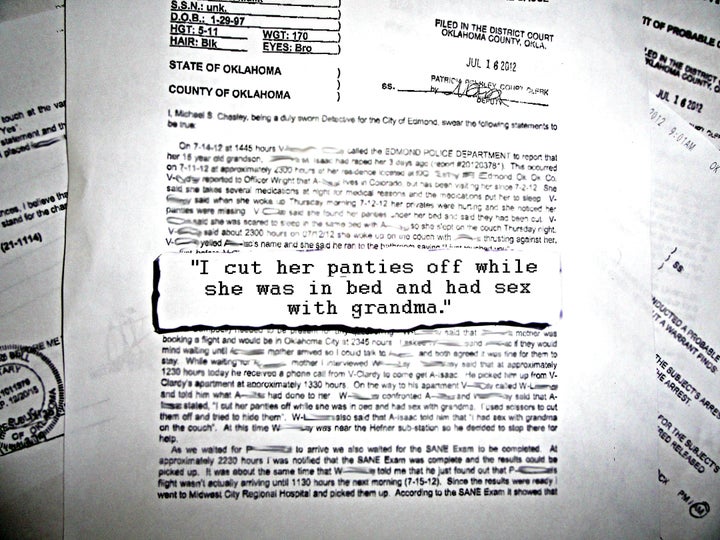 A 15-year-old boy has been accused of raping his grandmother while she was asleep, according to police in Oklahoma.
The boy, who is not being identified by The Huffington Post due to his age, allegedly admitted to committing two sexual assaults against his 59-year-old grandmother. According to the arrest affidavit, the youth told a relative that he "cut her panties off while she was in bed and had sex with grandma."
The 59-year-old woman told police that her grandson, a resident of Colorado, came to stay with her at her Edmond, Okla., home on July 2. The woman said that for medical reasons, she takes several medications, which put her to sleep. She told police she noticed something wrong when she awoke on the morning of July 12.
"Her privates were hurting and she noticed her panties were missing. [She] said she found her panties under her bed and said they had been cut," Edmond police officer Michael Chesley wrote in the arrest affidavit. She was uncertain what exactly had occurred.
The next night the woman slept on the couch. This time, she awoke during the alleged attack.
"She woke up on the couch with [him] thrusting against her," Chesley wrote. "[She] yelled [his] name and she said he ran to the bathroom saying, 'I just touched you.'"
The grandmother told her son what had apparently happened, and he confronted his nephew. The boy allegedly admitted both incidents. Of the second assault he allegedly said, "I had sex with grandma on the couch," according to the arrest affidavit. The uncle then transported the boy to a local police station.
A sexual assault exam found that the woman's genitals were "tender to the touch." The area of the form that asks whether there had been vaginal penetration by a penis was checked "yes."
The teenager, who could not be questioned until his mother was flown in from Colorado, faces a charge of first-degree rape. Contacted by HuffPost on Monday, an official with the Oklahoma County court clerk's office said the boy is being held at the Oklahoma County jail in lieu of $25,000 bond.
REAL LIFE. REAL NEWS. REAL VOICES.
Help us tell more of the stories that matter from voices that too often remain unheard.
BEFORE YOU GO