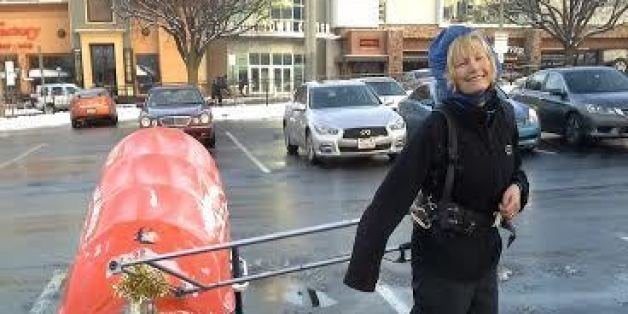 Watch out America! If you see a 68-year-old grandmother running down the highway pulling a bright orange cart behind her, it's just Rosie Swale Pope. Rosie is a global adventurer who, having completed a five-year solo, unsupported 21,000-mile run around the world -- in which she stared down frigid Siberian winters, hungry wolves, crazy ax-men and desolate loneliness -- is now tackling America.
While her previous adventure was to help raise public awareness of early detection for prostate cancer -- a disease that claimed the life of her second husband -- this U.S. trip is actually more personal in nature, she said. She told The Huffington Post -- after we caught up with her on the road about 20 miles outside Washington, D.C. -- that what she wants to do is not just run across America but run into America. She wants to hear the stories of the people she meets along the way and will give voice to them in an upcoming book. She has camped with the homeless, shared meals with first responders, and spent hours in the company of soldiers who have returned from war. She meets families in coffee shops and strikes up conversations.
That bright orange cart she pulls? It's named "Icebird," and is a conversation-starter onto itself. People are regularly drawn to the strange-looking cart emblazoned with the words, "God Bless America. Running for a Cause. Completed: 27 marathons in 27 days." And yes, she actually did finish 27 marathons in 27 consecutive days. And she didn't start running until she was 50.
So who is this woman, grandmother to two, and global adventurer? Much has been written about Rosie, but here are a few of her accomplishments: Besides that epic five-year run around the world in which she raised money for charities, she's also broken the record for completing a solo transatlantic voyage, traveling in a 17-foot boat; she speed trekked to the Mount Everest base camp; completed the Marathon des Sables, considered the "Toughest Footrace on Earth" -- twice; and she rode 3,000 miles on horseback from the Atacama desert to Patagonia. She also ran 1,000 miles -- unsupported -- across the lava deserts and glaciers of Iceland. Queen Elizabeth named her a member of the British Empire -- an honor a step or two below being knighted.
But this run across America is less about the journey and more about the conversation. She wants to tell the stories of Americans who fly beneath the public radar. "At my age, you can't wait for the world to come to you. You have to come to the world," she said.
Icebird, the Amish-made lightweight aluminum cart that she pulls behind her as she runs, is a big icebreaker. "People stop me and ask about Icebird," she says. Icebird is more utilitarian than that though. It also houses her sleeping mattress and laptop and a small stove, which on the day we spoke she had forgotten to turn off and almost caused a fire. Rosie, who speaks as rapidly as she runs, considers it all part of the adventure. She began this journey in October in New York and will end it in San Francisco, anticipating that it will take nine months to a year to complete. She runs alone, has no support car trailing behind her, doesn't travel with an entourage, and has no set itinerary except to follow the spirit as it moves her. Icebird doesn't lock, so she also travels with a strong faith in humanity. She relies on the free WiFi available at donut and coffee shops and a cell phone to communicate and picks up paid speaking engagements along the way -- although she mostly speaks for free. She won't accept cash from well-wishers who she inspires along the way, but instead tells them to give it to their favorite cause or charity, not her.
But people do help her in a "million different ways," she said. Living literally on the road makes things like delivering copies of her international best-seller book, "Just a little Run Around the World," difficult. "Where do I have them sent to?" she asks. Meals are frugal affairs since her budget is small -- there but for the kindness of strangers could be her motto. And those strangers range from a Princeton professor who invited her to speak to his class to the disheveled homeless woman who offered her some extra clothing. She recalls the homeless man in Newark, N.J., who told her about his dream of going to barber school and another who cautioned her against sleeping in a particularly dangerous doorway. "If you give up, it never gets any better," Rosie believes. "I'm a happier person because I've gone on and done challenges."
Everyone has a story, she said, but not everyone has a listener. Her challenge this time is to be that listener.
Her message is that the human spirit can triumph over every adversity. "This journey is to celebrate community and lending a hand. I am finding the people who don't get written about and listening to their stories," she said. The stories will be told in another book that she is writing, the title of which came from a man she met: "It's Time To Get Out My Three Ferraris: Every Little Step Is A Big Step."
Ferraris? Yes, the man on the street said he has two -- his right foot and his left foot. "You though," he told Rosie, "have three." The third one? That would be Icebird.
She asked that anyone interested in meeting her or having her speak to a group, email her at rosie@rosieswalepopw.co.uk or call her at (201) 626-0494.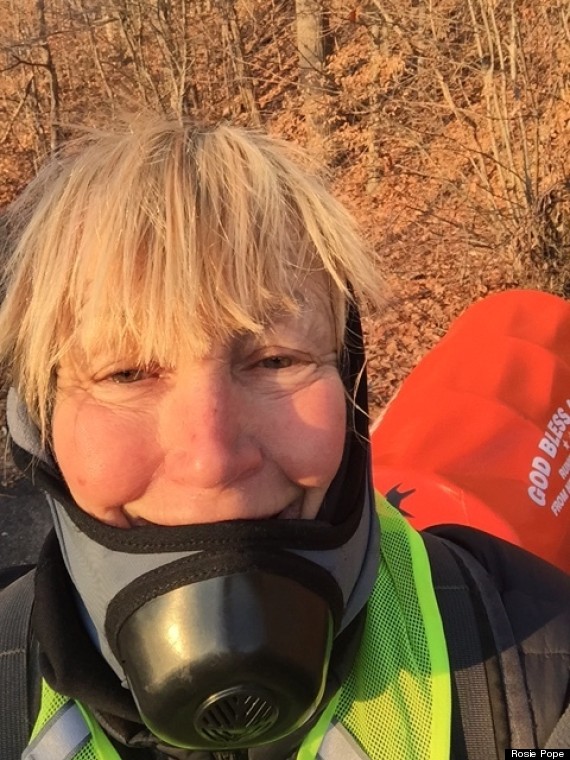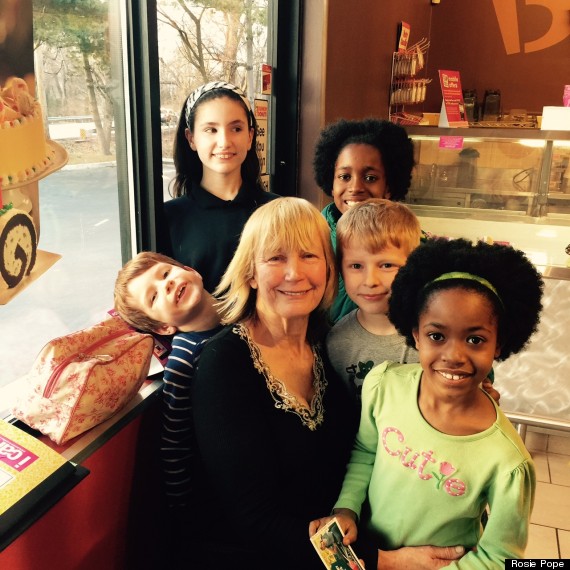 Calling all HuffPost superfans!
Sign up for membership to become a founding member and help shape HuffPost's next chapter
BEFORE YOU GO