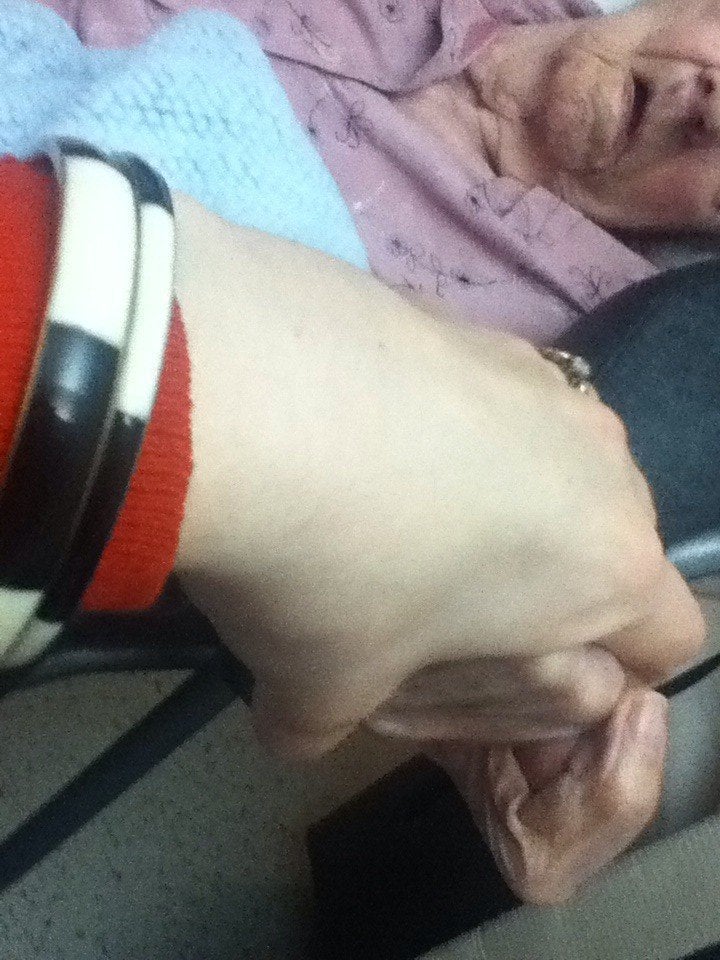 When I was a young girl I loved my grandmother's stories:
The time the gypsies came to her family's farmhouse and her parents weren't home. She and her preteen sisters had to think fast, offering bread and random trinkets to the gypsies. They were terrified and tried not to get killed. After the gypsies left from living in their barn, there were rags full of, well, the things we use for Tampax today. This story both fascinated and horrified me, and I wanted to hear it often. I loved the gypsy story.
The time she was, you know, 41 weeks pregnant, and the doctor said, "I think you look big for your gestational age (or whatever they called it then)!" An x-ray and a day later, my grandmother was holding two perfect, newborn beautiful babies. Those babies are now 75 years of age.
The time my oldest brother Nathan was about my daughter Phoebe's age and a butterfly landed on his finger. He screamed a blood-curdling scream, horrified at this beast sitting on his person. I think there was more to the story but I loved to hear about my brother as a baby before I was born.
The time my 2-year-old father overheard that his mother needed cream. Off he went in his little frog overalls, two blocks away to the corner store. "Cweam!" He exclaimed to the clerk, ever the go-getter. "Cweam for my Mama!" My grandma would laugh, telling me that wasn't she surprised when a kind neighbor brought him back with a story to tell. In those days, one mother was everyone's mother.
I visited Grandma Bea today. I looked around at her room; the outdated pictures of the family members she so proudly displays, the clock that sat over her dining room table for so many years and I hope to have overlooking mine. The porcelain birds music box that plays "I'd like to teach the world to sing," and the Bible she read every day for years and years and years until somehow, her mind lost track of the days.
I told my grandmother each and every one of those stories, sitting in that room. I cried on the blanket that covered her and I wondered how many granddaughter-tears the care center washing machines had washed out of that particular nubby thing over the years.
My grandmother squeezed my hand as I spoke, reminding my heart of her Molasses cookies and her silly jokes and her obsession over cleanliness. Whenever I sang, no matter how out of tune it was, she would croon, "Beautiful! Just beautiful!"
She loved the song "The Yellow Butterfly," and I would play it over and over again for her in our living room in Cedar Rapids, sunlight shining through the slats in the plantation shutters.
I remember my grandmother having to endure shock treatments for depression in the 1980s, and how scared and frightened I was because my happy-go-lucky rose-colored-glasses grandmother seemed to be gone. She reappeared, and only later in my life did I feel a kinship with her when my own struggle with depression and OCD began.
As a child, I would lay my head on her lap and she would exclaim over how pretty the hair right in front of my ears was. She would stroke it until I fell asleep.
I held my finger on her wrist, right over the spot where the heart sends the blood rushing through the vein and tells the checker that there is still life in that body. I told her that she could go, that her life was long and good and right and that she was going to get to meet Jesus and I was just a little bit jealous of that.
I told her how much my dad, her son, loves her...and I named each of her children, their spouses and descendants by name (it took a long time, it did). I told her what a pleasure it has been to be her granddaughter, and that our relationship is not over, it's just on pause.
I told her how proud I am of my father for taking such good care of her, for being the son he is to her and the father he is to me. She pointed somewhere far off in the room and said, "Mama!" and I whispered in her ear, "Go to your Mama. Your Mama wants you to come with her."
I cried and so did the hospice nurse.
If I am being honest with you, I am crying now.
That's the way we spent the afternoon, only it wasn't her telling the stories...
And the resounding theme in those stories was tears on a blue blanket.
REAL LIFE. REAL NEWS. REAL VOICES.
Help us tell more of the stories that matter from voices that too often remain unheard.