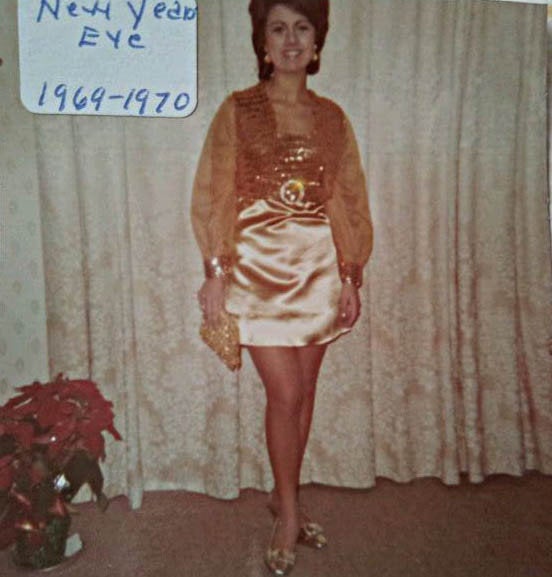 When I was growing up, my grandmother was one of the most important people in my life. She was always around to help, nurture and love everyone in the family. Her name was Lucy, but to her grandkids she was known as "Grammie." It was as if there was nothing that she couldn't do. From raising a family of five to being a loving wife, mother and grandmother, Lucy seemed invincible. Her forte, however, was making clothing. She was and always will be one of the most talented women I have ever met. She was a self-taught sewing dynamo without any formal training, and no sewing project was too difficult for Lucy. (My mother's wedding dress is proof of that.) It wasn't long before I realized that I was the one who inherited her talents, as I got the designing bug around the 5th grade.
When I started actually making clothing in high school, I could sense how proud she was of this gift she had passed on to me. Music was also always a huge part of my upbringing. With several musicians and vocalists in the family, I too was planning on pursuing a singing career after I graduated. Yet another thing that Luce (as I would playfully call her sometimes) and I bonded over was my voice. She would cry every time she heard me sing. (Tears of joy, I swear!) But a diagnosis of epilepsy in 2004 held me back from pursuing much of anything at all that year. My most memorable times with Lucy came the following two years after my diagnosis. I had a lot of time on my hands with nothing to do but get my seizures under control and take it easy. Lucy, my mom and I would spend many days getting lunch, followed by trips to the fabric store. My poor mother, bored to tears, would listen to Lucy and I ogle at all the fabrics together as if we were seeing some magic that only existed for the two of us. But what started as outings to browse fabrics inadvertently jumpstarted my career in the fashion world. In 2007, I started Venni Caprice, my handmade clothing endeavor.
In 2008, one of the most touted events of Boston Fashion Week was Fashionably Late Thursday at the Liberty Hotel. Within moments of arriving at that event, I knew I wanted to eventually show Venni Caprice there. It was the most interesting "catwalk" set up I had ever seen -- the models would circle the second-floor balcony above us, take an elevator to the bottom floor, and then ascend from the escalator to the lobby floor where the onlookers waited. Bouncers would lead each of the models to five points of the room to stand on the reception desks. People gathered around as the women stood five feet off the ground, towering over us like goddesses. What a novel idea! It was like a hurricane of models and gowns swirling around the room all at once. You weren't sure where to look first, but you knew at any five corners of the lobby something fabulous was happening. I didn't know at that time that doing this show in the future would be one of the best and most meaningful nights of my life.
My grandmother was diagnosed with cancer later on in 2008, and after months of struggling she passed away on Christmas day of 2008. A light in the world had gone out, but I was determined to keep it alive with my company as a tribute to her. A week after Lucy left us, my father was diagnosed with cancer. He passed away a little more than a year after my grandmother. I took time to grieve the unimaginable loss of two of my closest loved ones, and process the past three years in which Venni Caprice had been put on hold. After some time, fashion and work became a priority again.
In 2012, a conversation with my good friend Julie, the managing editor for a local television station called Dirty Water TV, sparked a plan for Dirty Water to cover Venni Caprice's first Fashionably Late event. I told her how long I have imagined having a show there, so we set up a meeting with Liberty hotel manager for the night of a Fashionably Late Thursday in early November to discuss the details. The meeting covered the backstage process and finding a date to book Venni Caprice. I knew exactly when I wanted to have it. January 10th was Lucy's birthday, and I couldn't think of a more appropriate date. We booked it immediately. The holidays seemed to fly by with toasts to loved ones of the past and present, and quiet background prepping for the upcoming show.
January 10th arrived, and the turnout for my event was literally shocking. After the show began, I went down to the lobby to watch the first round of models. While walking through a sea of familiar faces, I found my mother who was recording the show. I looked up and saw my clothing on the five models in the five corners of that room. It was at that moment that I lost my breath. I got tears in my eyes while taking it all in. After all the years of thinking about how this night would go, it was finally here, on my grandmother's birthday. I could truly feel the importance of the moment, and her spirit approving every dress that came around that catwalk. I said a silent thank you to Luce, whose subtle touches I could see in my own work around the room. My mother mentioned earlier in the day that my grandmother would have been 90 years old. More friends than I even knew I had showed up to see a talent that had been passed on to me, come to life, that one woman brought to this earth almost a century ago.