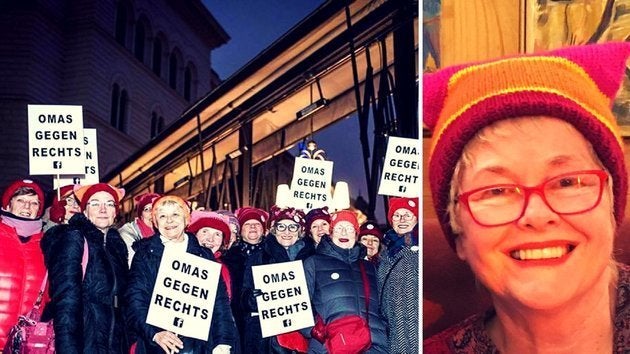 We see what is happening and we won't look away. We are the generation promised that the horrors of the last century would never be repeated. We are the generation that had a future. Now we are seeing the futures of our children and our grandchildren hanging in the balance. We are not going to let that happen.
Together, we are part of "Grannies Against the Right," an organization of older women in Austria established on Facebook in November to fight for democracy, equal rights and tolerance.
The 2017 Austrian elections, which saw our country turn sharply to the right, were the spur for this new movement. For years the far right, anti-immigration Austrian Freedom Party, or FPÖ, has been trying to influence voters with its disgusting slogans and policies. Now it is part of Austria's coalition government.
Our culture, one of openness and communication that we slowly and laboriously built after the war, is being destroyed. The FPÖ wants to cut spending on labor, social welfare and families. It wants to crack down on immigration and asylum seekers, denying work permits to those seeking and those granted asylum. It plans to make Austrian citizenship a precondition for being entitled to the minimum wage, and it stands against anti-discrimination measures aimed at ensuring gender equality.
This isn't just an Austrian issue. Across Europe we are seeing a shift to the right. Democracy is not the right's playground. Doing anti-democratic things in the name of democracy is abuse. To say we don't care about democratic laws while using democracy to justify one's own crude ideas is abuse.
Unfortunately, this has an effect on many people. Many in Europe seem to be rudderless and in despair. People have become numb, even toward each other. Those on the right take advantage of this with their poisonous ideology, which spreads because people are looking for a strongman who can fix everything.
We have to drive the extreme right back for the sake of our democracy. That is what is spurring us on. We are fighting back. We are taking to the streets to stand up to right-wing populists and hate. We're protesting the destruction of the welfare state, the destruction of the achievements of Austrian democracy, and we stand for the rights of everyone to a dignified life.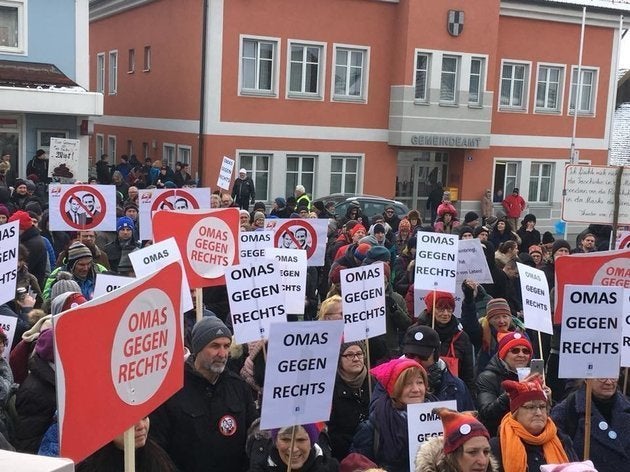 Many people see us as old and irrelevant. They think we don't care. But that's not true. We are the postwar generation – we know firsthand that societies can change and that there is power in speaking up. We saw this in our own mothers and grandmothers. They were strong, feminist women who had an active voice in shaping a strong, inclusive Austria.
We want to be a megaphone for others. By going out into the streets and opening our mouths, we are challenging the cliche of the old, defenseless granny. No one reckoned on assertive old women like us.
And we see the power in this every day. Our children and grandchildren support our fight. Many young people come to our demonstrations. They see us as role models ― a sign of hope. They see our fight as a reason to take to the streets themselves. Student protests are seen as normal, but when grannies do it, that's unusual.
We want to bring change. We're fighting back. We are calling for reform to our educational system, which segregates children as young as 10, instead of encouraging all their talents until they are 14, and then separating them according to their vocational directions. We want to challenge the strong rural-urban gap, which sees serious investment only in cities, leaving rural areas adrift. We want to fight for better child care and against gender discrimination, so women can work and have economic and personal independence.
At the moment, our nation takes none of these issues seriously.
The positive news is that we are convinced that our democracy is stronger than it was in the years after the war. Then, so much of Europe had fallen, and the power vacuum was enormous. Things are different now. Every demonstration we have held is a joy and we are reaching people all over Europe, who are offering support to our cause. We're stronger now. We will win.
Salzer and Scholl's essay, as told to Uschi Jonas, was translated from German for the U.S. edition of HuffPost.
For more content and to be part of the 'This New World' community, join our Facebook Group.

HuffPost's 'This New World' series is funded by Partners for a New Economy and the Kendeda Fund. All content is editorially independent, with no influence or input from the foundations. If you'd like to contribute a post to the editorial series, send an email to thisnewworld@huffpost.com
Support HuffPost
The Stakes Have Never Been Higher
Related
Popular in the Community