By contributing writer Noorjehan Asim for KidSpirit's Myth and Magic issue.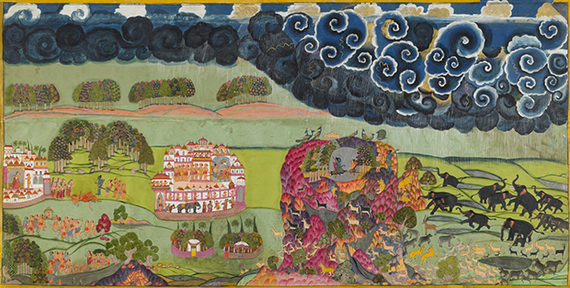 I've always had a soft spot for the surreal.
My fondest childhood memories are of my grandmother's dark bedroom, dimly lit by a row of candles. Despite Pakistan's notorious ups and downs with power generation, this darkness was deliberate.
During my childhood, evenings were a gateway to a world beyond toys and television. The tedium of everyday life of school and chores was replaced by story time, a time when my grandmother, my sister, and I huddled around our candlelit table. My grandmother had the most interesting tales to tell. I remember the admiration I felt for her, the way she seamlessly wove together tales of magic, mystery, and emotion. She told stories about princes and princesses, wars and giants, deserts and conquests, grasping our seemingly short childish attention spans.
One story that resonated with my sister and me was about a prince, an heir to the throne of a vast kingdom who traveled across a harsh desert to rescue his childhood sweetheart from a ferocious giant. This was our favorite tale. It had the perfect mix of action, drama, and romance; we could almost picture the prince dueling with beasts in the scorching sun.
My grandmother told stories that were immersive, evoked strong emotion, and concocted the perfect atmosphere. This was, indeed, the art of storytelling.
My grandmother's mastery over this art made story time a pure delight. The most distinct feature of her stories was that they were laden with references to our culture and heritage. Having spent six years of my childhood in the United States, I was well acquainted with the Brothers Grimm and Aesop's Fables. Yet amid these other tales, my grandmother worked to keep our own culture alive. I found myself drawn to the world of sultans and jinns, stories of Mughals and their courtyards, their wars and conquests. I was introduced to an entirely different view of my culture and the history behind it, a world beyond the average fairy tale. These stories brought me close to my heritage, fueling my desire to learn about where I came from.
Developing this sense of self became increasingly important for me as time went by.
I experienced many changes when I was a child. Upon moving back home from the United States, I was exposed to an entirely different lifestyle in Pakistan. I moved into a new house, was surrounded by new people, and struggled to grasp an entirely new language. One constant that remained throughout was the time my sister and I spent with our grandmother. Every day until her death, we visited her house, our senses startled alert with the wonderful, vivid legends she narrated.
Her stories taught me how to imagine worlds where the impossible became reality. It became easier to associate with the world around me once I learned to love the fragments of my culture that she imparted to us through her stories.
When I was 11, she lost her battle with lung cancer, and I lost my most prized companion. Life became dull; there were no more stories to tell -- no candle-lit rooms, nothing to look forward to as the days drew to an end. I threw myself into studying mythology to keep her memory alive. I took an immense liking to Greek legends and, with time, found myself stacking books that highlighted the land of gods and monsters in intricate detail.
Yet something didn't feel right.
I had explored cultures of lands all over the globe, and was no stranger to the world of the Aztecs, the Celts, the Vikings, and the Romans. But in my quest to find refuge in stories that reminded me of my grandmother, I had somehow managed to overlook the ones from my own land. I remembered how my grandmother fondly spoke of the Mughals, how my very own namesake, Queen Noorjehan, was part of a vast empire with an illustrious past.
I embarked on a journey to find epics and sagas from my own culture. In time, I stumbled across the legends of Amir Hamza.
An 8,000-page compilation of short stories detailing the life of its protagonist, Hamzanama, as our people call it, is said to be the Iliad of the subcontinent. It is the longest single romance cycle in history, filled with innumerable subplots and a cast of dragons, giants, jinns (spirits), simurghs (griffins), sorcerers, princesses, flying carpets, and urns. Every story chronicles the struggle Amir Hamza faces while trying to go home to his love, Mehr Nigar.
Hamzanama was reminiscent of the stories my grandmother told me as a child: a prince gallantly roamed Asia in search for his true love, who was being held captive by an archenemy. The tales were so loved by the Mughals that the last surviving transcripts were said to be in Akbar the Great's possession until the day he died. Through Amir Hamza's travels I learned of the world of Mughal India, with its obsession for gardens, its love for poetry, and its refined food and mannerisms. Amir Hamza encapsulated the aura of adventure and grandeur for which the empire itself is remembered today.
In every story I see my grandmother.
A particular favorite is the story of Hell-Cave Bano, a powerful sorceress, who captures Mehr Nigar and tries to trick Amir Hamza into killing himself. The sorceress tries to kill the protagonist by deceiving Mehr Nigar into entering a dingy cellar. Her son, Bakhtak, one of Amir Hamza's companions, is unaware of his mother's intentions. The sorceress lies to him, telling him the princess she has kidnapped is dead. Amir Hamza, in a valiant quest to avenge the death of his beloved, teams up with fire-worshipers and jinns to attack the witch at her headquarters. After the untimely death of Bakhtak during a fierce battle, Amir Hamza spares the life of the sorceress, leading to the ultimate release of Mehr Nigar.
Above all else the story shows the merits of kindness and forgiveness, which are qualities my grandmother exemplified. With the unique setting, the action, and the drama, it was almost as if the time spent huddled before our candlelit table with my grandmother suddenly reappeared. As if I were allowed to relive the happy moments whenever I wanted.
Mythology creates a world so distinct from ours that it allows us to exercise our imaginations, even in moments when we feel the most alone. It helps us to look into the lives of others, relate to fictional characters on a spiritual level, and realize that we truly aren't the only ones experiencing inner turmoil or intense emotions.
Amir Hamza's stories also hold special significance for me because of the way in which they effortlessly prove the existence of immortality. Amir Hamza's stories live on among today's generations of Indians and Pakistanis all over the world. In a way, I learned that, despite her physical absence, my grandmother, too, lives on in the stories she told.

Noorjehan Asim is in the 12th grade at Lahore Grammar School in Defence, Pakistan. Her hobbies include debating and reading. She is particularly interested in anything related to film, music, and literature, especially Greek mythology.
Calling all HuffPost superfans!
Sign up for membership to become a founding member and help shape HuffPost's next chapter