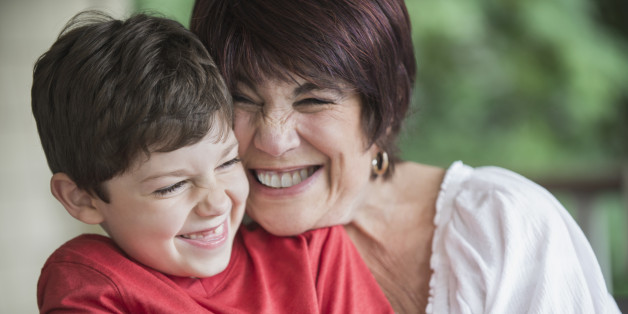 Grandparents love chiming in on baby names for their grandkids -- but there's just one thing that's more important to a grandma or grandpa-to-be: what the grandkids will be calling them.
And there are grandparents at all ends of the spectrum. Former President George H.W. Bush and wife Barbara are lovingly called "gammy and gampy" by granddaughter Jenna Bush Hager. Some are cultural, like Nonna and Nonno in Italian or Yaya and Pappous in Greek. Some want to ditch the term "grand" altogether. The ageless Goldie Hawn doesn't want the title, calling it a "word that had so many connotations of old age and decrepitude." She prefers to be called "glam-ma."
We asked our Facebook fans what creative and unique names their grandkids have come up with for them and got a huge response. So if you're looking for something different, here are some ideas:
1. G.G. or G. Mom suggested several readers.
It could be short for your name, as suggested by 'Grandma Gayle' Tauger, or 'Gorgeous Gram' as Darlene Farnsworth suggested.
2. Nene and Pops, said Denise Loritsch.
3. Noni, said Joni O'Steen Farmer.
4. Honey, said Susan Lane.
"I have a friend who's grandchildren call her Honey because that's what her husband always calls her. So "sweet"!" she said. Susan Sarandon has also said this will be her nickname of choice when her first grandchild arrives sometime this year.
5. Meme, said Karen Leal.
Leal says her 22-month-old granddaughter had trouble saying grandma so this was what came about. "It's cute and it stuck," she said.
6. Bamma and Boppa, said Alisa Johnson.
"My mother was thrilled that my kids called her and my dad "Bamma" and "Boppa" when they were little...She's so sad that the kids don't use them anymore," Johnson said. D'aww!
7. Gigi, said several readers.
Bonnie Nutt said it's short for great-grandma in her family.
8. Mimi and Bobo or Bompi, said Sheryl Baron and Carol Peterson.
While Mimi is fairly common, the grandad nicknames were just something the kids came up with -- which is half the fun, we think!
9. Neenaw and Papaw, said Cynthia Lucas Walker.
We love the Southern vibe of these!
REAL LIFE. REAL NEWS. REAL VOICES.
Help us tell more of the stories that matter from voices that too often remain unheard.
BEFORE YOU GO
PHOTO GALLERY
Should Grandparents Be Paid For Babysitting?