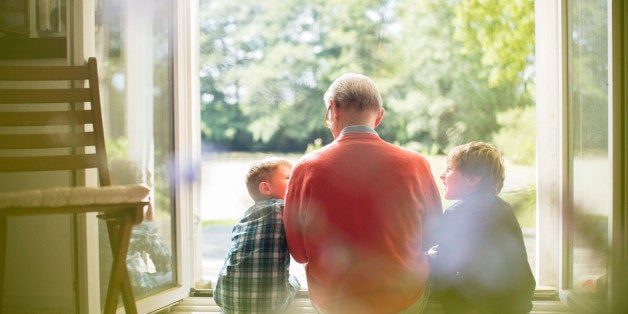 We are going to be spending the holidays at my parents and I am dreading it. They don't have any respect for our rules about sugar or bedtime or clearing up from the table. It takes days for us to get our kids back on track after we have visited them. Help!
Many grandparents feel it is their right or even their duty to become co-conspirators in breaking mom and dad's rules. While it can seem charming, parents often find it extremely upsetting. Not only are their children doing things they don't approve of, but they may find themselves revisiting childhood frustrations around not feeling heard.

Set realistic expectations. We often think that people upset us by their behavior, but the truth is, when we make peace with how people are--rather than how we think they should be--we find ourselves less impacted when they don't do what we want. One of the sanest decisions you could make would be to grieve for the ways your parents disappoint you while accepting that they may simply do life differently. Ironically, if you loosen the grip on needing your parents to enforce your rules, they may find themselves more willing to.
Look at what is getting stirred up from your past. I hardly know an adult who doesn't get triggered when they spend time with their family of origin. Use the challenge you have with your parents to identify past hurts that have followed you into the present. If you once felt invisible or that your wishes were disregarded, those feelings may rise up and dominate your current relationship with your parents.
Tell a new story. While it is true that your parents may disregard your rules because they aren't respecting you, can you identify other reasons they might indulge your children that have nothing to do with you? Many grandparents try to pack as many sweet memories into a few short days as they possibly can. Perhaps they want to appear special to your kids. In other words, their defiance of your standards may have nothing to do with you, and everything to do with their insecurity in the relationship they want with their grandchildren.
Look for the good. We often see the thing we are looking for. Make an effort to find two or three pieces of evidence that your parents do respect how you're raising your children. While they may give kids more sugar than you'd like, maybe you'll notice that they do make the kids brush their teeth after meals. Be careful about only finding proof to support your story about how they are undermining you and overindulging your children.
Make requests, not demands. Human beings are wired to resist being bossed around. No one appreciates being told what to do, or criticized for how they're conducting themselves. Choose one rule that you would especially like your parents to stick to and invite your folks to join you for a chat about your visit. Start with the positive--the things you appreciate about them and are looking forward to during your time together. Then make a simple request--and be clear. "Mom, Dad, I'm so glad we're going to get to have time with you next week. The kids can't wait! I really want us to have fun, and have one request: Would you help me keep them on their bedtime routine? We generally have them in bed by 8:00, but maybe we could stick to something no later than 9:00? I'd really love your support on this."
I wish you and yours a very happy holiday!
If you'd like more ideas or tips, please join me for a free, interactive webinar this Wednesday or Thursday about how to help children manage aggressive behavior more successfully at home. I look forward to meeting with you online and answering your questions! Click here for details.