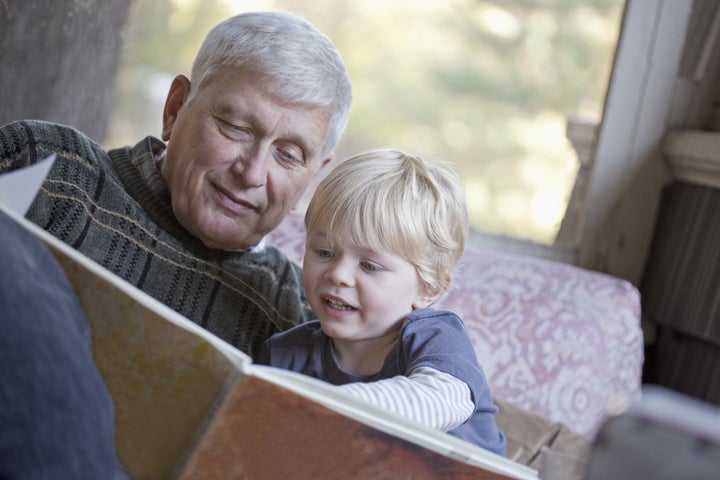 Most wars are declared by old men but fought by the young. But our war on poverty asks everyone to get into the fight. ~ Sargent Shriver, 1966
In 1964 President Lyndon Johnson appointed Sargent Shriver to serve as director of the War on Poverty. Both men understood this was a war this country could not lose, and one that would ultimately lift countless men, women and children of all ages out of poverty. The goal was not to coddle, but to empower; provide people with the tools to help them build and sustain a good life. Out of that idealism came such successful and recognizable initiatives as Head Start, Job Corps, VISTA, Community Action Program, Legal Services to the Poor, and Foster Grandparents. Together these programs continue to support the diverse range of Americans, from the youngest to the oldest. They also serve to bridge the times of need in between.
Spending time with families and sharing gifts and cards should be an important and special part of Grandparents Day. But let's also consider it a new call-to-action. Older Americans are an able and critical segment of our great society, who, through their active wisdom and engagement have much to offer. They can help create a more prosperous future for the most vulnerable among us.
The Foster Grandparent Program was launched as a pilot in 1965 and was designed to reduce isolation among the growing number of older adults. It also provided low-income seniors with a small stipend and an annual physical exam in exchange for volunteering 20 to 40 hours each week. Today, the program is housed at the Corporation for National and Community Service (CNCS) as part of the Senior Corps programs. More than 29,000 foster grandparents now contribute 24 million hours each year tutoring and mentoring more than 232,000 young people in schools, correctional facilities, child care centers, hospitals and other locations. Those extra pairs of caring hands have demonstrated remarkable success: 81 percent of young people in the program have improved academically, while more than 90 percent have a greater self-image.
We've seen similar successes with intergenerational programs open to elders of all income levels. Unfortunately, all those programs combined are not nearly enough to keep pace with a rapidly aging, yet able society. By the year 2030, 72.1 million Americans are projected to be 65 and older, more than double the number in 2000. Imagine if even 10 percent, or 7.2 million, of this cadre of older adults -- the healthiest and most educated ever to exist--wanted to volunteer with or on behalf of children and youth. Where would they go? How would they do it?
Sargent Shriver said Foster Grandparents worked for two reasons -- it was about human relationships and it was simple. We believe we need to enhance existing systems and build new, easy avenues for engagement. Only then can we call on this generation to join the fight to keep our country strong, fiscally sound and globally competitive.
How do we do this? We can begin by expanding volunteer opportunities, offering stipends so that low- or limited-income elders can give their time, and using more innovative ways to spark interest. As heads of non-profit organizations, we know, first-hand, that people of all ages don't volunteer because often they simply aren't asked. Or, if asked, they are enlisted for work they consider trivial.
So, let's make the "ask" easy. What are the entry points older adults share? Can we add a question to a Social Security application about interest in volunteering? When individuals pick up their prescriptions, can pharmacies also include a prescription for "happiness" that talks about volunteering and offers information about local volunteer opportunities? When financial planners help people prepare for retirement can they also ask about their clients' interest in volunteering? Can the federal government review each department to determine where and how older adults could help deliver its programs and services more effectively? The possibilities are endless as to how we can ask people of all means and abilities to, as one foster grandparent said, "Care where you can."
We know most older adults aren't ready for the sidelines. Foster Grandparents, AARP's Experience Corps and Encore.org are just a few of organizations tapping into the skills and talents of older adults. We must find more ways to help people engage in the community and give back, so we can build a better future for all. This Grandparents Day, let's begin a transition. Let's transform it from a day to honor older adults into a day to engage older adults. Let's keep it human and simple. Sargent Shriver wasn't afraid of daunting tasks if they led to good and healthy lives for people of all means and ages. We need to carry that faith and fight forward.
Mark Shriver is the Senior Vice President of US Programs for Save the Children, and is the author of critically acclaimed memoir of his father, Sargent Shriver: A Good Man: Rediscovering My Father, Sargent Shriver. Donna Butts is the Executive Director of Generations United.
Related