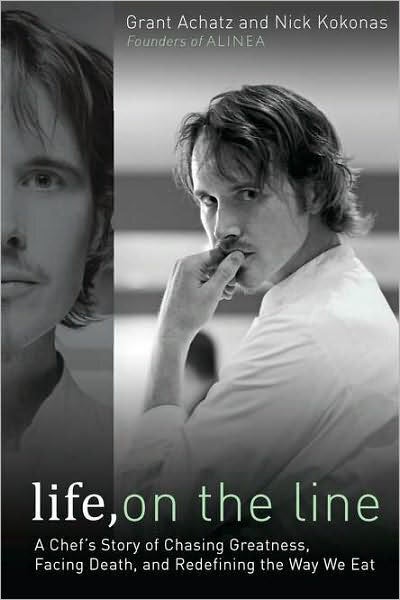 *Scroll down for an excerpt from Alinea Chef Grant Achatz's just-released memoir, Life, on the Line*
Float the idea that Grant Achatz's restaurant Alinea, one of the best in the world, isn't somehow a part of the local and seasonal ethos associated with much of the best cuisine in America and he'll quickly correct the record: "I think that might be one of the biggest misconceptions about Alinea, is that everyone thinks that because we're at the boundaries of, whatever you want to call it -- molecular gastonomy, progressive cuisine, modernist cuisine -- that we don't pay attention to ingredients. Which is simply ridiculous." Grant Achatz and partner Nick Kokonas were talking with Food52's Amanda Hesser Monday night about Achatz's just-released memoir, Life, on the Line (co-written with Kokonas), his still-young culinary career, surviving cancer, his upcoming projects, and of course, Alinea.
"Local, sustainable and organic are the baseline given of any great restaurant in america right now," Kokonas went on. "Alice Waters has won that battle, and we all do it, and it is the baseline. So whenever possible: local, sustainable and organic are it. But I dont want to read a menu anymore that tells me every farm name of everything it's come from -- I'm tired of that." Alinea's emotion-piquing creations are as inspired by the seasons as any restaurant in America with "Market" in its name, Achatz and Kokonas might have gone on (and nose-to-tail oriented, while we're at it), but there was more to cover:
On "doubling down" on Alinea while battling tongue cancer instead of withdrawing
Achatz: "Whenever people are faced with any sort of adversity ... they tend to gravitate toward things that make them comfortable, and things that they feel are important. And after the initial shock of being diagnosed with, not only what the disease was, but how late-stage it was, and the mortality issues of it, I think I did exactly that. Which was gravitate toward what I felt was improtant for me, and what made me feel comfortable, which was ultimately being in the kitchen, and being surrounded by the 65 people that were running that restaurant on a daily basis. Because ultimately that was like my living room. I spent 16 hours a day there, every day. And not only that, but was surrounded by the exact same people, 80-90 hours a week, so when people think about comfort zones, that was my refuge. To me it wasn't about going in to work. There was no work, because, that was the passion. I never viewed going in to the back door of that building as work."
Kokonas: "I think Grant's biggest fear was not that he would die, but that if he leaved, Alinea would die."
On modern cuisine and interaction with food
Achatz: "I feel like we're in the midst of another big shift in gastronomy, where molecular gastronomy, modernist cuisine, progressive cusine -- whatever you want to call it -- in a way, not that it's coming to an end, but it's moving past the focus of that. Where, now, at least at Alinea we're focused more on emotion and guest interaction..."
On additional misconceptions about Alinea
Achatz: "A lot of people focus on the difference of meatloaf and mashed potatoes compared to Alinea food, but they don't realize the similarities. And to me, it's simple: what you're doing, no matter if you're cooking meatloaf and mashed potatoes or you're cooking smoked salmon with charred pineapple and soy foam on an antenna that suspends the food 14 inches off the table's surface, it's really in a way the same thing: in that, it's delicious food that evokes emotion ... at the end of the day it's the same thing, and I think that's something people don't realize."
On designer and sculptor Martin Kastner, who has collaborated with Alinea on over 40 serviceware concepts and is currently developing glassware for The Aviary:
Achatz: "[Our collaborations are] not because of the aesthetic. The aesthetic is only one component of why Martin and I collaborate. Largely it's about the mechanics of eating, facing problems and serving food that can be solved by design, and emotion, making people feel a certain way, with the presentation, with the aesthetic, which is what we all do on a daily basis. But being able to break yoruelf away from a round plate, eating your food with a fork and a spoon -- it was new at the time."
On the genesis of Next
Kokonas: "The day that Grant was diagnosed, I drove down and ... he made me this duck breast, very French, and I said 'God, this is better than any French restuarant in Chicago, how'd you do that?' And he kind of looked at me and was like, 'That's what we do.' And I said we should open a French restaurant, then we came back to that later ... and you know, the guy can actually cook. It's not this smoke and mirrors thing. [After meals at his home] I'd say to him, you know, 'We should open an Italian restaurant, this is the best Italian food I've ever had,' and he'd say, 'Oh no, I'd get bored with that, I'd get bored with that.' And at some point I just blurted out, 'Why don't we just change it every three months?' And he said, 'No, it's impossible.' So that was sort of the moment where Next was born. ... Alinea's about innovation, this is about the exploration of cuisine."
On The Aviary
Achatz: "The best way to describe it -- our hopes are that it would be the equivalent of Alinea in food, Aviary will be similarly with cocktails. So we're kind of approaching it as: how can we rip this whole thing apart. What is a cocktail? What is a bar? Defining the various components and then putting them back together in a way we feel is creative and different and compelling. So, when you look at a cocktail, like, specifically, what do you have? Well, you have a vessel. How can we change the vessel? So then we look at Martin, and we say, 'Martin, what is a glass?' And he's like, 'What is the essence of a glass?'" ('Sounds terrible so far, Chef,' Kokonas interrupts, to laughter). "And all of a sudden you have something that doesn't resemble a glass at all but yet you're going to use that to consume a cocktail, and that's kind of the creative process."
The Call From Ruth

"Chef, you have Ruth Reichl on line two," one of the reservationists whispered to me as I peeled asparagus. I walked to the host area and saw the light for line two blinking; I grabbed the handle and pushed the button.

After exchanging greetings she spoke up. I was wildly and unexpectedly nervous.

"Grant, I don't know if you know this, but every five years Gourmet does a restaurant issue where we rank the fifty best restaurants in the country." I told her I recall seeing it back in 2001, and remembered that Chez Panisse coming in at number one and the Laundry at three.

"Well, the issue will come out this October, and I wanted to call you personally and tell you that we have chosen Alinea to be on the list." She paused for dramatic effect. "At number one."

I was speechless. Dumbfounded. Ecstatic. Every good emotion one can imagine, all at once. After trying to gather my thoughts, I thanked her profusely. I don't even remember hanging up. I'm not sure if I said good-bye.

I immediately called Nick.

"Dude. So remember how Ruth came in?"

"Of course."

"I just got off the phone with her. Turns out they are putting out a list of the country's fifty best restaurants in the October issue." I took a play out of her book and paused. "Alinea is number-fucking-one dude. Number one."

I immediately went downstairs and penned a thank-you e-mail to Ruth and sent it off the next day.

Ms. Reichl: It has been a day now, and your phone call has settled in. I hope I conveyed my excitement properly, but I suspect I was too surprised to do so. As I said to you before, I truly believed you would enjoy Alinea, but I never expected to receive such an honor. Two days before we opened Alinea I addressed the entire staff. I told them anything less than being the best in the country would not be good enough for us. Thankfully the majority of the people that were present to hear that speech are still at the restaurant. It will be a true pleasure for me tomorrow when we gather as a staff, open some champagne, and I have the opportunity to thank them all for helping me achieve a goal I have had for ten years. And more importantly, we individually, and as a team, can bask in the accomplishment . . . if only for a few minutes before the front door opens, and we are reminded of the responsibility we have. Best, Grant
For a look inside the Alinea kitchen, enjoy the video below (gastro-techno fans especially)
Related