Just a couple weeks ago, Alinea was named by Chicago magazine as the best restaurant in Chicaco. Ever.
A week-and-a-half after that honor, the UK's Restaurant magazine's annual list of the 50 best restaurants in the world was unveiled -- less of an indisputable hierarchy than a yearly snapshot of the 50 most culinary groundbreaking and impressive restaurants around. Nonetheless, Alinea came in at #7 on a crazily impressive lineup, and as the top American restaurant overall, beating out even Achatz's old stomping grounds and oft-cited best restaurant in America, The French Laundry.
And at Monday night's James Beard awards, Achatz and crew won in one of the only categories they were eligible for -- Outstanding Service -- Achatz having won the Beard Award for Outstanding Chef in 2008.
But before that evening had even gotten underway, Achatz had the food world buzzing once again. Over Twitter (see below) Achatz announced his long-anticipated next project -- nay, projects: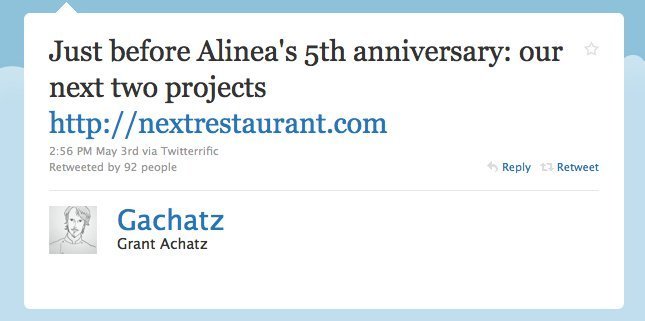 Both concepts are as original and bold as anything seen in quite a while.
Achatz new project the first: Next Restaurant (a restaurant, of sorts)
Next Restaurant will explore world cuisine. It is being developed by chef Grant Achatz, Nick Kokonas, and the creative team that built Alinea, including Crucial Detail designer Martin Kastner, Architect Steve Rugo, and Interior Designer Tom Stringer.

Next Restaurant will serve four menus per year from great moments in culinary history - or the future. Our team of chefs will investigate, test, refine, and present authentic menu interpretations from cultures, places and times. Depending on the cuisine, meals will be 5 to 6 courses and will include food, beverage pairings, and service.

Our goal each season is to present the best possible menu from each culinary inspiration. We want to take diners on a journey to the foods we find exciting, delicious, and important.
Price-wise, their goal "is to serve 4-star food at 3-star prices." Food will be in the range of $40 to $75 for an entire prix fixe menu, with wine and beverage pairings begining at a $25 supplement
Yes. Instead of reservations our bookings will be made more like a theater or a sporting event. Your tickets will be fully inclusive of all charges, including service. Ticket price will depend on which seating you buy - Saturday at 8 PM will be more expensive than Wednesday at 9:30 PM. This will allow us to offer an amazing experience at a very reasonable price. We will also offer an annual subscription to all four menus at a discount with preferred seating.

Two walk-in tables will be available every evening.

The tickets will be available via our website, and we are building the reservation system from scratch to ensure the best customer experience. It will be simple to use, efficient, and familiar to anyone who has booked a show or travel online.
Achatz new project the second: The Aviary (a bar, of sorts)
The Aviary won't sell tickets, but will operate on a walk-in basis, serving an alcoholic tasting menu of sorts, prepared by chefs, not bartenders:
The Aviary is neither a bar nor a lounge exactly. Or perhaps it is a bar without a bar or bartenders. Or a lounge without the attitude of a lounge. It is our version of where we want to go for drinks on a Thursday evening with friends who care about what they are drinking and eating.

We will have chefs and a kitchen producing drinks. The drinks will be innovative, beautiful, and consistent. Some will be classics, others will be informed by the menu at Next, still others will be something else entirely.
We think every great drink deserves a food pairing. Or perhaps every-other great drink if you are on a pace. So we will craft bites to pair with the drinks, much like we normally find drinks to pair with our bites.
The Aviary may open as early as this fall as well.