We first met Grant Faulkner at one of the greatest gigs the Book Doctors ever had, presenting our writing workshops in rural Alaska. There were eagles, there were bears, there were drunken sailors, and there were lots of amazing Alaskan writers. Going through the writing process bonds you with someone, and we feel like Grant has become part of our literary family. His new book, Pep Talks for Writers: 52 Insights and Actions to Boost Your Creative Mojo, is out now, so we picked his brain about what it's like running the amazing National Novel Writing Month organization and writing--and publishing--his own book.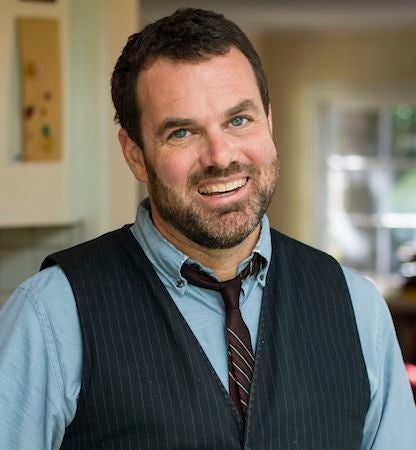 The Book Doctors: Why in the name of all that's good and holy did you decide to become a writer?
Grant Faulkner: I'm not sure that I had a choice. I've always felt like I was a writer. I took a fetishist's delight over paper and pens when I was a kid. My mom bought me a little antique rolltop desk when I was 6, and I wrote my first story on that desk. I asked for a leather bound diary for my 7th birthday, and I've kept a journal ever since then.
When I was 20, I was deciding whether to be an economics or an English major, and I fortunately spent a semester abroad in France before declaring. I whiled away most of my time in cafes reading novels and writing. When I returned home, I spent the summer writing stories in a little shack on my grandmother's farm. It goes without saying that I didn't major in economics, and the field of economics is the better for it.
TBD: What were some of your favorite books as a kid? What are you reading now, and why?
GF: The book that most changed my sense of the world as a kid was Crime and Punishment. I was too young to truly understand it, but I stumbled on it in the library when I was 13, and I picked it up because I was writing a paper on crime. Dostoyevsky showed me the many layers and paradoxes of the human soul in a way I hadn't imagined. I truly stared into the abyss. Raskolnikov still haunts me.
I just finished Leonard Cohen's biography, and I'm now reading his book of poems, The Book of Longing. I can never get enough of Leonard Cohen's voice in my head. I like the way the textures of his poetry influence the textures of my prose. I'm also reading Stranger, Father, Beloved by Taylor Larsen. I just met her, and I thought she was a fantastic person, and it turns out she wrote a really wonderful, probing book.
TBD: What was your inspiration for writing Pep Talks for Writers?
GF: I've talked to so many writers who want to write year-round, who want to finish their novels after National Novel Writing Month, but it can be challenging to keep writing. I think it can be a little like a New Year's resolution. People buy gym memberships in January and show up to exercise for a month or two, but then it's tough to keep going regularly the rest of the year.
I want people to prioritize creativity and develop a creative mindset so that they're not just creative in November, but every day of their lives. Creative on the page—and beyond the page. The book offers 52 different angles on creativity, so I hope people will read an essay a week and work to develop a creative habit.
TBD: What were some of the joys, and some of the pains, of putting this book together, finding a publisher, and getting it out into the world?
GF: I'd never written a nonfiction book proposal, so that was a learning experience. I didn't realize how involved the proposal would be. It was practically like writing the book itself—which was a blessing once I actually started writing the book. Fortunately, my agent, Lindsay Edgecombe, was a fantastic and generous guide.
Other than that, it was a great experience. I was fortunate to find a home for the book at Chronicle Books, which is the perfect publisher for it, and then I also had the perfect editor for it in Wynn Rankin. I hope the experience hasn't spoiled me for upcoming book projects.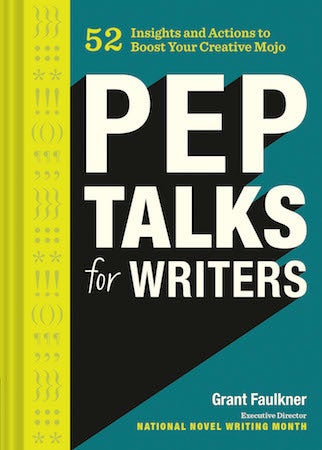 TBD: We give pep talks to writers all the time. What are some dos and don'ts of this very precarious activity?
GF: The interesting thing about being a writer is how intrinsically challenging it is, no matter if you're a beginner or a seasoned pro. The anguish of self-doubt is always looming. The difficulty of making your ideas come alive through your words never ends. There are so many how-to-write books that deal with the nuts and bolts of craft, but the thing that matters in the end is sitting down to write, believing in yourself, taking creative risks, and writing your story.
That's easier said than done, of course. Every writer, especially when finishing a long work like a novel, goes through cycles of despair. We all need to be reminded of why we're doing this crazy activity of making art, putting our voice into the world. It's easy to forget what a gift it is. It's easy to forget that we need to constantly nourish our creative spirits.
TBD: What are you doing to promote and market the book?
GF: So many things. It's been great to write articles on different creativity topics related to the book for publications such as Poets & Writers, Writer's Digest, and The Writer. I've been on a lot of podcasts and radio shows, which have been really fun. And then I'm doing bookstore events, tweet chats, presentations at colleges and companies, and then speeches at writing and publishing conferences.
My favorite part of my job is talking to people about their writing, and promoting this book has deepened those conversations, so I love it.
TBD: How did you learn to be a writer?
GF: I learned how to be a writer mainly by writing. I unfortunately didn't have a superhero teacher who mentored me along the way. I've read many writing guides and how-to books. I've taken writing workshops and even have a masters in creative writing. But I've learned most about writing just by showing up to write regularly, being in conversation with my favorite writers' books, and experimenting in different forms.
TBD: You've been running National Novel Writing Month (NaNoWriMo) for a few years now. What have you learned from rubbing elbows, and various other body parts, with all those writers?
GF: I've learned so much from the NaNoWriMo writing community. We writers tend to be solitary creatures, or that is how we often think of ourselves. And it's true, a lot of writing tends to happen in solitude. But if you trace the history of literature, you realize how it takes a veritable village to write a book. Think of Bloomsbury, Paris in the '20s, the Inklings, the Beatniks. The writers in those communities created each other as they were creating themselves.
Frissons of creativity tend to happen with others. When you engage with other writers, you're naturally combining an assortment of different concepts, elaborating and modifying each other's thoughts. Meeting regularly with others to write or get feedback is important, and not just for your creativity— it also keeps you accountable.
The NaNoWriMo writing community is such a wondrous playground of ideas. It's so spirited, so encouraging, so generous. It's not only made me a better writer, it's made me a better person.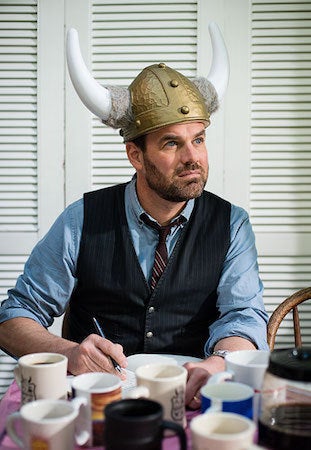 TBD: We hate to ask you this, but since your book is about writing, we kind of have to ask. What advice do you have for writers?
GF: Sit down. Try to remember the first story you wrote, the glee you took in exploring your imagination on the page. Hold onto the feeling of that gift and write. Write your story, your way—as if no one is going to read it but you. Write some more. And then keep writing, never doubting that the world needs your story.
Grant Faulkner is the Executive Director of National Novel Writing Month and the co-founder of 100 Word Story. His stories have appeared in dozens of literary magazines, including Tin House, The Southwest Review, and The Los Angeles Review. His essays on writing have been published in The New York Times, Poets & Writers, Writer's Digest, and The Writer. He recently published Pep Talks for Writers: 52 Insights and Prompts to Boost Your Creative Mojo with Chronicle Books. He's also published a collection of one hundred 100-word stories, Fissures, two of which are included in Best Small Fictions 2016. Learn more at www.grantfaulkner.com.
Popular in the Community