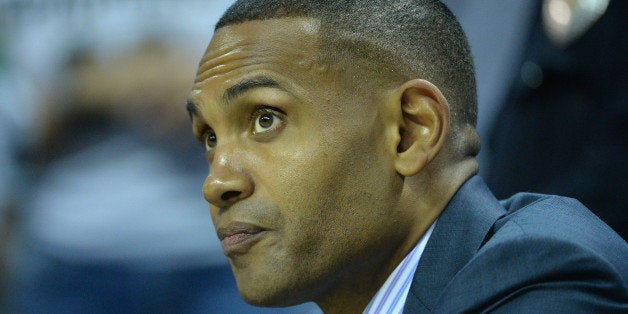 Former Duke basketball star Grant Hill has joined the small but growing number of former NCAA men's basketball and football players who say it's time to ask whether the NCAA should pay student athletes.
In a phone interview with The Huffington Post on Tuesday, Hill said "there's something un-American" about the NCAA's current set-up.
"In some respects, it seems like there's something un-American about the whole idea of all this money being generated and all the players and talent that's on the floor not having a part of that [money]," Hill added.
Hill, who played for four NBA teams after graduating Duke, is now a broadcaster who will call the 2015 Final Four for the first time on Saturday, alongside Bill Raftery and Jim Nantz. He spoke to HuffPost as part of his involvement in the 2015 Allstate National Association of Basketball Coaches Good Works Team, a program dedicated to honoring student-athletes committed to community service activities.
The NCAA pulled in nearly $1 billion in revenue in its most recent fiscal year, but claims the vast majority of its member institutions' athletic departments lose money or break even. Sports economists recently told HuffPost that NCAA schools' razor-thin margins are simply a result of their nonprofit status and accompanying incentive to spend every cent.
Hill said he was unsure exactly how schools should compensate student-athletes, a complex question considering the vast disparities in revenue generated by men's football and basketball programs compared with most others. He suggested a regular stipend system or a scheme in which players are compensated after they have finished their studies as possibilities, but said he doesn't have the answer.
Hill also echoed the concerns of President Barack Obama, who said in a sit-down interview with HuffPost in March that he worried paying college players would lead to "bidding wars" that might "ruin the sense of college sports."
"You just have to figure out a way so that it's fair across the board," Hill cautioned. "You don't want to give an unfair advantage to a school that has unlimited resources."
When it comes to the game itself, Hill said he wouldn't change a thing.
"The college game has a spirit about it that is magical," Hill said. "As it pertains to March Madness and the tournament, I like it the way it is."
NCAA schools have made a number of improvements to their athletic scholarship programs over the last year, including allowing unlimited meals for student-athletes after 2014 March Madness star Shabazz Napier told reporters last year that he sometimes went to bed "starving." In January, a number of elite NCAA conferences also voted to expand their athletic scholarship programs to include additional costs.
Support HuffPost
The Stakes Have Never Been Higher
Related
Popular in the Community