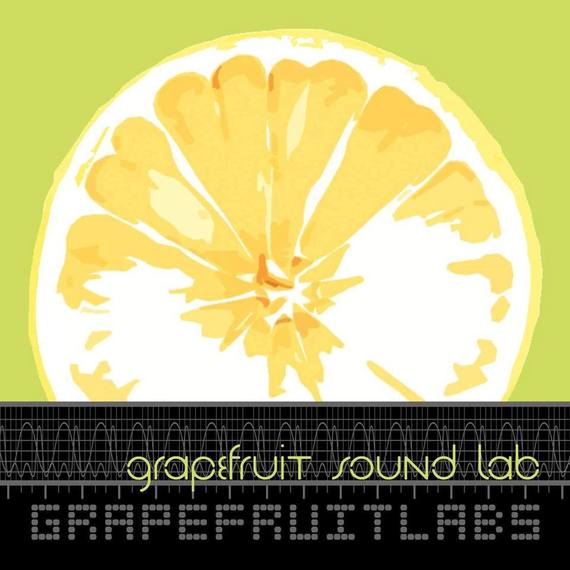 Collaboration has always been a trademark of great music. From powerhouse duets like Barbra Streisand and Donna Summer ("Enough Is Enough") the merging of a Beatle and a Jackson on "Say Say Say", the merging of different artists with varying perspectives has been an earmark of the music industry. Grapefruit Sound Lab takes that idea and expands on it, with four members giving their talented perspectives to take this East Coast based group to the next level. The entire group (Robert Cotnoir, Shawn Muldoon, Andrew Deitch, & Philip J. Caporaso, Jr.) to chat with us about their beginnings, what each member brings to the group, and the direction that Grapefruit Sound Lab is going in.


Tell me first, how did Grapefruit Sound Lab come about? Who thought up the name and where does it come from?
Bobby - "Grapefruit Sound Lab" was conceived once upon a time by me and my old music partner Rob Dombrower of "New Clear Sky" when we were describing a "mix of music" in terms of the taste of food. For example, a good, thick, low bass is analogous to a nice, thick very rare beef filet. And treble? Orange, for example, is sticky, syrupy, common. Lemon, on the other hand is far too harsh, too sour; But grapefruit? Cool, crisp high and tight, packed with nature, with vitamins, with life, like a fine tuned tweeter! Yum!
Philip - Bobby thought of the name "Grapefruit Sound Lab". It was actually there all along and he also associated it with some earlier projects!
Andrew - "Grapefruit Sound Lab" was a project conceived by Bobby, Shawn and Phil way before I got there. Though In the early 2000's I was experimenting with synthesizers & making music of my own. It wasn't until we all met, at a mutual friend's birthday party in 2013, that we realized we had music in common. When they showed me the album, "1031" back in October of 2013, I was instantly drawn to the three of them. We kept in touch; then, I finally joined the band in the Fall of 2014 and it has been complete kismet.
Shawn - Bobby had been working on some solo projects under the moniker "Grapefruit Sound Lab". I penned a song for the album "Creative Education" and also contributed the artwork for the album. As it goes, Bobby, Philip and I were all sitting around one night having some fun and we decided to collaborate on "1031", I don't think any of us would've imagined then where we are today, musically, emotionally, or spiritually. The name, "Grapefruit Sound Lab" is Bobby's brain-child and quite frankly, it sums it all up.
Who are your biggest musical influences?
Bobby - Kraftwerk, NYC old school electro and freestyle, grand opera, disco.
Philip - My biggest influences are Peter Rauhofer, Tim Rex, Madonna (of course), Erasure, Blondie and Enigma.
Andrew - I grew up going to industrial/EBM clubs so my main influences are more on the darker side. Front 242, VnV Nation, Prodigy, Depeche Mode (of course), Sneaker Pimps and Eurhythmics, but also the great gay divas: Chaka Khan, Lisa Stansfield, Donna Summer, Whitney Houston, Madonna, Celeda and of course obscure techno and house records from the early 90's underground.
Shawn - Depeche Mode (as if it needed to be said), Danny Tenaglia, Ewan Pearson, Meat Katie, Nine Inch Nails, Elbow, The Doves, Curve, Eurythmics, DeMarzo, Finnebassen, Röyksopp, Robyn, Goldfrapp, Steve Lawler, Sandra Collins, Steve Miller Band, Sasha and Digweed, Satoshi Tomiie, Heart, Donna Summer, Giorgio Moroder. The list goes on and on...

Each of you have somewhat of a distinct perspective to bring to Grapefruit Sound Lab. What do Robert Cotnoir, Shawn Muldoon, Phil Caporaso and Andrew Deitch each bring to the group individually?
Bobby - Shawn is a master pen with a very sexy voice; Phil is the pure and honest piper, and Andrew is raw talent, musically, theatrically, vocally. I put it all together by dragging them all kicking and screaming along with me to convince them to own their amazing talents. As for my creative contributions: What you hear is largely a result of my programming, production and execution with some dreamy vocals of my own thrown in for fun. Philip - I do vocals which I am still developing. I also write lyrics and help with the production and engineering of the music. I also do a lot of promoting for Grapefruit Sound Lab. Bobby is the maestro behind most of the music. Shawn writes, does vocals and also assists with production and engineering. Andrew does vocals, writes, as well as a pretty hefty amount of production and engineering, especially around drum and bass. Andrew - Robert Cotnoir, the maestro, is the foundation layer for this project. He brings a great knowledge of music from different eras and a well educated ear to the group. Shawn is the lyrical genius. He has the ability to turn even the most mundane tasks into a profound turn-of-phrase. Philip brings great energy with an amazing ear for sound creation and a child-like optimism that is needed in any project, especially when the pressure is on. Speaking for myself here, I would say that I bring a new perspective to the group. I have a bit of a harder, darker side and I have helped the project tap into that edge. In practice, I like to help out with the low-ends, as much as possible, and drums. Shawn - In addition to being the Executive Producer/Maestro/Head Programmer, Bobby has the job of herding cats and keeping everyone focused on the tasks at hand. Philip contributes in many areas of the band. He formulates many of the ideas that become songs or sounds. Philip contributes lyrically and vocally, as we all do; but most of all Philip keeps things light, easy and fun. He also enjoys promoting us and is quite good at it. Andrew brings something to the table that we weren't even aware we were missing. He's a master with drum and bass. Also a voice and lyricist for the band, Andrew is coaxing us to new levels of funk. I contribute as a vocalist and lyricist, as well; constantly finding myself through music. I try to get everyone to think, act, and behave like the rock stars that we are. We all have a say in the Production and Engineering of the album, which makes for a very well polished and sonically pleasing piece of work. I think we each bring the sensibility of where we're from. Bobby brings the grit of New York, Andrew brings the soul of Philadelphia, Philip brings the fruit/ideas of New Jersey and I bring the wisdom/sensibility of Boston.
How would you describe the sound of "Grapefruit Sound Lab" for the newer listener?
Bobby - Refreshing, tight, clean, timeless...
Philip - I am sure our musical sound is an eclectic clash of live elements, house music, electronic, dance; chillingly familiar in many ways, but new at the same time.
Andrew - It's definitely uniquely familiar if you are a music aficionado. There's a little bit for everybody by design. Meticulously crafted for your listening, spatial and aural pleasure.
Shawn - I think Andrew is trying to bite my line (LOL). Uniquely refreshing and elegantly familiar. Nice try, Kit!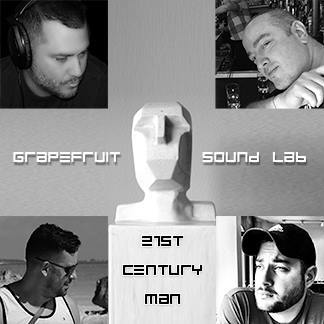 Your new music "Fruits of Sound-The Remixes" is a great and newer sound for you guys. Tell me about the slight change in direction.
Bobby - I don't see it as a change in direction; rather, it is a natural progression.
Philip - "Fruits of Sound - The Remixes' is more of what we were always aiming for. Our first project together, "1031" was more themed (HALLOWEEN) in nature. We needed to break away from that in order to reach where we needed to be; we are surely there! We have many surprises planned in our upcoming release, "21st Century Man". I am so excited for the world to hear it!
Andrew - "Fruits of Sound - The Remixes" is not necessarily a new direction, but more of a different ending for the stories of the albums from which they come.
Shawn - I will agree with the consensus of the guys that this is a logical, natural, growth pattern for an emerging band. It's always fun when you're experimenting with a new "sound" to go back and see if you can overlay that sound to your old music. I think if you can do it, not only is your new music good; but, it's proof that your old music stood the test of time.

Collaboration is obviously an ongoing theme of "Grapefruit Sound Lab" Who have you been collaborating with on your newest collection?
Bobby - We have been collaborating with those who will stop and listen.
Philip - We have been collaborating with a lot of people we find dear to our hearts. Shawn's brother Ricky Sperrazza, our lovely lady friends Kristine Winnik, and Sydney Madden; as well as, Edla "Cajun Bob" Wilson. Wonderful people to work with!
Andrew - We have some great guest solos on the album that really make it a whole project with a little something for everyone.
Shawn - We're very fortunate to be surrounded by very talented musicians, singers, and artists. As mentioned, we collaborated with my brother, Ricky Sperrazza who is a guitar prodigy. We included our talented female vocalists and friends, Kristine Winnik and Sydney Madden. We can not forget our very dear friend and patron Edla "Cajun Bob" Wilson, who makes an appearance on the new album as well. We've been receiving a lot of requests to remix our music lately from the well-known to the more obscure producers. We'll be sure to keep you posted on any remixes that we sanction.
"Twenty First Century Man" is a collection we have heard rumblings about on your website and in the industry. When can we expect it to see the light of day?
Bobby - I'm chomping at the bit to send this to the world. You are all in for a real treat - for real. But we must take our time and get it right. The master is in hand, we are only now starting to hone the proper path for our baby...
Philip - I guess I spoke to soon about "21st Century Man". You can imagine my excitement. It will be exclusively given out to DJs and industry people, for now. The album will come to light in the next couple of months! Sooner rather than later would be nice, but we will see.
Andrew - VERY, Very soon.
Shawn - I would expect that the album will be released to our fans sometime in late Summer, early Fall. Since this is our sophomoric release as a group, we want to be sure that we create and sustain the right buzz, so that people are excited about it as we continue to build our ever growing fanbase.

When you're not creating music, who musically are each of you enjoying?
Bobby - Music? Other music? Huh? haha...
Philip - I am really digging the Kite String Tangle, Siebensachen, Finnebassen, also like Bent Collective.
Andrew - Musically I am all over the place. Synth Pop, House, Trance, Classical, Folk, Classic Rock, Trip Hop, World, some recent EDM.... But I love my Disco, and House records. There's too much pollution in the music industry today. Everyone wanting the results without the process. There are not enough bands and projects in the EDM scene right now that take their time and produce quality music. So I'll stick to the classics and the people who understand that, until the world of music is changed back to music with substance and not just noise. Shawn - My taste is so broad, where to begin? For some reason, I've been digging on classic Elton John, The Cure, and Prince, lately. I'm loving what I'm hearing from Jimmy DePre, he never disappoints. I live for DeMarzo, Balcazar, Sordo, Finnebassen, Sohn, Kite String Tangle, Nine Inch Nails, Booka Shade, and Siebensachen.
What's next for Grapefruit Sound Lab?
Bobby - Let's keep on keepin' on. I look forward to planning some video work and possibly a live show Down the Shore and around the area...
Philip - What's next? Taking over the airwaves...We are going to be making more music, for sure!
Andrew - First, Asbury Park...THEN, THE WORLD. MWAHAHAHA!!!
Shawn - The band will be taking a much needed sabbatical from creating music, for much of July. Believe it or not, there are a lot of ideas already down on paper for the next album. You'll have to stay tuned to see where we go from here. That being said, we'll be working on promoting "21st Century Man", hashing out some video ideas, and pounding the pavement so that this CD is in the hands of every influential music business veteran that'll listen to it.

Give me one word from each of you that describes how you are feeling in your career right now...
Bobby - Satisfied.
Philip - Excited! That's a given.
Andrew - Anticipatory.
Shawn - Ruhe. (Look it up)
facebook.com/GrapefruitSoundLab
www.GrapefruitSoundLab.com
Calling all HuffPost superfans!
Sign up for membership to become a founding member and help shape HuffPost's next chapter