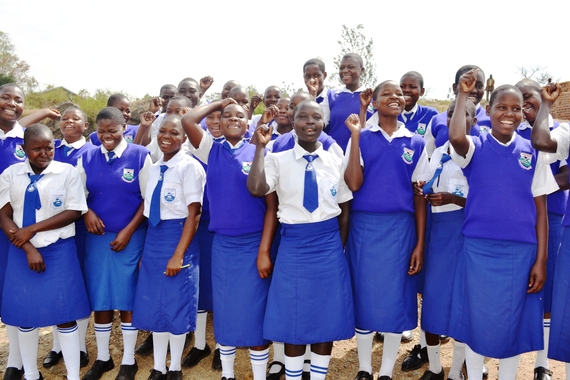 Nyanza Initiative for Girls' Education & Empowerment (NIGEE) is a GFC grassroots partner and a 2016 recipient of the With and For Girls Award. Working in rural Kenyan communities where child marriage is common, NIGEE creates opportunities for girls to get an education, protect their rights, and plan for a productive future. Photo © NIGEE
There is some serious girl power in London this week! Twenty grassroots organizations from around the world are being presented with the With and For Girls Awards for their local leadership on meeting the needs of girls in their communities. This global appreciation of girl power is important for many reasons.

Local solutions are lifted up as global models. The groups being honored are community-based organizations. Being locally embedded means that they can identify complex challenges, innovate contextual solutions, and serve as credible, trusted resources for their constituencies. All of this contributes to their success. Yet all too often, these local efforts go unnoticed by the wider world. The With and For Girls Awards shine a global spotlight on their work and give them greater access, influence, and visibility.
Girls are front and center. This year, the selection process for the With and For Girls Awards focused specifically on recognizing organizations that illustrate girls' leadership and participation. With young leadership, these organizations demonstrate that the people who know best how to address girls' issues are girls themselves. And with girls involved in program development and implementation, the programs are fresh, relevant, and meaningful to participants.
Girls face unique challenges... Some of our most pressing social problems are uniquely or more acutely experienced by girls. Child marriage is nearly universally practiced in the form of young girls being married to adult men. School enrollment rates are lower for girls, while dropout rates are higher, and girls are more likely to fall behind academically (often due to absences for menstrual periods or family obligations) and to fail to successfully transition from one grade level to the next or from primary to secondary school. Teen pregnancy is a uniquely female condition.
...but the solutions are clear. All of these challenges are game changers that curtail girls' potential and define their options for the future. But research and effective programs demonstrate that there are clear solutions: facilitating girls' access to quality schooling and providing safety nets help girls to stay in school and navigate academic transitions. Sexual and reproductive health information and services allow girls to negotiate and take charge of when, whether, and how they become mothers. And safe spaces and economic opportunity can assist girls who have experienced violence, exploitation, and coercion--or even prevent these abuses from happening in the first place. The With and For Girls Awards recognize organizations that clearly identify the community and cultural barriers that keep girls from reaching their potential, and are implementing effective programs to combat them.
Small organizations have outsize impact. So often, we turn toward large, well-known organizations to address entrenched social challenges. They are familiar and can implement big programs reaching large numbers of beneficiaries. Grassroots groups are small, but they are resourceful and adaptable--and they often have a better grasp of how to actually change things on the ground. While their impact is localized, it is deep and rooted.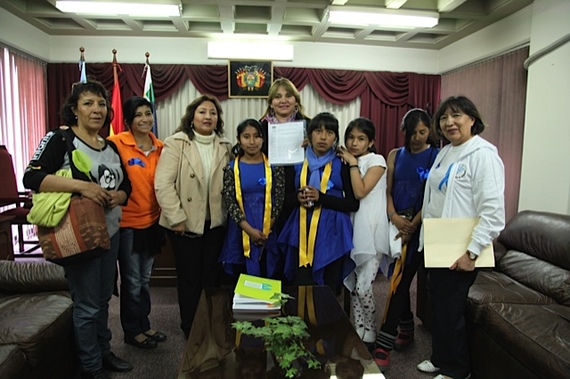 Fundación Centro Una Brisa de Esperanza (FUBE) is a GFC grassroots partner and a 2016 recipient of the With and For Girls Award. FUBE provides free psychological, social and legal assistance to child victims of sexual abuse through Bolivia's first and only dedicated center. Photo © FUBE
At The Global Fund for Children, we understand the value of the small but mighty. We find and invest in promising, locally led organizations that transform the lives of the world's most vulnerable children, including dozens of organizations that specifically focus on protecting girls' rights and creating opportunities for them. We look for partners that have the potential to deepen, expand, and replicate their programs. Then--through strategic funding, mentoring, training, peer networks, and more--we help them scale their efforts and reach even more children in need.
This week, we celebrate the awardees of the 2016 With and For Girls Awards: 20 grassroots organizations that have reached more than 30,000 people in 17 countries. Together, they illustrate the power of girls, the power of local, and the power of community.
The Global Fund for Children congratulates all awardees and is proud to be a supporting partner of three of them: Fundación Centro Una Brisa de Esperanza (Bolivia), Asociatia pentru Libertate si Egalitate de Gen (Romania), and Nyanza Initiative for Girls' Education and Empowerment (Kenya). Congratulations--the future is here!
Related
Popular in the Community