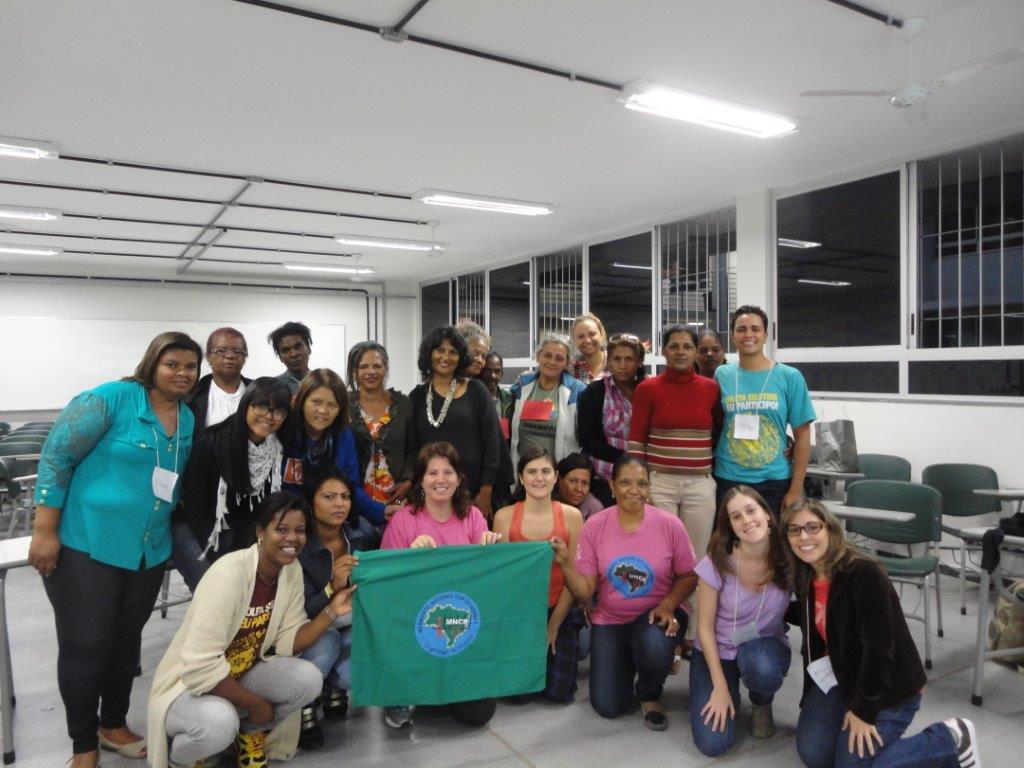 Discussing gender equality with women waste pickers from the National Waste Pickers Movement (MNCR) in Brazil.
The Sustainable Development Goals have set out an ambitious and worthy agenda to "transform our world" by 2030--one that can only be achieved if grassroots movements are included in the process. For waste management--an increasing issue in developing cities around the world--this is especially true.
Waste management is present in several of the new SDGs, especially goals 1 ("No Poverty"), 6 ("Clean Water and Sanitation") and 12 ("Responsible Consumption and Production"). Waste pickers, formally recognized or not, play an important role in cities' solid waste systems. At WIEGO, we recently conducted a five-city study that shows how waste pickers provide a range of key services, including waste removal (in some of the cities this is the only service available in particular areas), transportation, recovery of recyclables, value-aggregation, semi-processing and even composting and biogas production. In Belo Horizonte, Brazil, waste picker cooperatives open doors for workers and create opportunities for people, sometimes even the homeless, as workers in their cooperatives. Unless cities in the developing world build on existing systems - and understand the valuable contributions of informal waste pickers in these systems - they may fail to improve solid waste management standards and achieve poverty-reduction goals established in the SDGs.
Informal waste pickers' contributions to the environment, employment, and the economy are usually maximized when they work as collectives. Their ability to contribute more effectively to realizing the SDGs is strengthened by organized work. Organizations of the working poor enhance human capital by providing its members with the tools, skills, and capabilities that make them able to act in new ways. This, in turn, enhances social capital because it creates the ambience to change relations among persons in ways that facilitate action.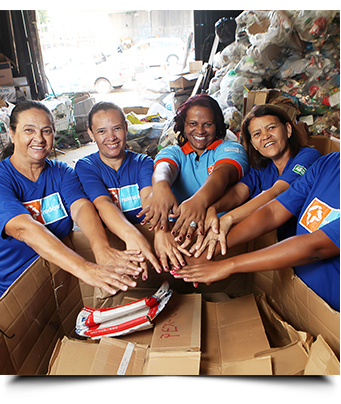 Women waste pickers from the Redesol Network in Brazil.
Realizing the SDGs will require the ability of individuals and organizations to join forces in the design and implementation of sensible urban policies and sound local governance. Organizations of informal workers across sectors are ready to mobilize and actively contribute to the implementation of the news goals with local authorities. For this to happen, informal waste workers need to be included in multi-stakeholder policy dialogues and permanent forums addressing concrete problems.
One good example is how informal recyclers in Brazil, together with actors from governments, NGOs, and the private sector, joined forces to form the waste and citizenship forums in the late 1990´s, which were crucial in raising standards in solid waste management (SWM) in that country and in integrating these workers into municipal recycling systems in many cities. As a result, more funds were made available to the sector (for upgrading of disposal sites; infrastructure for recycling; and opening of credit lines to membership-based organizations). Many social programmes were created for Brazil´s informal recyclers, which contributed to an important dimension of social justice - redistribution. Data from official data banks and non-profit organizations indicate improvements in waste disposal and an increase in recycling projects, and, therefore, in governance, as well.
Another good example is the "Mesas" in Peru. These were policy-dialogue platforms for waste pickers of that country in which government ministries, workers´ representatives and NGOs engaged together in a on-going process to address key problems faced by this sector group.
These two examples show how engaging with the informal workers in participatory platforms can contribute to effective problem solving. The ability of the SDGs to fulfill their transformative agenda depends on many factors, and one of them is empowered participatory governance. Empowered participatory governance means leaving no one behind in the process of discussing, shaping, and implementing the sustainable development goals. It means reaching out for the informal settlements, the working poor, youth, women, and other disadvantaged groups.
For the working poor, organizing in collectives to have their voices heard in rule-setting platforms holds the key to achieving development. Those working on implementing the SDGs should pay attention to grassroots movements of the working poor, as this may be one of the most important links to truly achieving sustainable development.
This post is part of a series produced by The Huffington Post to mark the occasion of the one-year anniversary of the adoption of the Sustainable Development Goals (SDGs, or, officially, "Transforming Our World: the 2030 Agenda for Sustainable Development"). The SDGs represent an historic agreement -- a wide-ranging roadmap to sustainability covering 17 goals and 169 targets -- but stakeholders must also be held accountable for their commitments. To see all the posts in the series, visit here.
Calling all HuffPost superfans!
Sign up for membership to become a founding member and help shape HuffPost's next chapter