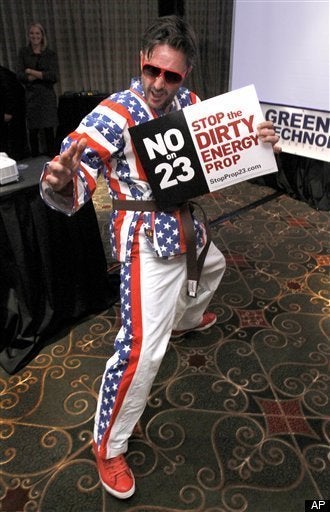 WASHINGTON -- After months of message wars between progressive grassroots organizations and big oil companies over Proposition 23, the ballot measure to suspend California's landmark global warming legislation in the name of job creation, Gov. Arnold Schwarzenegger took a jab at the bill last night that may have put the final nail in its coffin.
"The San Francisco Giants defeated the Texas Rangers tonight, just like California voters are going to defeat the attempts of dirty Texas oil companies to undo our clean energy laws at the polls tomorrow," he wrote in a statement.
As of September 2, the Yes on 23 campaign had raised $8.2 million thanks to major contributions from Valero and Tesoro oil companies in Texas and the Kansas-based Koch Industries, which owns oil refineries in Alaska, Texas and Minnesota. The No campaign, which had raised $6 million at this point from progressive organizations like the National Wildlife Federation and the League of Conservation Voters, adopted a strategy of alerting voters to the bill's primary backers.
By the end of September, grassroots activists had successfully turned voters against the measure by branding the Yes on 23 campaign as being bought and paid for by the Texas oil companies, which prompted the oil companies to go on the defensive and freeze all funding to the campaign. Then, in a desperate measure on October 2, representatives from Valero and Tesoro published an editorial in Silicon Valley's Mercury News attempting to convince voters that they are neither Texas companies nor oil companies.
"Neither of our companies can be properly characterized as 'Texas oil companies,'" they wrote. "Our companies have diverse operations in many states, particularly in California... Nor are we, strictly speaking, 'oil companies.' We do not produce oil or own any crude oil reserves. Instead, we buy crude from third parties and turn it into the transportation fuels so vital to the California economy."
The Yes on 23 campaign, meanwhile, continued to market the measure as crucial to California's job market.
"Without Prop. 23, unemployment will remain higher for longer because the enormous cost of the global warming law will cause businesses to downsize or even close, and either way, they'll be laying off more employees," said Anita Mangels, spokesperson for the Yes campaign.
Despite these appeals to the more than 12 percent of currently unemployed Californians, the measure is not likely to pass. According to a field poll released Sunday, October 31, 48 percent of California voters said they planned to vote no on the measure, compared to 33 percent who planned to vote yes. The numbers project a big victory for grassroots activists like CREDO Mobile, whose volunteers have made 459,120 personal phone calls to voters since the beginning of the campaign, including 8,642 in the middle of last night's World Series game.
Becky Bond, the political director for CREDO, said the success of the No on Prop. 23 campaign in branding the bill as Texas-oil-backed should provide a blueprint for the global fight against climate change.
"Here in California, to save our climate laws, the grassroots and netroots have gotten together early and attacked the corporations sponsoring this bill," she told HuffPost. "The oil companies have limitless money to spend on these campaigns -- all they really had to do was blanket the airways with advertising that scared Californians into thinking this was going to destroy jobs in our state. They were really cued up to come in an outspend us and win, but we started fighting back and saying, 'This is not about jobs, this is about two Texas oil companies coming in and rewriting our green energy laws that we worked really hard to pass.'"
She added, "We'll see this as a model for more fights across the country as people in the States do the work that D.C. politicians don't have the courage to do." 
Calling all HuffPost superfans!
Sign up for membership to become a founding member and help shape HuffPost's next chapter