John Lennon died on Dec. 8, 1980, breaking the hearts of millions of fans and laying to rest any hope of a Beatles reunion. During the ensuing years, the remaining members of the band carried on by continuing to perform individually and sometimes collectively, keeping the beloved canon of Beatles music alive and satisfying the desires of fans worldwide for whom the Beatles were an important, even fundamental, part of their lives.
Fast forward to the year 2000 and imagine for a moment that a diehard fan of the Beatles, who also happened to be a very successful and well respected concert promoter, envisioned a Beatles reunion on a single weekend to include the remaining members of the band and guest musicians, headlined by someone to fill in for John Lennon 20 years after his death. He would first have to convince the remaining Beatles to embrace the idea, which would be no easy task given the antipathy that existed between some of them. Then a venue large enough to hold as many fans as possible would need to be secured; and an entire organization established to handle publicity, conduct ticket sales and create the infrastructure of a huge concert -- stage, lights, sound system, etc. And then there is the matter of who would play the part of John Lennon, a no-win proposition if ever there was one, as nobody could ever measure up to the stature and abilities of John Lennon, and any choice would be met with overwhelming criticism.
Now, substitute Grateful Dead for Beatles and Jerry Garcia for John Lennon and you have a crystal clear window into what promoter Peter Shapiro was up against when he envisioned the "Fare Thee Well" Grateful Dead shows that took place over the last two weekends at Santa Clara's Levi's Stadium and Chicago's Soldier Field.
"To bring that feeling back again, the feeling we all had when we went to Dead shows," Shapiro answered when I asked him what his original intention had been. "That feeling was most potent at summer outdoor shows, so that is why I went in the direction I did in putting on these shows."
When asked about the seemingly impossible task of convincing the remaining members of the band -- Bob Weir, Phil Lesh, Mickey Hart and Bill Kreutzmann -- to get on board, Shapiro again turned in a personal direction. "I really missed it, which probably helped create the scenario where I wouldn't stop pushing to make it happen until I had gotten each of the guys to say 'yes.'"
Shapiro has been the subject of intense criticism (including by myself) ranging from the way ticket sales were handled to the choice of Chicago's Soldier Field. There have been accusations of "bait and switch," questions about a seemingly sudden $4 per ticket increase and even suspicions that the Santa Clara shows were planned all along but withheld until the Chicago shows were sold out.
Throughout the entire process, Shapiro has kept his head up and his eye on the target, all the while encouraging his critics to make their final assessments on the basis of the music -- "Can't wait for the music to start after all of this!" -- and insisting that "the truth will come out." Therefore, now that the shows have come and gone, I offer you my official Grateful Dead "Fare Thee Well" Report Card.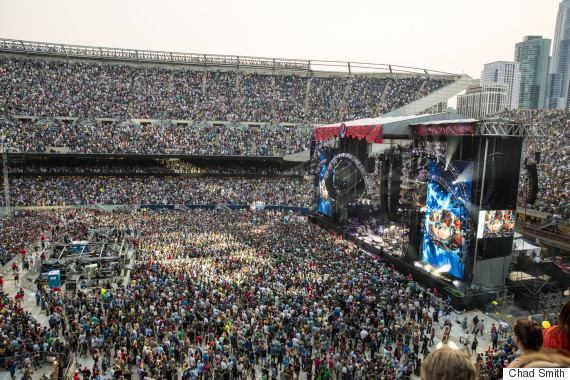 "Fare the Well" broke capacity records for Soldier Field with attendance
over 71,000 on July 5.
Levi's Stadium and Soldier Field are NFL stadiums built to accommodate huge numbers of people. Indeed, all-time attendance records were set each day at Soldier Field, with the final show topping out at 71,000 people. Staging a musical event at a huge megastadium is extremely problematic, especially for Deadheads who are known for their musical sophistication, and many of whom have seen the Dead and splinter groups, such as the Jerry Garcia Band and Kingfish, at small intimate venues that accommodate as few as several hundred people.
The sound system that is required to reach every corner of a venue that holds 70,000 people is enormous, very loud (more on this below in the music section) and not conducive to appreciating fine details in music.
On the plus side, in terms of pure spectacle these venues were extremely impressive, and conducive to a moving experience. Singing "brown-eyed women and red grenadine" or "love is real, not fade away" in unison with 70,000 people were powerful experiences capable of bringing the audience to tears, and not possible in a small, intimate venue.
Getting in and out of these venues was a true test in patience and tolerance, especially given the sheer numbers and the Draconian policies (which were not consistent between the two venues -- or even from day to day within the same venue) concerning backpacks, food, water and other prohibited items.
In short, a Dead concert in a stadium is not conducive to the truest Grateful Dead experience. And while I recognize that there was no other option, given the enormous demand for tickets, I still have to give the venues a low but passing grade of C.
The trappings, such as the stage, the light show, the archival footage and photographs of the band, the large monitors (particularly during the drum solo, which enabled everyone to see some of the crazy percussion equipment Mickey Hart was playing), the banners outside, the artwork and the archival photos placed throughout the venue, were all very well done. Shapiro and Co. succeeded in creating a truly outstanding tribute to the Grateful Dead in this area and deserve a lot of credit for it.
Handing out a rose to every single attendee on the first night in both venues was a really nice touch, and the "video curtain call" during the final encore, "Attics of My Life," in which a photo of each of the seven musicians was shown on the monitors, engendering a warm and enthusiastic round of applause, was nothing short of ingenious. Therefore, I'm giving the staging a solid A.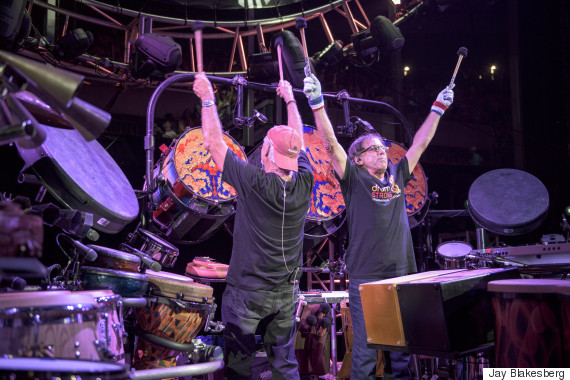 Original Grateful Dead drummers Bill Kreutzmann and Mickey Hart celebrate after a drum solo.
There were two venues, and ticket sales were handled in a much different way for the Levi's Stadium shows than they were for the Soldier Field shows. (For some details on this, please refer to my follow-up article). Therefore, I will be giving two grades, one for each venue.
A lot has changed over the course of the Grateful Dead's 50-year history in the way concert tickets are sold, and not for the better. In short, the concert ticketing machine has been corporatized in much the same way that many other industries have. But the Grateful Dead has always represented a decidedly non-corporate, alternative approach to doing business (see Barry Barnes' brilliant book, Everything I Know about Business I Learned from the Grateful Dead for more on this).
The corporatized customs of the modern era collided with the very persona of the Grateful Dead in connection with the originally announced Chicago shows, leading to some serious controversy. Accusations of a money grab and the selling out of the band by the promoter were rampant at one point, and rightly so. The way ticket sales were handled -- with an initial mail order that resulted in only 30,000 tickets being fulfilled out of 700,000 ticket requests -- left literally hundreds of thousands of fans feeling betrayed and alienated from their beloved band.
This miscalculation on the part of the promoter -- both in terms of the demand for tickets, as well as the fallout that resulted -- was the biggest blunder of the entire event, and it almost cost the band its rightful legacy. So, for the Chicago part of the event I am giving a grade of D.
However, as Shakespeare said, "He who laughs last, laughs best." Or, put another way, it's not the impression you make, it's the impression you leave. And when Peter Shapiro responded to the criticism by working hard to convince the band to add the two Santa Clara shows and selling 90 percent of the tickets through an online mail order system, he left a very positive lasting impression that preserved the Grateful Dead's legacy as a vehicle for independent thought and socially responsible action. Bob Weir illustrated this when he roared a previously unheard verse -- "You can buy the whole damn government today" -- during the Dead's anti-establishment anthem, "Throwing Stones," on the final night in Chicago.
Even with the improvements brought about by the Santa Clara shows, there were still accusations of impropriety. Numerous fans claimed there had been a "bait and switch" in which the seating chart was revised after the mail order was already complete, in one case resulting in a customer saying, "This is shameless. I was overcharged by around $50 per ticket. Someone needs to hold them accountable." And there was also a $4 per ticket increase across the board between Seating Chart No. 1 and Seating Chart No. 2.
Further, the original intention was to have two sections on the "floor," one immediately in front of the stage (the "pit") that was standing room only, and one towards the rear that would be reserved seating. This, too, changed in midstream when the entire floor area became standing room only.
According to Shapiro, the $4 increase was a service charge, and all of the other changes were made to accommodate more people. "We did make changes, and we did them to get more people in."
As far as the "bait and switch" is concerned, Shapiro says many of the ticket orders did not match the sections that were being requested, and in the interest of providing access to the shows, certain decisions were made that did not always result in a perfect match between the order and the tickets issued. He also says that anyone who feels that they were overcharged will have an opportunity to request a refund.
"What we did we felt was better than rejecting them. After the show there is a period where you can send [the ticket stub] back and receive a refund. The instructions will be posted ondead50.net by July 10."
With all of that in mind, I'm giving the Santa Clara part of ticket sales a B grade.
The surviving members of the band -- Bob Weir, Phil Lesh, Mickey Hart and Bill Kreutzmann -- were simply fabulous during these shows. Weir's voice was as true and powerful as ever, and during his rendition of "Wharf Rat," during the Sunday show in Santa Clara, he sang so well that it was easy to forget that this had been Jerry Garcia's song prior to his death.
At the age of 75, Phil Lesh hasn't lost anything as a bass player, and his playing was simply excellent throughout. Lesh was never a strong vocalist, but the absence of Garcia during the last 20 years has called upon him to step forward as a singer, and he has done so admirably in the various post-Garcia bands he has played in.
In terms of authenticity, the drum solo was the most satisfying part of these shows. Hart and Kreutzmann were in top form and provided one hell of a ride when the rest of the band left the stage. Hart, in particular, has continued to refine and hone his craft over the years, and the audience was treated to a skillful and dynamic performance each night that was absolutely Grateful Dead in every way.
It's unbelievably noteworthy that the "core four" have been doing this for 50 years. How many people do you know who have stayed at any job for 50 years, much less a job so physically demanding as playing in a rock band? Seeing them do what they're doing at their age is truly an inspiration in that they refuse to allow their age to be a factor that prevents them from continuing to do what they love and to do it with ever increasing excellence. The "core four" get an A grade.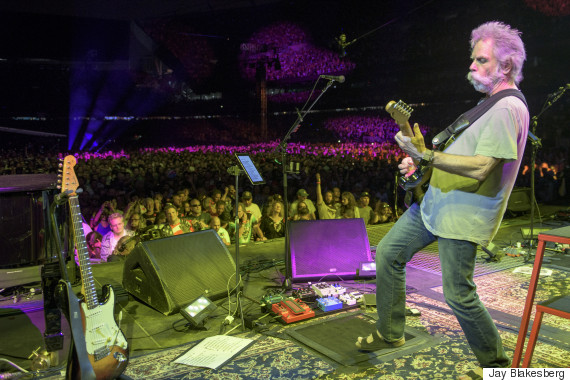 Grateful Dead rhythm guitarist and lead vocalist, Bob Weir, exhibited a youthful energy that belied his 67 years.
The problem of replacing Jerry Garcia was ever-present throughout these shows, as it has been in every iteration of the Grateful Dead that has been attempted for the past 20 years. It simply can't be done, and there's no getting around it.
Trey Anastasio is a very talented guitarist. He filled in admirably and at times brilliantly. But his playing lacked the sensitivity and subtlety that Garcia played with, and this was an issue throughout the five shows for anyone who saw the Dead with Jerry or who has studied his playing. On the more straight ahead rock 'n' roll tunes, such as "Hell in a Bucket," "Alabama Getaway" and "Not Fade Away," Anastasio was a great fit, and his playing was especially enjoyable. On the more subtle material, such as "Box of Rain," "Crazy Fingers" and "Jack Straw," his playing was too predominant and he frequently played over the other musicians and even the vocals, at times.
Anastasio's background vocals were a great addition to the band, and his lead singing was overall solid. His voice has a sweet quality to it that made him a good substitute for the similar sweetness with which Garcia sang.
There is no question that Bruce Hornsby is the most talented pianist to ever play with the band. And his lead and background vocals were second only to Weir's. I only wish he was given more of an opportunity to shine. His piano playing was often lost in the mix, and he was not given enough opportunity to sing the lead parts.
Jeff Chimenti was fun to watch, and he delivered some memorable organ solos, but like Hornsby he was mostly lost in the mix and didn't really have the chance to show his stuff. I wondered at times why there was a need for two keyboards in a band that was already overstaffed.
Overall, the guest musicians get a B.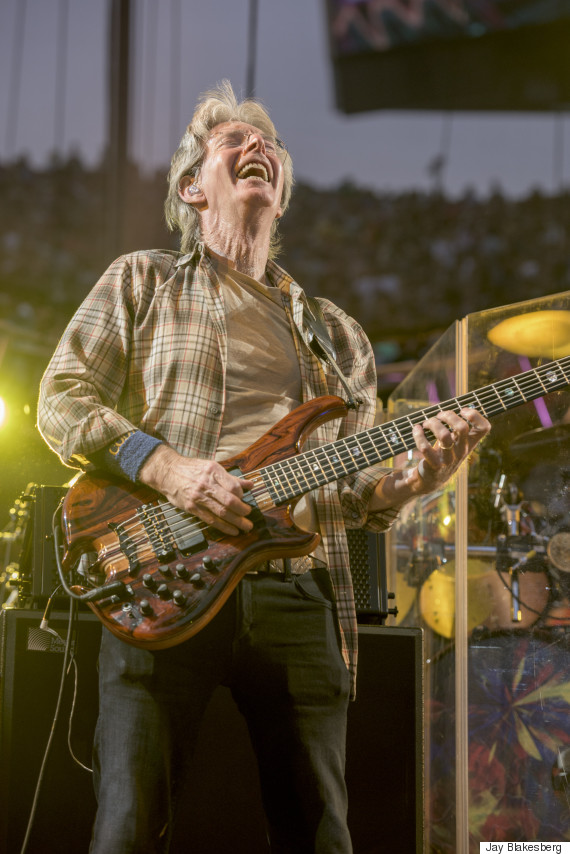 Grateful Dead bassist, Phil Lesh, a liver transplant survivor, urged the audience at the end of each show to become organ donors.
This band repeatedly delivered a Grateful Dead experience that was deeply satisfying to even the most discerning in attendance. With the exception of the first show in Santa Clara -- which was all but ruined by a lack of chemistry among the members of the band and a perplexing set list (more on this below in the next section) -- there were moments of true ecstasy in every show.
Still, the volume was excessively loud throughout, as if a stage full of musicians were trying to establish themselves, rather than playing their part in a cohesive musical act. As a result, the sound was often muddy and it was difficult to hear what each musician was playing.
Despite the truly outstanding skill level of the individual musicians, this was a band that never had a chance to achieve its true potential, as true band chemistry cannot be achieved over the course of just five shows. There were times when I was reminded of the movieInvasion of the Body Snatchers, in that it looks like a person you recognize and sounds kind of like the person but it's nagging at you that there's something missing, like a body that is inhabited by the wrong soul.
Nevertheless, this band left nothing on the table and gave it their all, despite the challenges of too little rehearsal time and insufficient opportunity to develop chemistry. It was an incredible effort to put this thing together and to pull it off as well as they did, and because it was such a remarkable achievement that delivered a truly outstanding Grateful Dead experience overall, I am giving the band an A.
Just to get this out of the way, the first night in Santa Clara was by far the worst of the five shows, and I would attribute this largely to the set list, which covered far too much material from the band's early period, and none of it very well. I admired the commitment to stray from the "hit parade," but songs like "Alligator," "Born Cross-Eyed," "Cream Puff War," "Viola Lee Blues," "Cryptical Envelopment" and "What's Become of the Baby" should have been integrated gradually over the course of the five shows (or skipped entirely).
The fact that this group presented five entire shows while only repeating two songs ("Truckin'" and "Cumberland Blues") was simply phenomenal. They covered a lot of ground and the fact that the shows varied a lot from one to the next was very Grateful Dead-like.
Here are the most glaring omissions:
"Going Down the Road," "Dancing in the Streets," "Mama Tried," "Mexicali Blues," "Big River Blues," "Good Lovin'," "Cold Rain and Snow," "Beat it on Down the Line," "Iko Iko," "Ramble On Rose," "Ship of Fools," "Man Smart, Woman Smarter," "Greatest Story Ever Told," "Big Railroad Blues," "Dire Wolf" and "New Speedway Boogie."
I would have rather heard any of these than "What's Become of the Baby." In any case, simply by virtue of the immense ground that was covered with only two repeats, I'm giving the set lists an A.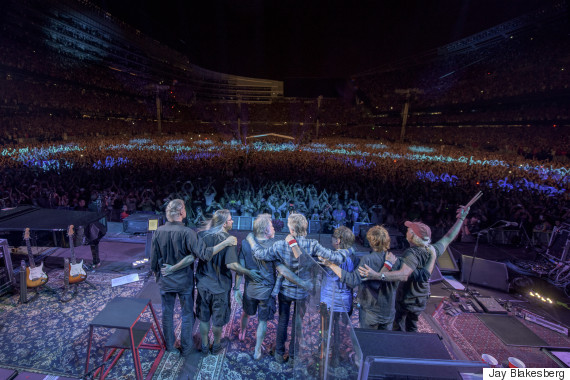 The full band at Soldier Field, left to right, Bruce Hornsby, Jeff Chimenti, Bob Weir, Phil Lesh, Mickey Hart, Trey Anastasio, Bill Kreutzmann
While there were times when I felt like I was in a time capsule that had travelled to the future, rather than being taken back to the good old Grateful Dead of the '60s, '70s and '80s, the predominant feeling that was shared among those who experienced these shows ranged from very positive to absolutely ecstatic. Just having the opportunity to see the incredible canon of the Grateful Dead, arguably the most beloved band of the rock 'n' roll era, performed live is quite a gift, regardless of the details.
The Grateful Dead are a true American band with a concept of America that so many of us want to come true. That is why their fans came up with $40 million (ticket sales) to bring them back one more time, and despite the many issues that popped up along the way, they did not disappoint us. In turn they gave us one more dose of inspiration and a chance to share their unique message with a new generation.
The "Fare Thee Well" shows brought forward a broader cultural awareness of what the Grateful Dead really is and what the band means to its fans that can't help but be infectious. And despite the problems associated with taking the Grateful Dead to yet another level of popularity, the mainstreaming of the Dead has legitimized the band and the movement it represents by bringing it to a larger group of people than ever before.
Peter Shapiro, Madison House, all of the staff and crew, especially the band, deserve a tremendous amount of credit for what can only be seen as a stunning musical achievement. In the final analysis, this was the most Grateful Dead-like band that we've seen since Jerry died. It was not the Grateful Dead, simply because nothing could ever be the Grateful Dead without Jerry. But it was a damn good Grateful Dead cover band. And it was a Grateful Dead concert.
Calling all HuffPost superfans!
Sign up for membership to become a founding member and help shape HuffPost's next chapter