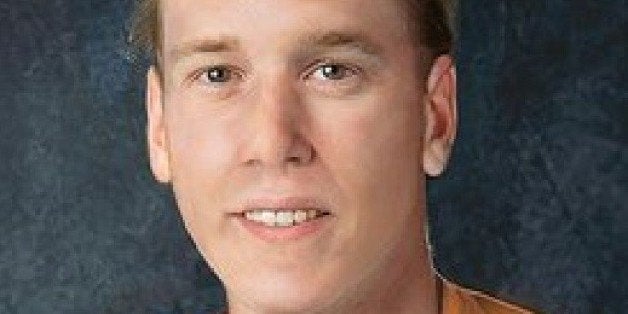 Police call him "Grateful Doe," but all they really know, 18 years after he was found dead at the side of the road, is locked in a secret surrounding a handful of stray clues -- four quarters, two Grateful Dead ticket stubs, a BIC lighter and a cryptic note mentioning two people named "Caroline."
That's what police found at the crash scene on the afternoon of Monday, June 26, 1995, when authorities arrived to investigate a fatal car accident in Emporia, Greensville County, Virginia.
"The vehicle went off the side of the road, braked and crashed head-on into two trees," Lt. Ted Jones of the Virginia State Police told The Huffington Post. "The occupants were not restrained and were both partially ejected through the windshield."
Both occupants, Jones said, died of massive head injuries at the scene, presumably upon impact.
"There was no presence of drugs in either of their systems," Jones said. "It's my opinion that the driver fell asleep at the wheel. That is based upon the lengthy and gradual departure of the vehicle from the paved surface."
Jones added, "They were in a Volkswagen Vanagon. It's a cab-over design with a rear-engine mount, so they had no protection up front from anything."
READ: More Unsolved Mysteries (Story Continues Below)
Police were able to identify the driver as Michael Hager, a 21-year-old student at the University of South Carolina.
Contacted by HuffPost on Wednesday, Hager's father and step-mother declined to comment on the circumstances leading up to the accident.
According to Jones, Hager had been visiting his girlfriend in Fairfax County, Virginia, and had left her home at about 7:45 a.m. on the day of the crash. Later that day, Hager stopped at his father's home in Gloucester County. His father wasn't there at the time, but Hager did call him at about 12 p.m. to say he was on his way to his mother's house in Inman, South Carolina. Hager did not mention having anyone with him, police said.
In a July 1996 article in The Free Lance-Star, a Virginia newspaper, a neighbor of Hager's father had reported seeing a young man with Hager when he stopped at his father's house. Jones said the report is incorrect.
"When he stopped at his father's house, he was alone," Jones said. "The theory is that the passenger was a hitchhiker [Hager] likely picked up between Gloucester and Emporia."
Whatever the case may be, the accident occurred roughly 90 minutes after Hager called his father.
The passenger had no identification, and none of Hager's friends or family members knew the man or had any information about Hager traveling with another person. The unidentified man's fingerprints were not in any law enforcement database and he did not match any missing person reports.
Further hindering investigators was the fact that the injuries to the passenger's face were so severe that authorities were unable to release a photo of him to the public. The only thing the coroner could determine was that the young man was between 15 and 21 years of age.
In the passenger's pockets, police found the four quarters, the BIC lighter and the two ticket stubs.
The concert made headlines around the world after its opening day, when three people were struck by lightning while waiting outside the stadium. All three survived, although one was left permanently disabled.
The concert was also of note to fans, as it was one of lead singer Jerry Garcia's last performances. He died of a heart attack less than two months later.
According to Jones, the ticket stubs, along with the appearance of the unidentified young man, which included a Grateful Dead tie-dyed T-shirt from the 1995 summer tour, led investigators to believe the young man was a "Deadhead," a name given to fans of the Grateful Dead.
Jones managed to trace the sale of the tickets back to the original buyer, but discovered they were part of a bulk purchase the man had made. The tickets had been scalped to strangers outside the concert, with "Grateful Doe" presumably buying it then.
Authorities found no evidence suggesting Hager had attended the Grateful Dead concert, which Jones said adds to his belief that "Grateful Doe" was a hitchhiker. However, Jones does believe the Grateful Dead was a mutual interest that prompted Hager to give the young man a ride.
"Based on the personal items [Hager] had and the age of the two, they appeared to be into the same trends and styles," Jones said. "Both were fans and both had affinities to the Grateful Dead-following lifestyle."
CASE PHOTOS: (Story Continues Below)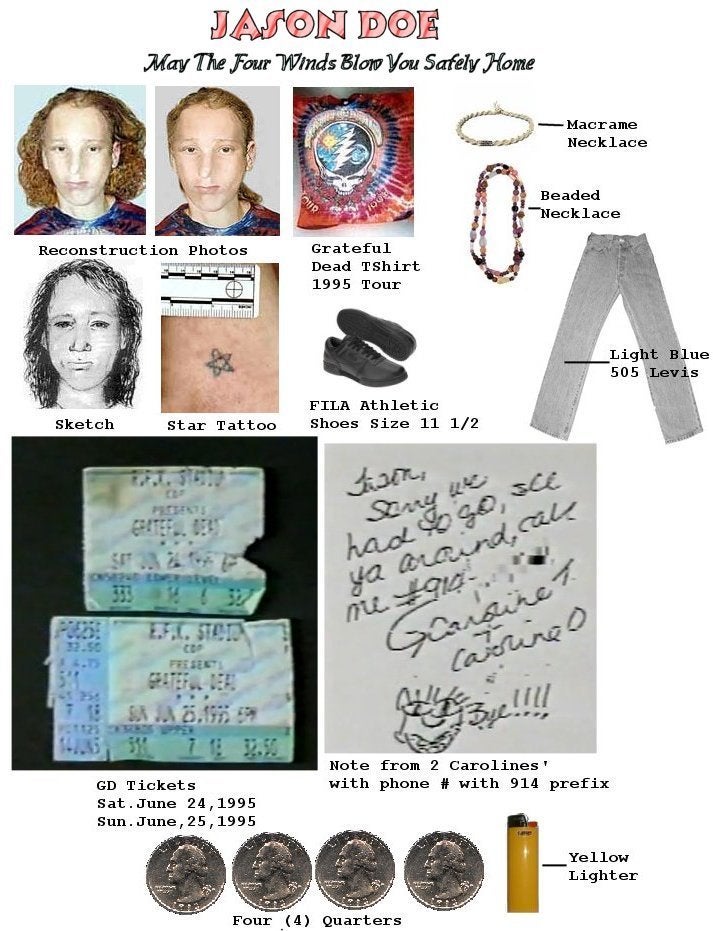 "Grateful Doe"

In addition to the items found on "Grateful Doe," authorities found a note near the site of the crash that was addressed to someone named "Jason."
"To Jason, sorry we had to go. See you around. Caroline O. and Caroline T.," the note read. It also had a small doodle and a phone number with a 914 prefix.
Jones said authorities do not know if the note belonged to Hager, "Grateful Doe" or someone with no connection to either.
At the time of the accident, some media outlets mistakenly reported that the note was found in "Grateful Doe's" pocket. Jones said that information is incorrect.
"It was found within proximity of the vehicle and may not have even been in his original possession," Jones said.
Jones said reports suggesting the doodle on the note was a caricature of Jerry Garcia are also incorrect.
"It is a random doodle," he said. "We had looked into a Grateful Dead connection and never saw any link between that illustration and the Grateful Dead or their followers."
The phone number proved to be a dead end -- there was no area code and when investigators called variations of the number, they were unable to find anyone with "any connection" to the note, Jones said. The forensics lab was also unable to lift any fingerprints from it.
Authorities also have no idea where "Grateful Doe" was heading at the time of the accident. He was evidently not following the Grateful Dead to their next venue, as the next show was in Michigan and Hager was headed in the opposite direction.
"Obviously, because of the time that's passed and no solid leads, I can only assume maybe he was from foster care early on and maybe floated from family to family," Jones said. "I say that based on that kind of lifestyle -- following the Grateful Dead from venue to venue. He may have found his own family in that cult-like following."
Jones no longer works on the "Grateful Doe" case.
"I investigated everything from every angle, and nothing ever panned out," he said.
Jones said the case is now in the hands of the state medical examiner's office in Richmond, Virginia, where it is managed by Dr. Kevin Whaley. HuffPost made numerous calls to Whaley this week, but none were returned.
Today, nearly 20 years after his death, the story of "Grateful Doe," or "Jason Doe" as he is sometimes called, would likely be all but forgotten were it not for members of Websleuths, an online community of volunteers who brainstorm unsolved mysteries.
For the past several years, multiple Websleuths members, including two known as "Killarney Rose" and "Rainwater," have picked apart the case and helped raise awareness about it on social media.
"He was someone's son, brother, grandson, nephew, uncle [and] it is so hard to believe that in this day and time that no one can identify him," Killarney Rose told HuffPost, explaining why she is dedicated to the case.
"Although Grateful Dead fans may not know each other's names, at a Dead concert all are members of the same family for magical hours," Rainwater said. "We want to see this family member given back his name."
Grateful Doe is described as a white male, between 15 and 21 years old, 5 feet, 8 inches tall and approximately 169 pounds. He had curly light brown to dark blond shoulder-length hair and brown eyes. His left earlobe was pierced, but he had no earring at the time of his death. He was wearing light blue jeans, a Grateful Dead tie-dyed T-shirt from the 1995 summer tour, size 11-and-a-half Fila sneakers and a macramé and bead necklace. He had a homemade tattoo of a star on his upper left arm and a faint pattern, possibly a faded homemade tattoo of an unknown design, on his upper right arm. He also had a scar on the middle of his back.
Anyone with information on this case is asked to call the National Center for Missing and Exploited Children at 1-800-843-5678 or the Office of the Chief Medical Examiner at (804) 786-3174.
Special thanks to Ithaca College student Susie Brancaccio for suggesting this fascinating case to HuffPost.
Before You Go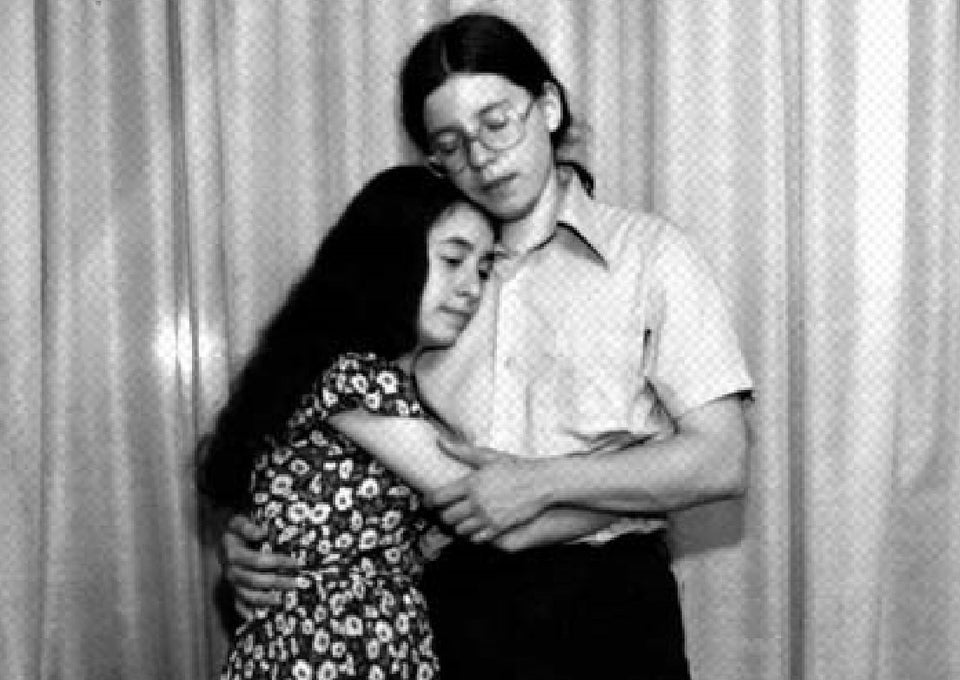 "Grateful Dead" Fans Missing/Deceased
Popular in the Community