Gratitude activates Grace in our lives.
Grace brings the awareness of Love
always present,
always free.
Unconditional,
non-judgmental
Love that Heals.
I used to always fall apart on Thanksgiving Day. I felt overwhelming gratitude, but also an inability to truly accept the grace and love it brought to me.
As an immigrant, I was grateful for every open heart that showed me kindness and welcomed me into their home -- both physically in sharing the resources and opportunities of their country and in offering me a seat at their table, and spiritually in inviting me into their hearts, our shared home where Love is the host. As a traveler and a seeker, I was grateful for the bumps, high peaks and low valleys of the road I'd been on.
But for a long time, along with the gratitude, I carried regret, guilt and self-judgment, not willing to leave it behind.
A move to Nashville, Tennessee came as the perfect external shift to trigger an internal one, and the opportunity to try to let go of some of that baggage.
Only a few months after the move, a friend invited me to the meditation circle at Thistle Farms, a community for women who have survived sex trafficking, abuse, addiction and prostitution founded by Reverend Becca Stevens.
I was nervous. I didn't know what to expect, and I felt unnecessarily insecure. "What if you don't know what to say, or what to do?" the familiar judgmental voice rang in my head.
The meditation that day was on the principle of "Show Hospitality to All." As each of the residents, graduates, volunteers, staff and visitors in the circle introduced themselves, the community said in one voice: "Welcome!" With every roaring greeting I could feel the air in the room vibrate, penetrating my skin and moving my heart. It began to chip away at the wall my insecurities had put up.
In that hour, I felt that I was surrounded by the teachers and healers that I needed. All the inspirational quotes and prayers I love to post on my social media networks were realized in that room, lived, learned and shared by these beautiful souls who had suffered so much and somehow found a way to heal.
I knew I had to return. I wanted to learn about gratitude that doesn't let regret, guilt and self-judgment prevent healing; I wanted to heal myself and to continue to give back until we all learn how to love unconditionally and non-judgmentally. I had found a place that felt like home.
LEARNING ABOUT GRATITUDE AT THISTLE FARMS

Thistle Farms graduates Dorris Walker, Jennifer Clinger and Donna Dozier agreed to share their stories with me. We enjoyed a Thanksgiving Tea at the Thistle Stop Cafe, with volunteers Susan Campbell and Gayle Happell. We sat around a big table, drinking delicious Moringa tea and talking about gratitude and healing for what became the "Waking Up Healed" episode of Waking Up in America.
I asked each of the graduates to share their story with me and tell me what they were most grateful for.
When I came in, they gave me a place to rest. They did not say 'What did you do?' They asked me, 'What happened to you?'
At nine years of age, Dorris witnessed a family feud in which her father was fatally shot. Unable to deal with the trauma, she found herself with a childhood addiction to marijuana which grew into a full-blown addiction to crack cocaine. In order to sustain it, Dorris began to trade herself. Regina Mullins, one of the first women that went through the Thistle Farms residential program, reached out to Dorris while she was serving a jail sentence and instructed her how to apply for the two-year program intended to restore women's lives.
Dorris is now herself a graduate of the program, and she has a new life and a job as one of event coordinators at Thistle Farms. She is in charge of setting up live events at which women survivors tell their stories and support the community through sales of Thistle Farms products.
I'm actually grateful for my story... as horrible as it was... because I can never go back to that." Dorris says. "I am able to play a part in giving back to the very people who helped save my life... to bring more women in... I don't know who they are, what color they are, none of that matters. I just know that the women are out there and they are lost. And they deserve to find their way home.
Jennifer works in hospitality, greeting and welcoming visitors. She comes alive, tells jokes and when we are there filming, she makes our whole crew feel at home.
I don't recognize the woman who walked in in 2012. I was stuck in such a dark place that I thought the whole world was against me... You hang in dark places, your world is going to be dark.
She was sexually abused by a family member at a very young age. As a young runaway, she became an easy target for human traffickers.

Every time I sold myself, or put a drug in me, a piece of me died. 18 years [of] IV heroin, in and out of psych wards, jails, institutions...
Jennifer has a son for whom she could never be present because of her addiction. During her Thistle Farms residency, she was able to show up and be there for her son for the first time, when one of his own twin daughters died shortly after birth. Being there, sober and present, helped to heal the broken relationship with her son.
Gayle, a volunteer at the Sewing Studio, made a quilt out of the receiving blanket that Jennifer's granddaughter was swaddled in during her final hours. She stitched in her love and prayers, making the blanket even more meaningful and representing the part that community has in the healing process.
I just don't even think you can even grasp, you volunteers, how much you give to us. And I'm so grateful for all of our volunteers. All of your love and all of your time.
At 60 years old, Donna just recently graduated from Thistle Farms. It was a huge relief when she was finally given an opportunity and shown the love she needed to regain her dignity and sense of self-worth.
Just because I'm this age don't mean that it's too late for me to be loved and show love back... I learned to respect myself, learned how to love myself, so... And that way I learned how to really truly love my daughter, my mother and other people... And I'm grateful for that.
Donna lived 'two lives,' hiding her drug addiction from her mother, being stuck for a long time not knowing what to do, or what was wrong with her, believing that she was a victim of everything and convinced that she was all alone. At Thistle Farms, Donna learned to humble herself, receive the love that heals and show up day after day with a renewed sense of self-worth and respect.
As she loves to cook, Donna works at the Thistle Stop Cafe. She also writes poetry and songs and holds poetry events at the Cafe.
I have gifts that I know God gave me. I'm ready.... to help somebody.
Donna sings a song she wrote about getting her love back at Thistle Farms. We all join in on the chorus that sounds and feels like a deep, powerful prayer: Love Heals.
I play piano as she sings, and I allow the gratitude to activate all the grace that's already around us, within us and among us.
The resentment, guilt and self-judgment I carry around like an old worn suitcase seem like a distant memory.
Surrounded by these amazing women who through their transformation have become powerful teachers and healers, I understand the profundity of Reverend Becca Steven's words: "Heal women, heal the whole village."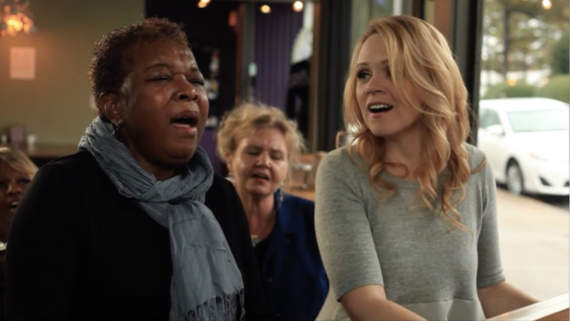 Thistle Farms is a community for women who are survivors of trafficking, addiction, and prostitution founded by Rev. Becca Stevens and based in Nashville, TN. It includes a two-year residential Magdalene Program, a social enterprise that employs residents and graduates of residential program, a bath and body care line that is sold in more than 450 stores, the Thistle Stop Cafe, and a global marketplace called Shared Trade. The community provides those in need with housing, food, health care, therapy and education. To support their work and get involved, visit ThistleFarms.org

DISCLOSURE: I did not receive any free product or service in the process of writing this blog.
Calling all HuffPost superfans!
Sign up for membership to become a founding member and help shape HuffPost's next chapter