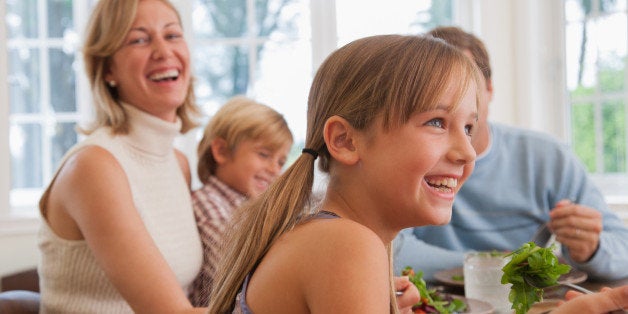 Ever since my girls were very young, we've played a dinner table game we dubbed "Best and Worst." Here's how it goes. One person starts by asking someone else at the table, "Abby, what was the best and worst part of your day today?" That person responds, then asks the same question to someone else at the table. We continue until everyone has had a chance to share about his or her day.
We've been playing this game for so many years it's become woven into the fabric of our family's culture like any other tradition. We've had to tack on supplemental rules to mitigate the girls' enthusiasm to be the first person to start: everyone must be seated before the game begins, no interrupting another person's story even if yours is really exciting. This game has opened the door for some truly wonderful conversations, as well as opportunities to support one another through challenging situations. We've also modified the game from time to time to address a specific need. For example, if one of us had a rough day and needs some cheering up, we'll ask each other, "What was the best, worst, and funniest part of your day?"
During the next few weeks we'll try a new twist: a focus on gratitude. Here are a few ideas you can try at your own dinner table to encourage everyone in your family to explore reasons to feel grateful.
1. "What is the best thing that happened to you today, and what is one reason you're thankful for it?" Keep it simple. By focusing on just one thing that happened, we're able to practice associating feelings of gratitude with specific experiences, which helps us remember to feel grateful when good things happen in the future.
2. "Share an example of someone who helped you today. What is one creative way you could show them you are grateful for their help?" By considering ways to express feelings of gratitude, it helps us communicate these feelings to others, which can help strengthen relationships.
3. "What is one act of kindness you performed for another person today? How do you think it made them feel?" This simple perspective-taking exercise helps us put ourselves in another person's shoes and think about the effect our actions have on others. Research shows that grateful people are more helpful and altruistic; by sharing examples of our kind acts, we reinforce the desire to "pay it forward."
However your family chooses to express gratitude, the research is clear: there are many benefits to doing so. Practicing gratitude makes us more likely to forgive others, get better sleep, and experience greater levels of happiness and well-being. By cultivating an "attitude of gratitude" in your family, you'll not only give your children the gift of gratitude's many health and emotional benefits, but you'll also begin to experience the benefits yourself. What a wonderful thing to feel grateful for.
This post is part of a series produced in celebration of #GivingTuesday, which will take place this year (2014) on December 2. The idea behind #GivingTuesday is to kickoff the holiday-giving season, in the same way that Black Friday and Cyber Monday kickoff the holiday-shopping season. The Huffington Post will feature posts on #GivingTuesday all month in November. To see all the posts in the series, visit here; follow the conversation via #GivingTuesday and learn more here.