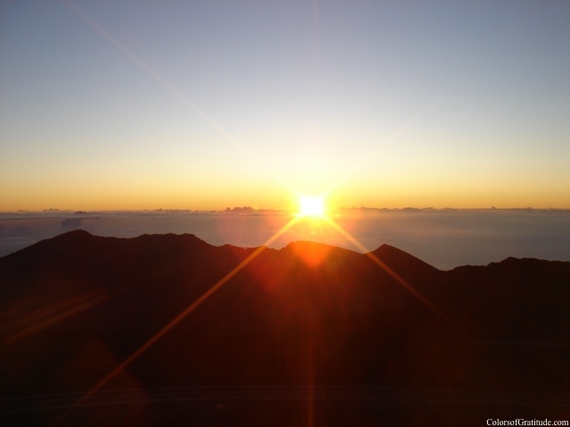 True beauty lets you fly. True beauty grounds you in gratitude. It grounds you, crowns you and abounds in youth. It's vibrant from the roots up so you may thrive. Swapping conventional personal care products for clean treats is one of the easiest and simplest ways to boost your radiance, enhance your performance and massively increase your magnetism. Beauty that's divine, naturally.
Gratitude Beauty is one of my favorite tools to help guide you toward optimal wellbeing. Think of it as your roadmap to healthy, honest personal care items. In many cases, I've had the pleasure of chatting directly with the founders/creators of the treasures below. They've shared their visions and principles with me, their dreams and reasons, their commitment and passion. It's my intention to pass this wealth of beauty on to you so you may make the most educated decisions on which products would suit your needs & desires best. All of the items in Gratitude Beauty are all-natural, high-vibe, completely/mostly organic or wildcrafted, vegan/beegan and cruelty-free (the red carmine pigment in some color cosmetics would not qualify as vegan). I also adore when manufacturers extend their love of nature into eco-conscious packaging that's even more gorgeous than that of top-tier fashion houses. Win-win-win.
I hope you enjoy this two-part series of Gratitude Beauty! It's a wonderful blend of skin care, body care, color cosmetics, superfoods, oral care and artisan perfume. Join the hot circle of mindful makers & conscious shakers. Part 2 of Gratitude Beauty's coming your way soon. Now dive in, delight and discover!
Housekeeping: I have not been compensated to write about these products. I've picked them myself because I want to highlight clean, good-for-you options. They'll make you look and feel even more fabulous than high-end, conventional brands. Green beauty is my passion and as Chief Truffle Pig Curator I like to share what's awesome.
Axiology Beauty: High fashion with a purpose. These days there's really no excuse for not delivering high-performance, organic, eco-friendly, vegan lip treats that look and feel beyond fabulous. Add to that the *gorgeous* packaging made from paper scraps that come from a boutique, women-run recycled paper store in Bali (beauty that helps reduce waste... beautiful); the super fun and functional click bullet that releases upon pushing the button; the fact that they keep the love flowing by donating 6% of their annual profits to the Orangutan Foundation International. Enter, Axiology Beauty. For true haute couture lip sticks that are good for you & the planet, look no further. All vegan, natural, organic, ethical. Love. Truth. Beauty.
Urban Moonshine: From Sunday night football pig-outs to Thanksgiving celebrations and holiday extravaganzas, all the way to Easter brunches, summer barbies and everything in between, it's useful to have magic potions on hand. You know, for when you need a supernatural boost. 'Cuz when you're healthy & happy, you're extra pretty. Love the travel sizes from Urban Moonshine because they fit in the littlest clutch and make for witty icebreakers if needed. The Organic Digestive Bitters prove that bitter is better. They support smooth digestion which makes for vibrant health. The bold aroma of the original flavor is invigorating (and I'm very intrigued by the citrus combo). Consider the Joy Tonic your portable chill pill, without any negative side effects. It's a blend of motherwort, linden, rose, lemon balm, lemongrass and mugwort in an alcohol/water base. Meant to support the nervous system and restore a positive mental attitude. Every New Yorker should be taking this! Equally, the Immune Tonic is a trusty companion to keep on hand whether you're riding the NYC subway, live in a crowded city, fly a lot or just want to bolster your beloved bod's immune system. Astragalus, red reishi, maitake, codonopsis, eleuthero, licorice, schizandra berry and ginger are the heroes here. All organic. All housed in sturdy, refillable glass bottles. All made in Vermont.
100% Pure: One of my gifts is that I embody the Truffle Pig Curator archetype. I naturally find great stuff, and love sharing it with the world. Because when you're happy, healthy and gorgeous, you light up the universe. And that makes me feel awesome, too. 100% Pure has been one of my favorite companies for years because of their dedication to absolute purity. Everything's organic; the colors come from fruit pigments; the divine scents really come from the fruits you're smelling; they're very charitable toward animals; cruelty-free; vegan/beegan; made in the USA. Their latest Vitamint lip creamsticks are total rockstars; try "dragonfruit" and "cherry tomato" for vibrant, healthy pops of color. The new Honey Cream Wash is a joy to use (creamy, refreshing, nourishing), and the pump bottle is the cherry on top. Want beautifully defined lashes that bring out the brilliance of your eyes without any irritation? Then take 100% Pure's new Maracuja Oil Mascara for a spin; I think you'll be delighted. The maracuja oil conditions your lovely lashes while emphasizing them. It's sort of like wearing a fantastic hair mask and sporting the best hair do at the same time. Bonus points: it's the best-smelling mascara, ever.
Soapwalla: Looking for your hero deo? Soapwalla's Deodorant Cream might do the trick for you. In consistency not unlike cupcake frosting, it's easily spreadable, vegan and aluminum-free. The new citrus flavor could really pass for lemon frosting (requesting a gingerbread option for holiday, please). Aside from being nice-smelling and all, the Deodorant Cream is a supreme option for those who haven't found their holy grail natural deodorant yet. I'm also fond of the convenient travel sizes of the Hand & Body Wash (hello, public bathroom!); the Luxurious Body Oil; and the Balancing Facial Toning Mist. First off, love the minis! So convenient to have in the tote or laptop bag. I feel like making a PSA that all restrooms everywhere should provide healthy, all-natural soaps that cleanse just as well as or even better than those hormone-disrupting, offensive-smelling, cheap chemical soaps currently used in most places. There, I just did it. And thanks, Soapwalla, for creating the "comfort" flavor in the Hand & Body Wash. Smells like organic macaroons fresh from the oven. The Luxurious Body Oil is subtle enough that guys would also love it (think ginger, citrus, lemongrass). And who doesn't enjoy a pick-me-up facial mist? Lavender to the rescue in the office, car, subway, airport, line at the grocery store... Heaven is just a spritz away. Housed in a gorgeous blue glass bottle. Skin food. Made in Brooklyn. By hand. In small batches. Vegan.
Suti: You may have seen this beautiful British organic skincare brand at select online retailers but you may not be aware of how much magic and intention goes into creating their potent plant potions. Aside from obviously choosing only the purest ingredients, they supercharge their treats with the energies of reiki, crystals, the moon cycle and flower essences. The Fabulous Foot Balm is an instant favorite of mine as it manages to be both enjoyably invigorating thanks to rosemary, peppermint and eucalyptus and divinely nourishing courtesy of avocado, shea and olive. Makes for a crazy good hand treatment too. The Purity Organic Restorative Balm will make you feel as if you're meditating in a loving cocoon. Calming, soothing, absolutely nourishing. The zen extends into a healthy glow with the Rejuvenate Organic Face Oil. Looks like liquid amber, smells delicious and is jam-packed with rosehip, evening primrose and argan oil. The high vibe approach has deep roots: as co-founder Suzannah has shared with me, "we perform a meditation with all of the plant materials as a way of saying Grace and being Grateful for their growth and their journey to us - so we certainly put Gratitude into Beauty." Also notice the beautiful, pure, recyclable glass jars.
Vapour Beauty: Loving the ease & sheer genius of the Stratus Soft Focus Instant Skin Perfector. It's a primer; it's a subtly pearlescent glow-giver; it's your best skin in one pump. Truly an instant skin perfector (don't you love when they really deliver on the promises of exceptional results?!). The secret: Vapour suspends minerals in a concentrated moisturizing base which means that the products don't settle into or accentuate fines lines/wrinkles. Can you say photoshop in a bottle? To make the most out of your glorious face, contour & bronze with the Solar Translucent Bronzer. Comes in three shades; housed in a super portable, retractable stick applicator (thus no extra landfill waste because you don't need additional brushes, sponges, tools). For your concealing needs, try the creamy Illusionist Concealer. Available in a slew of shades and also packaged in a retractable stick, it's a wonderful companion to your bronzer and primer. Flawless skin made easy. All cruelty-free. All organic. All committed to animal protection groups. Member of the Leaping Bunny Program. Love.
Josh Rosebrook: The ingredients in Josh's new Oculus Formula read like a gourmet herbed smoothie: hemp, sunflower, coconut, almond, grapeseed, graced with camelina, spiked with eyebright, alfalfa, blueberry, rosemary... Josh's a master herbalist who really understands the beauty that comes to life when you bring the most potent plant players together and let them do their thing. I adore Oculus' stainless steel roller ball & glass vial delivery system. Très chic, effective and sanitary! Here's another game-changer: The Herbal Infusion Oil that will take your cleansing routine to new heights. A delight to use, it provides a deep cleanse while leaving your skin glowingly nourished. Can your cleanser do that? To put your best face forward in the morning, I encourage you to explore Josh's day creams: they come in regular (or nude, as I like to call it) & tinted. Now go shine your light!
Lotus Wei: You could live in Antarctica and feel inspired to get your bikini out just by looking at the colorful, powerful flower treats from Lotus Wei. The Wish-Fulfilling Scrub Trio is gourmet heaven. Think silky, glowy, happy skin for dayyyys. The scrumptious aromas will linger in your bathroom: in the mood for chocolate-espresso (Life is Good) today? Or how about sparkly, tipsy berry (Sky's the Limit)? How 'bout bamboo zen (Make it Happen)? The genius of Lotus Wei is rooted in the wisdom of flower essences that can impact our wellbeing tremendously. Think of flower essences as natural tuning forks that realign your system with real flow. So while the scrubs' flavors sound all delish & yummy, know that there's potent plant power working behind the scenes. I'm also a huge fan of their mists. Joy Juice should be available in every office and public space. As the name implies, it uplifts, energizes, and helps you get your happy on (cue Pharrell and shake that bootie). It'd be equally nice to have Quiet Mind available in every office and public space. Mist, breathe in, enjoy. While you're at it, swap that boring lip stuff you might be using (or dare I say it, that chapstick) for the latest addition to Lotus Wei's assortment: The Truthteller lip balm. Maybe that's the encouragement you need to speak your truth. Flower alchemy in action. Organic.
Dr. Bronner's: Covering all your bases. If you're a minimalist in the beauty department and love when one product is the David Copperfield of your top shelf, Dr. Bronner's will delight you tremendously. Besides the fact that the cheery orange container of the Pump Soap makes me smile every time I look at it, it's very handy and multi-purpose (hand, face, body, hair if you need it to). The Shaving Soap's formula is similar to that of the pump one but especially great for throwing in the suitcase. And for happy teeth I'm thrilled to share that Dr. Bronner's have launched a Toothpaste (and there's a flavah for even the choosiest tooth fairy: peppermint, anise, cinnamon). Truly All-One. If you know someone who still uses the conventional stuff shown on TV, do everyone a favor and point them toward this goodie. Voilà. Fairtrade. Vegan.
YOU are organic. Only organic beauty products will keep you beautiful.
Beauty that's divine, naturally.
To learn more about the beauty of life, hop over to ColorsofGratitude.com.