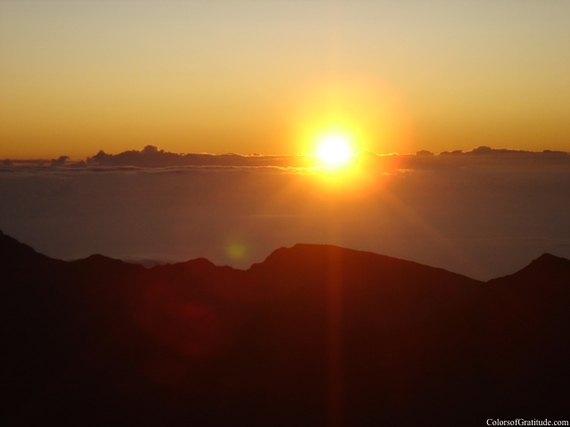 True beauty lets you fly. True beauty grounds you in gratitude. It grounds you, crowns you and abounds in youth. It's vibrant from the roots up so you may thrive. Swapping conventional personal care products for clean treats is one of the easiest and simplest ways to boost your rrrradiance, enhance your performance and massively increase your magnetism. Beauty that's divine, naturally.
Gratitude Beauty is one of my favorite tools to help guide you toward optimal wellbeing. If you missed Part 1 of Gratitude Beauty, it's right here. Think of it as your roadmap to healthy, honest personal care items. In many cases, I've had the pleasure of chatting directly with the founders/creators of the treasures below. They've shared their visions and principles with me, their dreams and reasons, their commitment and passion. It's my intention to pass this wealth of beauty on to you so you may make the most educated decisions on which products would suit your needs & desires best. All of the items in Gratitude Beauty are all-natural, high-vibe, completely/mostly organic or wildcrafted, vegan/beegan and cruelty-free (the red carmine pigment in some color cosmetics would not qualify as vegan). I also adore when manufacturers extend their love of nature into eco-conscious packaging that's even more gorgeous than that of top-tier fashion houses. Win-win-win.
I hope you enjoy this two-part series of Gratitude Beauty! It's a wonderful blend of skin care, body care, color cosmetics, superfoods, oral care and artisan perfume. Join the hot circle of mindful makers & conscious shakers. Now dive in, delight and discover!
Housekeeping: I have not been compensated to write about these products. I've picked them myself because I want to highlight clean, good-for-you options. They'll make you look and feel even more fabulous than high-end, conventional brands. Green beauty is my passion and as Chief Truffle Pig Curator I like to share what's awesome.
Living Libations: Living Libations is one of the most magical companies I've ever encountered. Their products are absolutely superb, pure and potent. I've had the pleasure of interviewing Chief Concoction Officer Nadine Artemis for Gratitude Speaks; check it out here. Where to start? Her Best Skin Ever oils are a must. Lavish Abundance captures summer in a bottle. Divine all the time but especially when it's cold & dreary out. Truly a mood booster that happens to feed your skin exquisitely (your body will soak it right up). The All Season Serum delivers nutrition deep into your cells so that your skin beams with hydration, plumpness and gratitude. Love the brown glass bottle and dropper it comes in. I feel comfortable recommending this one to everyone because it's so adaptogenic. It delivers whatever your skin needs. It's the maca of facial oils. Hooray Hand Cream is aptly named and such a treat! Its fresh, uplifting scent indicates the bright nature of nourishment your hands are about to receive. Talk about giving grace and gratitude. Applying this cream can become a mini moving meditation. Massage your message. The truffle pig in me did somersaults when I got to experience two new fragrances (new to me, at least): Lei Lady Lei Garland Perfume transports you right to Hawaii. Tuberose, jasmine, carnation, ylang, golden champa and royal Hawaiian sandalwood create an authentic, honest and ultra luscious symphony for the senses. Highly recommend. The other fabulous fragrance, Firelily, merges the elements of earth and fire like I've never smelled before. It's got zest, it's got zing; like benign fireworks, it explodes into serene, bold sparkle. Notes of neroli, bergamot, vanilla bean, cape chamomile and mandarin petigrain will transform your everyday into extravagant. Alive in glee. This is what summer sunshine smells like. Je t'adore, Firelily. All wildcrafted/organic. Made with love in Canada. Cruelty-free. Exceptional quality.
Fitglow Beauty: If you think natural beauty products don't work and you can't seem to let go of the editorial lure of stuff from, say, mars, channel or bigmac, try Fitglow Beauty. Color pay off and performance are sweeter than that of conventional brands and the sleek packaging doesn't scream granola. Issues with red, stressed skin? First, lay off the chemicals and get out in nature. Second, take the Redness Rescue Cream for a spin. For happy skin so glowing your fashionable friends will ask what you're doing, prime with the Bliss Oil. Finish off with their superb Good Gloss or Lipstick for a modern, plump pout. Put your research goggles on and do the 30-day #greenbeauty challenge. You'll thank me later. This goodness is made in Canada, cruelty-free and non-toxic.
PiperWai: When charcoal is better than diamonds...Whether triple digits are approaching in your part of the hemisphere, whether you're doing crossfit like a mad hedgehog, or you're a fast walker, or you just want to smell lovely all the time -- a superhero deo is your best friend. I've been test-driving this gem and I'm loving the idea of using activated charcoal to keep things fresh & happy in the pits. Of course it's all natural. If you're still using one of those chemical catastrophes to stay presentable, let this be your sign to ditch it. There are beautiful natural, healthy options available these days and PiperWai can be the diamond for your pits. The subtle scent is delightful and fresh thanks to a proprietary blend of 11 essential oils. 100% natural. Eco-friendly glass jar.
Nudus: I've always admired the outdoorsy ease and simple sensuality of Australian women (but then again I might be totally off on that, haven't been to Oz yet). Anyway, if my theory is right, it's only natural that a sweet brand from Down Under would create natural lipstick so chic you may or may not want to wear it with a ton of clothes. Introducing: Nudus. Yes, it's all in the name. 27 active natural ingredients; certified COSMOS #organic; chemical-free; Ayurvedic colors from flowers, fruit, herbs and minerals; cruelty-free; handcrafted; small batch; made in Sydney, Australia. Highly pigmented, healthy lip love. Guess it's called Lip Euphoria for a reason. And the subtle scent is divine; reminds me of strawberry-caramel parfait but that might just be the truffle pig in me. Go sniff for yourself.
Elaa: Nothin' funner than playing with new gems. It's like getting a box of pralines that's so beautifully curated that you enjoy every single one. Yeah, you don't find those everywhere but that's what beloved truffle pigs are for. My pleasure! Happy to introduce you to Elaa Skin Care. Elaa means 'to be alive' in Finnish and the line is just that: organic, active, raw, cruelty-free, vegan/beegan, handmade, small batch, made in Oregon. The Superfood Dream Cream not only sounds heavenly, it'll do exactly what its name suggests: Feed. Your. Skin. Deeply. I'm also a huge fan of the body oils! The Chocolate Rose Plum Restoring Body Oil is so delicious you'll keep smelling yourself. And it's divine for the upcoming cooler/cold months. Such is the Pear Restoring Body Oil. Yum. Get ready for compliments galore! If you're still using conventional toothpaste, do yourself a big favor and switch to all natural. Elaa offers wonderful options such as the Double Mint Probiotic Toothpaste and the Fresh Breeze Ozonated Oral Care Gel. Try it. You'll want to smile more, which strengthens your immune system, which keeps you healthy. Virtuous cycle.
Kjaer Weis: Kirsten's long-awaited bronzer embodies la bellezza. Aptly named Dazzling, this certified organic, gilded-amber crème made in Italy beams your glow into a whole new galaxy. And Dazzling wouldn't be dazzling if it wasn't both a bronzer and a contour. Sport that warm glow, caress your contours, elevate your presence. Multi-purpose at its chicest. I encourage you to indulge in this most sophisticated texture. It feels like nothing on, and it leaves nothing undone. Dazzling's a decadent mousse au chocolate that's actually awesome for you. And you know a blush is calling your name when it's named after one of your favorite words: Abundance. It's a "plummy taupe with an iridescent finish," as Kirsten describes it, that gives a modern, refined air to the cheeks. The two latest color additions to her line, Happy cream blush (delightfully, jolly raspberry-creme) and Grace eye shadow (nude hemp-mocha-latte) serve as the perfect bouncing-off place for a cheerful, polished look. Particularly needed in corporate settings. May we all be nourished by abundance so that we move forward with grace, happily sharing our gifts, dazzling with joy! Keep beauty flowing: eco-friendly refills available! NOT tested on animals. Gluten-free. Certified organic. Made in Italy.
Leaves of Trees: Winter, spring, summer or faaaaall, all you have to do is... wear a deo that works for ya. I'm always looking for healthy deodorants because one formula doesn't work for everyone. It depends on your body chemistry, your hormones, what fabrics you're wearing. It's worth the search, though, as you want to make absolutely sure that your stink protection is clean, pure and all natural. At Leaves of Trees, apothecary style meets modern formula that doesn't leave those streaks if you happen to jump into your tee too quicklyyyy. The built-in AC of the Eucalyptus-Mint combo is enjoyable; makes the pits particularly pleasurable. Vegan, cruelty-free, non-toxic, of course.
Tata Harper: Tata's luxurious Smoothing Body Scrub brings together the best of both worlds as it merges spa-strength experience with at-home convenience. It's got a glorious blend of exquisite exfoliants (and they're biodegradable, all 5 of them): pink Himalayan salt, Hawaiian sea salt, cranberry fibers, apricot seed powder and organic sugar. What does that mean for you? Micro-polished skin that's hydrated, ultra soft and glowwwwing. Just look at Tata's gorgeous glow, she's truly embodying her philosophy. The Smoothing Body Scrub's scent beams you right into a lush jasmine grove and the heat of increased circulation will turn on your life force. Kundalini. Rising. Housed in Tata's signature green glass and golden lid, as it should be. All natural. Made in Vermont. Cruelty-free.
Four Sigma Foods: Only a healthy body honestly celebrates beauty & wisdom. As someone who's absolutely passionate about health, wellness and good food I'm delighted to have found the portable shrooms by Four Sigma Foods. I'm particularly fond of the instant Reishi and Chaga concoctions that you can instantly brew anywhere (Thank you, Starbucks, for providing clean, hot water and being pretty much omni-present.). At home, I have the time & tools to create my famous superfood hot chocolate but when I'm traveling or running around all day I love having the convenience of FSF's shroom power. The Reishi option, aside from balancing your nervous and immune systems, also satisfies your sweet tooth because of the kiss of stevia mixed in. I'm also a huge fan of the Chaga option that has a bold flavor for full-on immune prowess. It also passes for black coffee so your conventional colleagues won't know you're shrooming if you're not telling ;) The Mushroom Hot Cacao is a fantastic idea, and I'm hoping to see an unsweetened (or at least sugar free) option soon. Medicinal mushrooms made modern. Stash some in your purse or laptop bag. Would also make nice stocking stuffers. FSF's latest addition to the superfood family, the Beauty Blend, makes whipping up your wonder woman smoothie or acai bowl uber easy & convenient. Packed with cell-nourishing anti-oxidants acerola and schizandra, liver-loving milk thistle and aura-protecting astragalus, this potion in a packet will unleash your inner glamazon. Also great for super men, just sayin'.