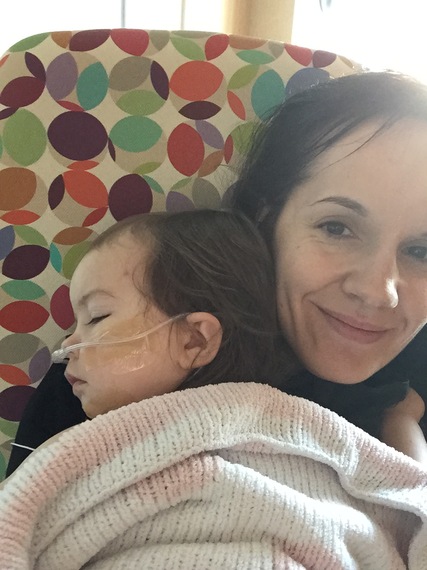 The night air was crisp as we stood next to our minivan on the exit shoulder; I hoped it would cool our feverish and frightened toddler. Her condition had been worsening during the long drive home and we were now afraid she was in danger. My husband and I quickly began discussing options. What we didn't know standing on the side of the Pennsylvania Turnpike was that in a matter of minutes our 16 month old daughter's airway would begin to close, that she would start breathing into her stomach, and that she and I would be rushed away on a medevac helicopter headed west to Pittsburgh while my husband would continue the overnight drive home to DC with our other three young children.
A year has passed since that night which unraveled with searing speed. I've replayed the events many times and every time I cry. I remember all of it with clarity and I still marvel at the moments of gratitude that arose throughout the experience.
Under the glow of highway lights, it took us seconds to decide we needed immediate help rather than trying to get home to the familiar care of our local hospital. We ran a Google search for the closest emergency room. Of the many miracles that night -- the sheer impossibility that we had taken the last exit for the next seventy miles remains the most chilling to me. I would be telling a different story if we hadn't pulled off when we did. A parent's intuition is so mysterious and so real.
We raced through the back-roads of rural Pennsylvania and pulled up to what resembled a strip mall office park more than an emergency room. Bursting into the small hospital I shouted for help and found a staff member who tried to usher me to a registration desk. I panicked, arguing that my daughter was in respiratory arrest. She quickly led me through some doors rushing past curtained triage rooms.
A team of nurses assembled, stripping off her footie pajamas, and started to try to help her breathe. I held my face next to her tiny ear and sang, desperately hoping to calm her, "Baby mine don't you cry ... baby mine dry your eyes ..."
When the on-call doctor arrived, her face was serious and full of fear. She told me that her team couldn't help us and that we needed to go by helicopter to a Children's Hospital. I was thankful for a doctor humble enough to know her expertise was limited, for nurses that were dedicated to their craft, and for the medevac team who arrived quickly and was even faster with their tasks. Assessments, radio calls, changing of equipment, strapping to the gurney, rushing into the parking lot, boarding the waiting helicopter, strapping on helmets, testing microphones, taking off.
We landed very shortly after on top of the tall hospital. The team unbuckled me, pulled off my helmet and handed me down to a policeman on duty at the hospital awaiting our arrival. He grabbed my elbow as I stepped off the helicopter and with his hand on my back, bent me over as we scuttled across the dark roof, ducking under the deafening blades whirring overhead. He left me in the holding room and returned to escort the rest of the group. It was instantly quiet and still. I stood holding the near empty diaper bag I had grabbed, alone, blinking in the harsh florescent light and began to sob.
Moments later the doors opened again with a rush of air and the team rolled in the gurney with my little girl. Odd mementos of our journey were placed in my hands -- a medevac hat, a Children's Hospital mascot bear -- as we jogged to the Pediatric Intensive Care Unit (PICU). In the first room we passed I glimpsed a young boy disfigured by physical trauma. The injuries were so severe I gasped and felt grateful that we weren't facing a similar fate and prayed for his recovery.
We arrived at her room already full of a team of more than a dozen specialists and nurses. They worked through the night to get little lungs to work properly, grappling with the lack of equipment for such a small face, while trying to determine what was causing the issue. Every five minutes warning alarms sounded on the various monitors and it felt like we were back at square one.
I stood by her bed the whole night singing in her ear, watching her vitals on a split screen shared with the vitals of the small child in the room next door. It became a tortuous game of seeing whose numbers were better or worse.
I thanked the team rushing in and out. In longer stretches of stability I sent out messages updating our loved ones about what was happening. I posted requests for practical help as I had nothing with me and my husband was enduring a long night of driving alone. The response from family, friends, colleagues and people we never met was overwhelming. As the hours passed, alarms became less frequent and the vitals' numbers began to leave the dangerous ranges. And then morning came.
As fast as my little girl's health unraveled, the work the doctors and nurses performed saved her with equally surprising brevity. A PICU staff meeting at the door of our quarantined room determined through healthy debate that she had caught a seasonal virus, and then had also picked up the deadly enterovirus D68 that was killing young children around the country at that time. Every minute had counted to fight this indescribably fast virus. The genuine astonishment at her quick recovery was visible among these world class physicians. As my sister and I would later observe -- yay for science and yay for miracles.
Thought she was out of the woods, it would take more time to get my daughter breathing 'room air' again, but she slept soundly in between device changes each less intrusive than the last. While she rested I found myself busy with tasks I counted as privilege.
I pulled aside every staff member who helped us, thanking and encouraging them in their incredible work. Words of appreciation aren't often spoken in PICU because grief or lack of time can crowd them out, but they are powerful. I dashed to the hospital welcome desk to pick up changes of clothes and a hot meal that had been dropped for me and was overcome with love for our impromptu support network. I made phone calls to family members far in distance but close in their thoughts. I spoke with our medevac team who had made a unique visit carrying well wishes from the small hospital team to see if their tiny passenger had made it. I discussed access to medical care with members of the PICU administration and their nonprofit work. I listened to many life stories of the various people who helped in my daughter's recovery. And most striking, I met a sweet family that was entering the worst week of their lives, praying for and with them and hearing their story that will live in my heart forever.
The confluence of terrible and wonderful in those couple days wounded uplifted and transformed me. I don't think crisis or loss pushes us to remember to count our blessings, we already know our blessings. But I do think that disaster, however small, can remind us to be more deeply aware of those gifts, and hopefully prompt us to voice the gratitude we already have.