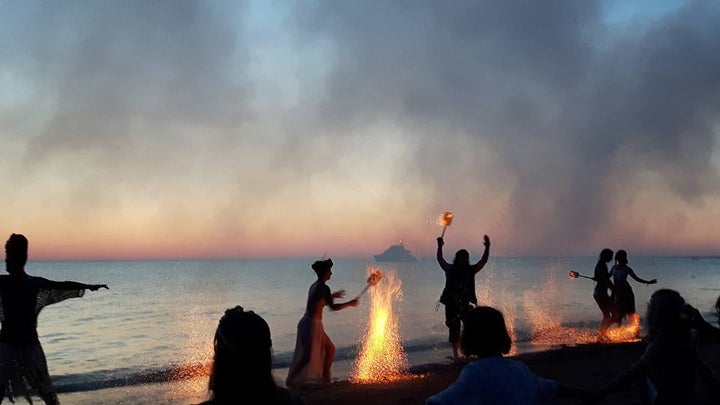 On July 14-16th 2,700 people gathered together at hEllo Beach in Keansburg, New Jersey for the third annual beachfront version of The Gratitude Migration Festival. It was a feast for the senses and a transformative tonic for the souls who gathered.
I returned home healed. As festival goer Anton Nickel remarked, that "I am so grateful to be alive, and to observe the beauty and creativity in the world that is SO heavily concentrated at Gratitude Migration. When you put that many creative people together in one place there is a depth to the experience greater than the sum of the parts." A transformation takes place through both the logistical challenges of gathering thousands of people together in the rain or sun, as well as the vast amount of options to take in music performances, yoga, lectures, art projects, metaphysical gatherings and just plain fun splashing around in the water with New York City beckoning like the Emerald City upon the horizon.
Getting off the bus Friday evening I met local resident Lisa Kelly who said the festival was the best thing to ever happen to Keansburg. What impressed her was the joyful attitude of the attendees. Instead of spring break like behavior, she found the attendees to be very awakened, thoughtful, and aware of the impact their presence would have in her hometown. She loved having the people come, and reminded me that the town was still recovering from Hurricane Sandy so the additional work and dollars pouring in was a huge help to the community.
I quickly learned that Gratitude isn't just a feel good buzzword. It isn't just a state of happiness when everything is happy and perfect, but a state of mind to strive to maintain through the sun and rain, heat and cold, good and bad times. A torrential downpour took place as I was setting up camp Friday evening and after getting soaked, I found water water everywhere including inside my soggy tent. Yet, those who offered shelter from the storm for myself, and my travel companions Meghan Meyer and Dillon Mason radiated such good cheer I couldn't help but endure the discomfort with gratitude as a constant, not fluctuating state of feeling.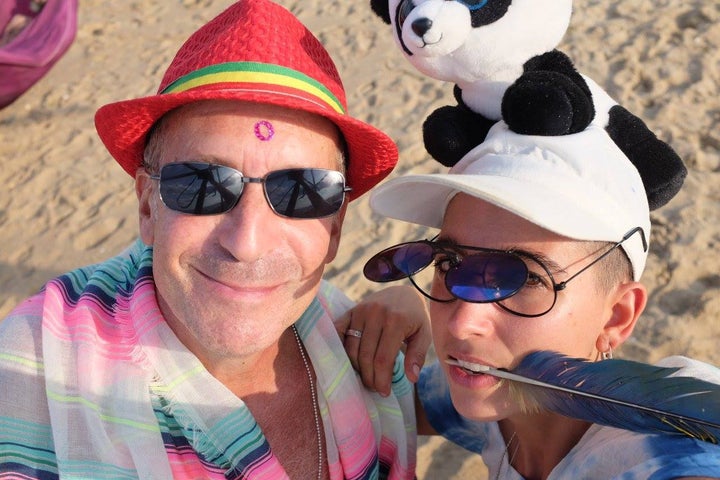 Such was the depth created by thousands of souls coming together with a specific intention. The intention to dream, expand, create, share, dance, swim, sleep, sing, play and enjoy life with all it's challenge and beautiful diversity.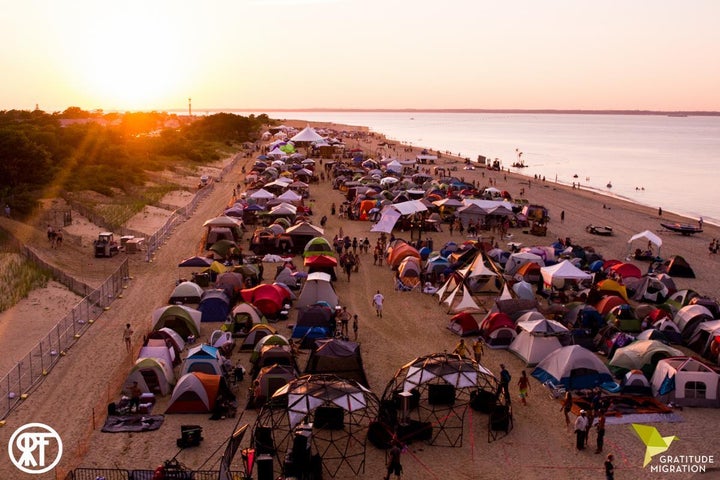 I experienced the weekend clean and sober without any alcohol or chemical substances to alter my consciousness. I gave a lecture at the "School of Dreams" on "How to travel like a rock star on a backpackers budget." It was based around my months of travel through SE Asia where I learned some helpful travel tips to live very well whilst being prudent in my spending. It was more 'How To' instructional than cosmic. Other lectures included everything from business advice for Doing What You Love by Beth Weinstein, to how to maintain a healthier lifestyle through healthy eating and increased probiotics by Kevin Spyker. From the mundane to the sublime dozens of teachers, yoga practitioners, authors, entrepreneurs, healers, musicians of all types shared their wisdom with attendees.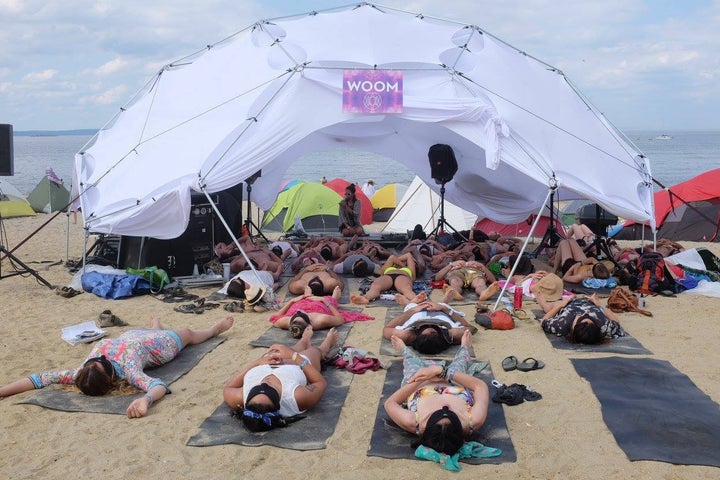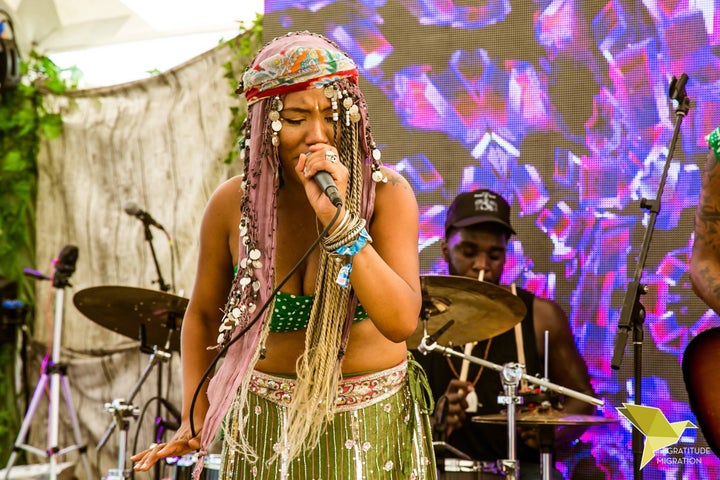 There was so much going on in every moment it would be impossible to list all the great performers. A few however stood out. There was Ellis Ashbrook, a band I was wowed by at last years festival, which again played Friday night in the rain and moved me with their rock, funk, progressive jazz fusion rap soul hybrid sound which as you can read from my conflicting adjectives, they are so talented yet impossible to categorize.
The annual sunset march of the butterflies again this year delighted all those who witnessed their fluttery procession down the beach.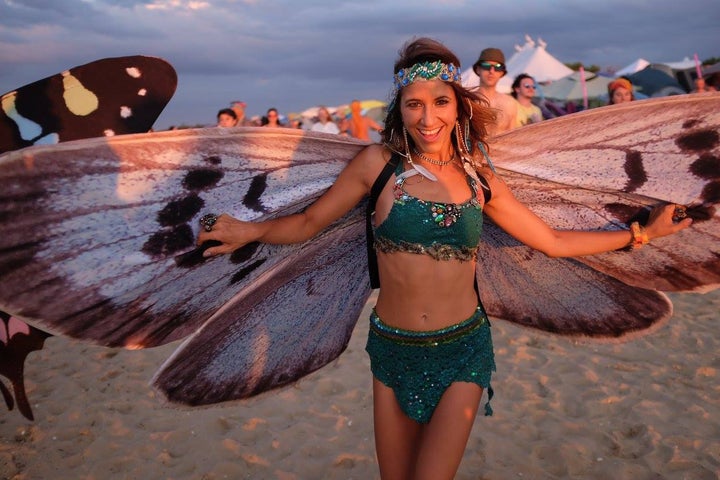 Then later the moon rose red as a sliced ruby grapefruit. First low on the horizon a perfect half moon shape, it looked like a building or surreal ship at first. It was an omen that an unusual Saturday night was ahead.
There was a "Burn" similar to Burningman complete with pyrotechnics and fireworks, and great DJ sets including Blu Detiger, a stunningly beautiful female DJ who played bass guitar along with the music she was spinning. It was magic. At sunrise a magical, ceremonial fire procession took place as the horizon slowly illuminated in pastel shades of pink, orange, peach, and red to the mystical music of composer Charlie Dayburn Wan. Many felt it was the most awe inspiring sunrise of their life.
I have attended this festival three years in a row and this year felt different. The organizers have upped their game in many ways- from wrist bands that serve as digital wallets which you 'top off' to pay for purchases, to more organized camping areas including a family camp for people bringing young children who's placement was away from the louder music stages. The weekend seemed to run smoother and more professional. Everyone vibrated their own frequency. As mentioned I went through it sober by choice. I felt something different afterward. I felt an inner glow, a lightness of being. Something in me was removed, a penumbra, a veil of invisible heaviness that was washed away in the rain Friday night, that was baked by the golden afternoon sunset on Saturday, and cleansed in the dark night under a ruby red grapefruit moon. Such is the magic of Gratitude Migration where dreams become reality, and reality is transformed.
Related
Popular in the Community