Cultural & Charitable Catch-Up
Text & Photographs © Jill Lynne. December 2017
The Pathways to Paris Concert for Climate Action with Joan Baez, Patti Smith…
The VOSS Foundation: Women Helping Women Luncheon with Cynthia Erivo, Tamaron Hall…,MADDMAN:The Steve Madden Story with Steve, Netflix's ICARUS with filmmakers Liz Garbus…
During these convoluted, difficult times, it is a challenge to be optimistic.
I've found that surrounding oneself with grateful happy people, as well as immersing oneself in positive charitable and cultural ventures, can be of assistance in maintaining an optimistic outlook.
Perhaps the most optimistic event I've recently attended was the Pathways to Paris Concert for Climate Action at Carnegie Hall and the wonderful After party attended by leading environmentalists.
Musical legend, songwriter and activist, Joan Baez performed along with such musical luminaries as Patti Smith, Michael Stipe, Flea, Talib Kweli, Cat Power and many musical, performers and eco- luminaries, Bill McKibben, Dr. Vandana Shiva, Tanya Tagaq, Tenzin Choegya…
Baez noted, "I'm incredibly honored and excited to be part of this event…Climate change is the issue of our time and it will take all of us - musicians, activists, policymakers and business leaders - to truly make a difference."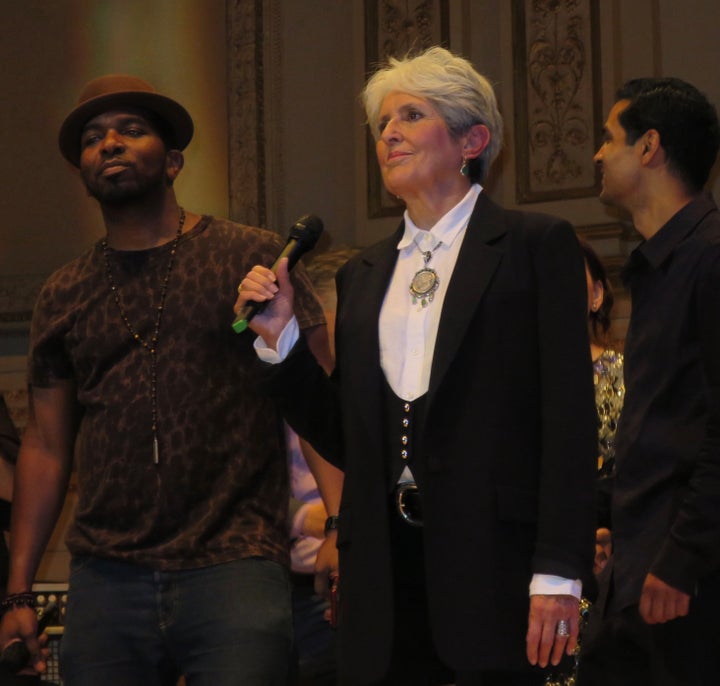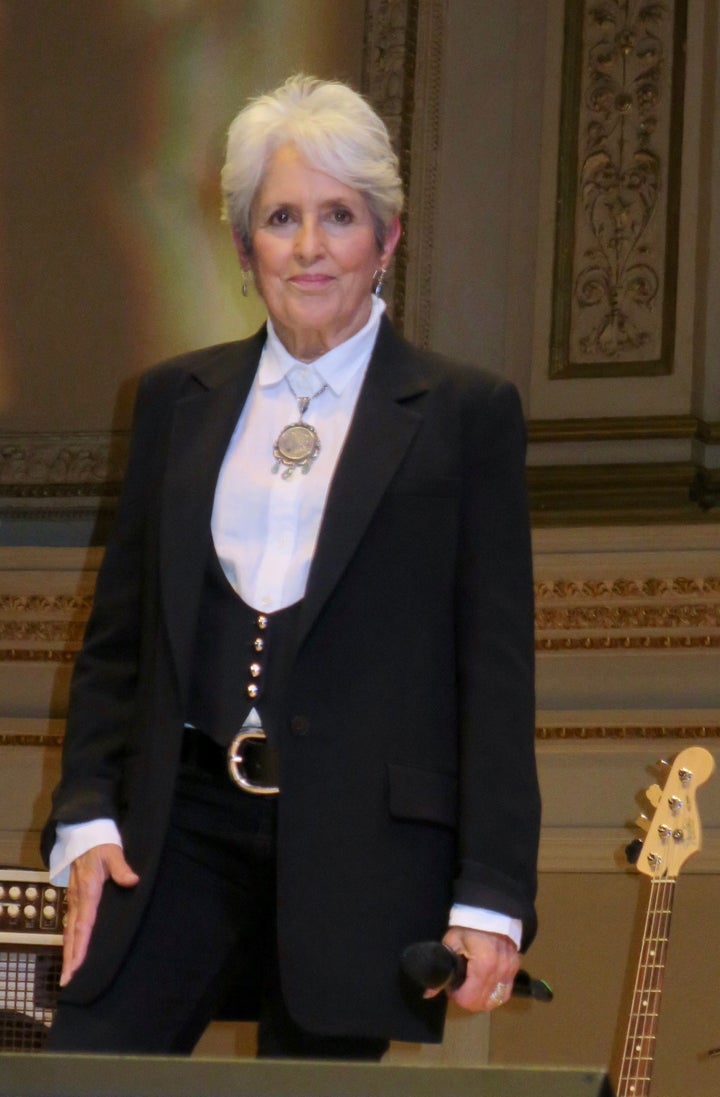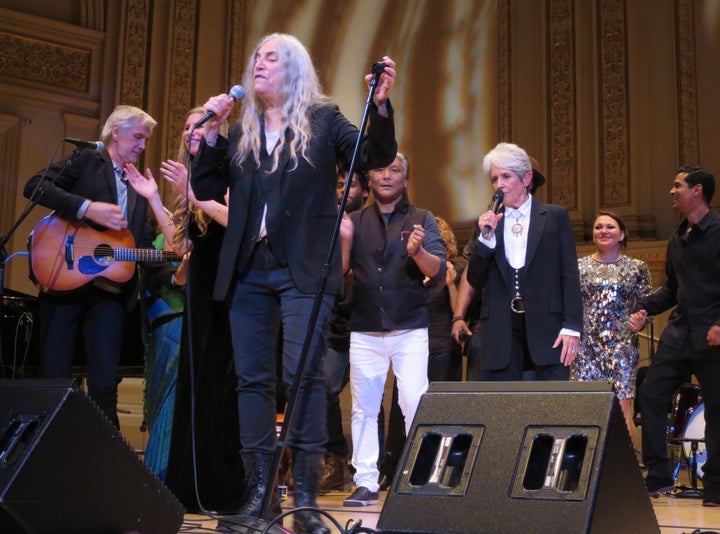 The legendary Joan Baez performs at the Pathways to Paris: Concert for Climate Change - with Patti Smith
The concert, also featured speeches and musical performances from Pathway to Paris founders Rebecca Foon and Jesse Paris Smith (the daughter of the celebrated Artist, Patti Smith).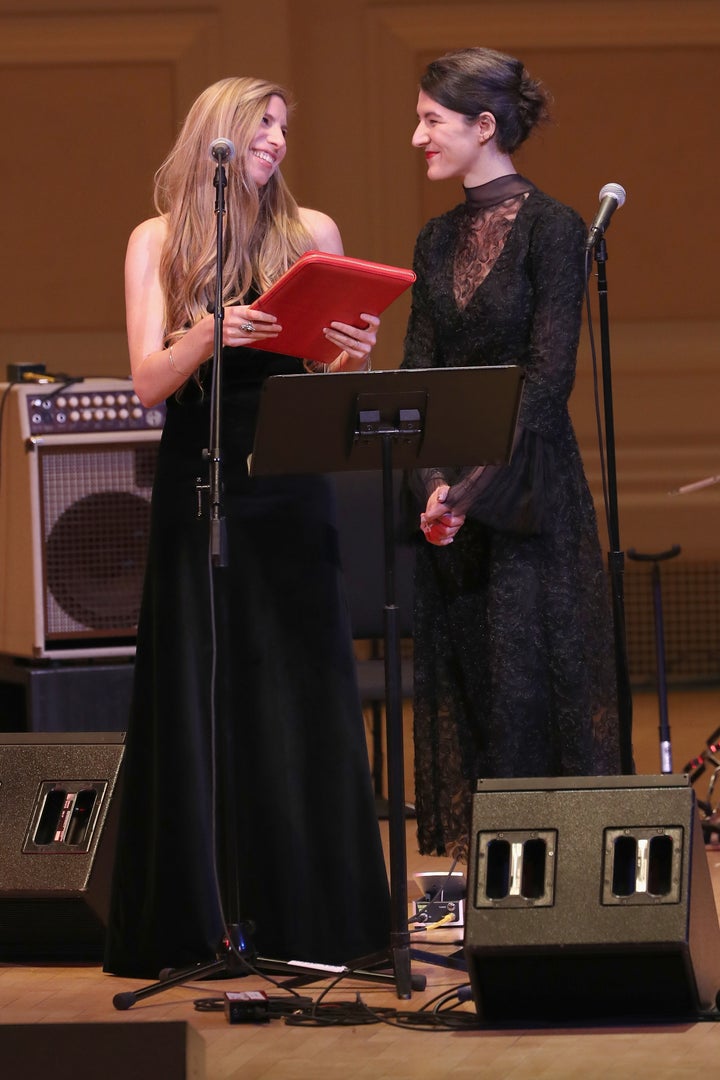 Founders Rebecca Foon and Jesse Paris Smith
The role of cities in reducing carbon emissions and tackling climate change was also front and center at the concert, where Pathway to Paris unveiled further details on the 1000 Cities initiative.
"Pathway to Paris is more than a name - it's an ideal," said Rebecca Foon. "Cities have a remarkable and necessary part to play in moving us towards achieving, and possibly even surpassing, the goals of the Paris Agreement."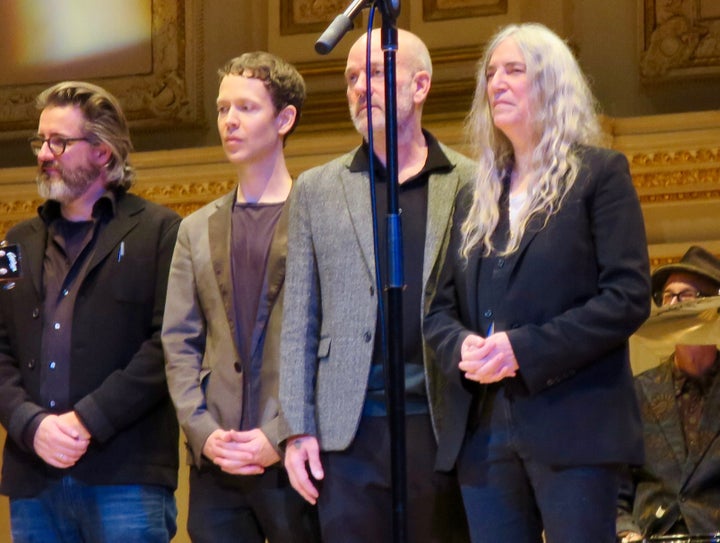 Patti Smith & Friends bring the house down with her fabulous performance
Jesse Paris Smith added: "1000 Cities is built on the premise that if 1000 cities come together and commit to becoming 100 percent renewable and transition off fossil fuels by 2040, we can turn the Paris Agreement into action. Pathway to Paris is committed to supporting cities to get there."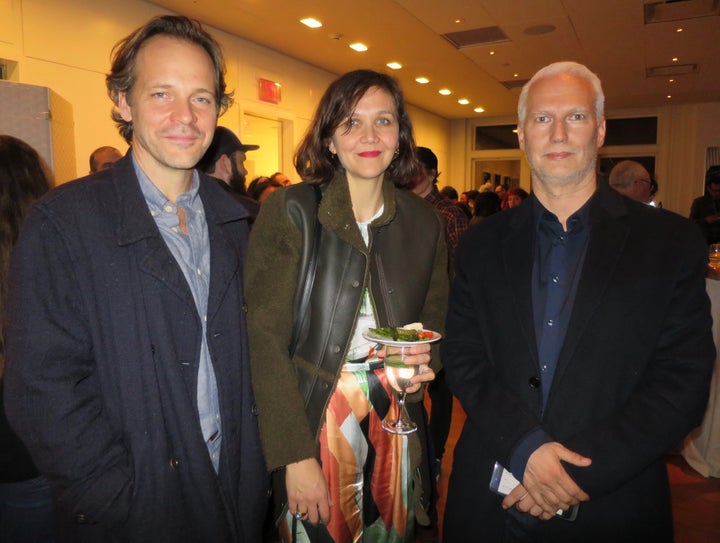 At the Pathways exclusive After Party, Actress Maggie Gyllenhaal, Star of the new gritty HBO series "The Deuce" with Friends, including Klaus Bisenbach, Director of MOMA's PS1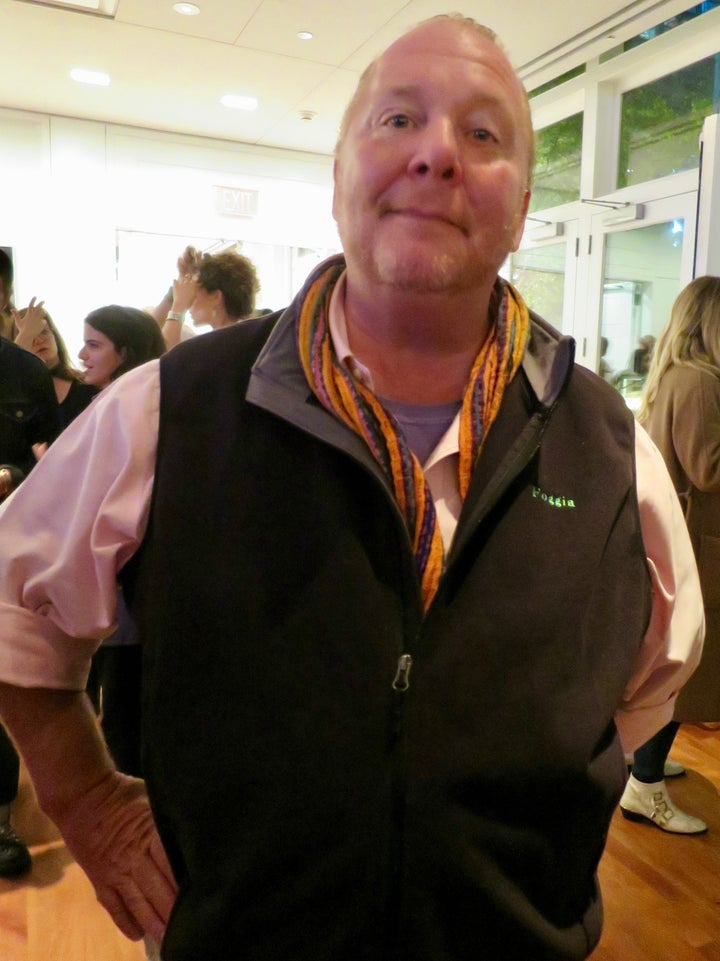 The very popular celebrity Chef Mario Batali (The Chew) wearing his signature Bermuda shorts and Vest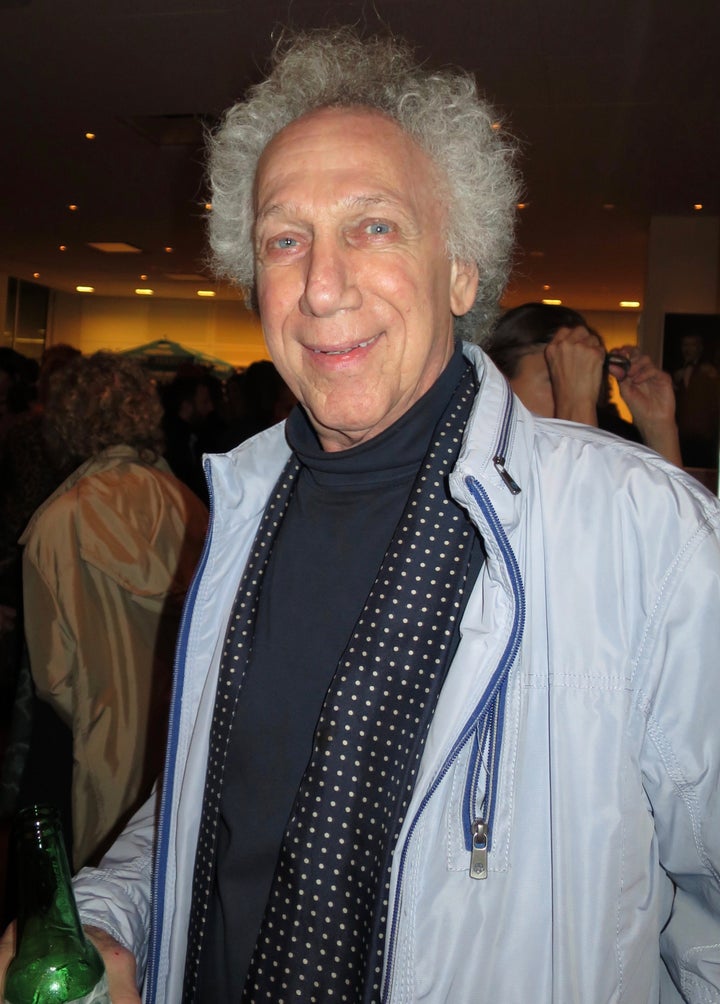 Famed Rock Photographer, Bob Gruen
The concert was the third - and largest - collaboration between Pathway to Paris, 350 org and UNDP on climate action - the first coinciding with the adoption of the Paris Agreement in 2015.
_____________________________________________________________________
One of my most favorite charities is the VOSS Foundation's "Women Helping Women".
As a supporter since the very first event, I attended the 8th Annual Luncheon at the Downtown Dream Hotel.
The VOSS Foundation (makers of Artesian Water from Norway) was founded in 2008 by, at that time, CEO of VOSS, Knut Brundlandis.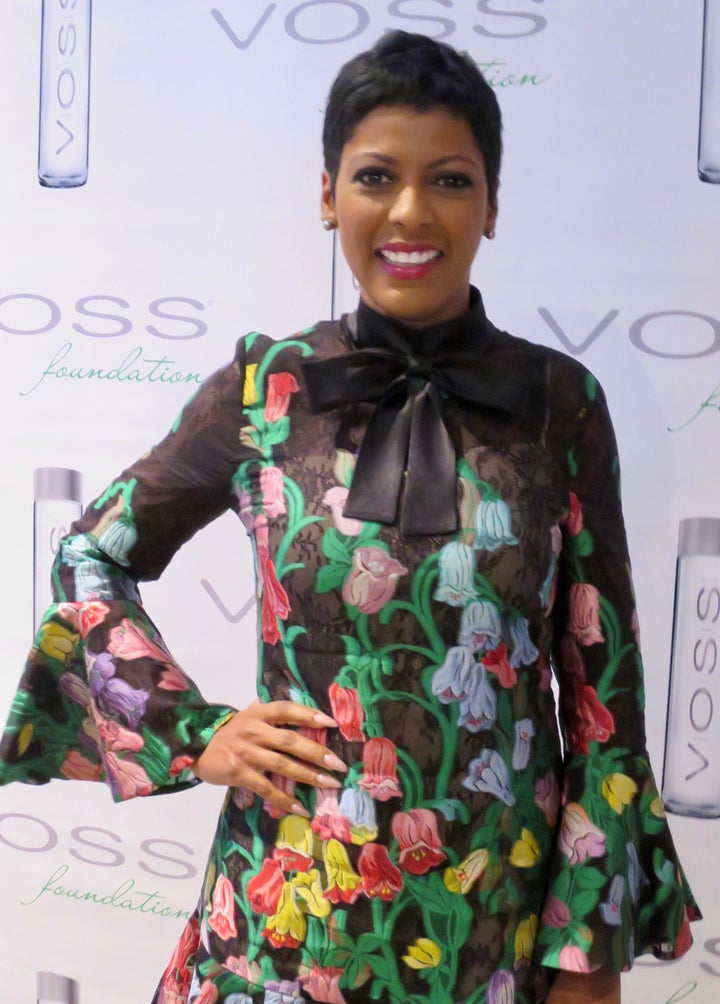 Honoree, Award-winning Journalist Tamaron Hal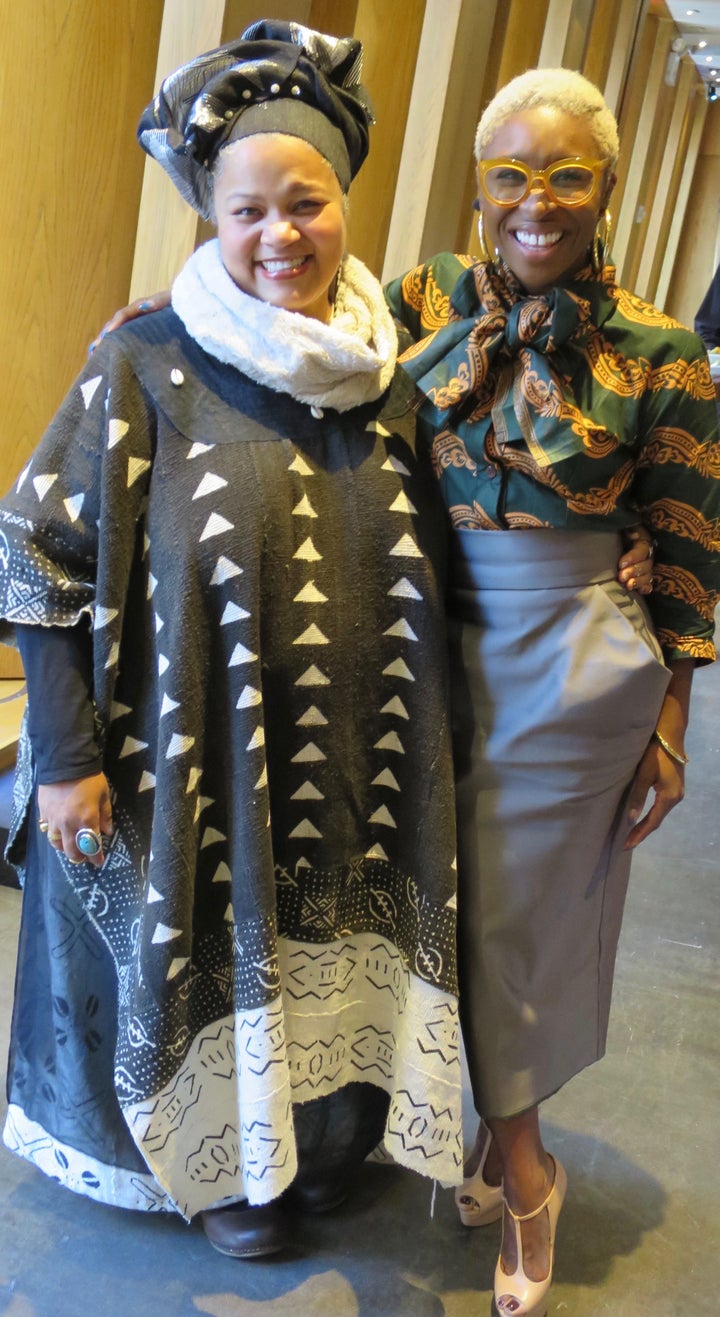 Honoree, the Tony, Grammy & Emmy Award-winning Actress Cynthia Erivo (R) with friend – both sporting bold African made textile Fashions
This year the Honorees included Tony, Grammy and Emmy award-winning Actress Cynthia Erivo and award-winning journalist Tamron Hall.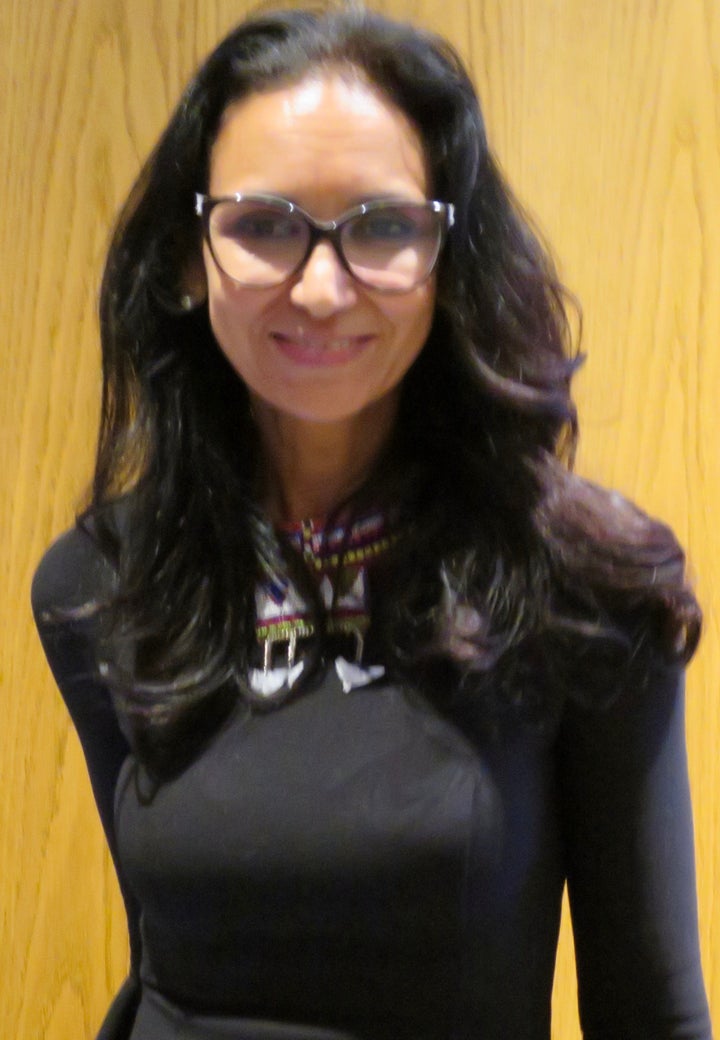 Writer, Producer & Author Susan Fales- Hill who gave the closing remarks for the Voss Foundation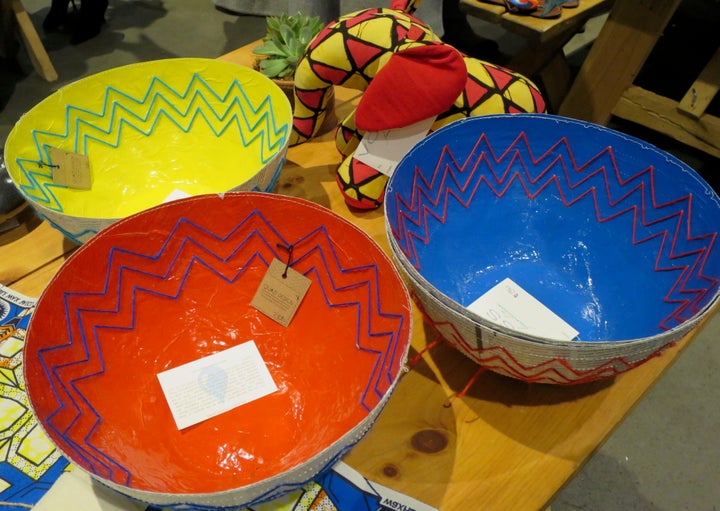 At t he Pop-up Colorful African Bazaar…
The highlight of the event was the Holiday African Bazaar Pop-up where attendees gladly gathered up craft items created by African women – from colorfully woven baskets through soft elephant toys.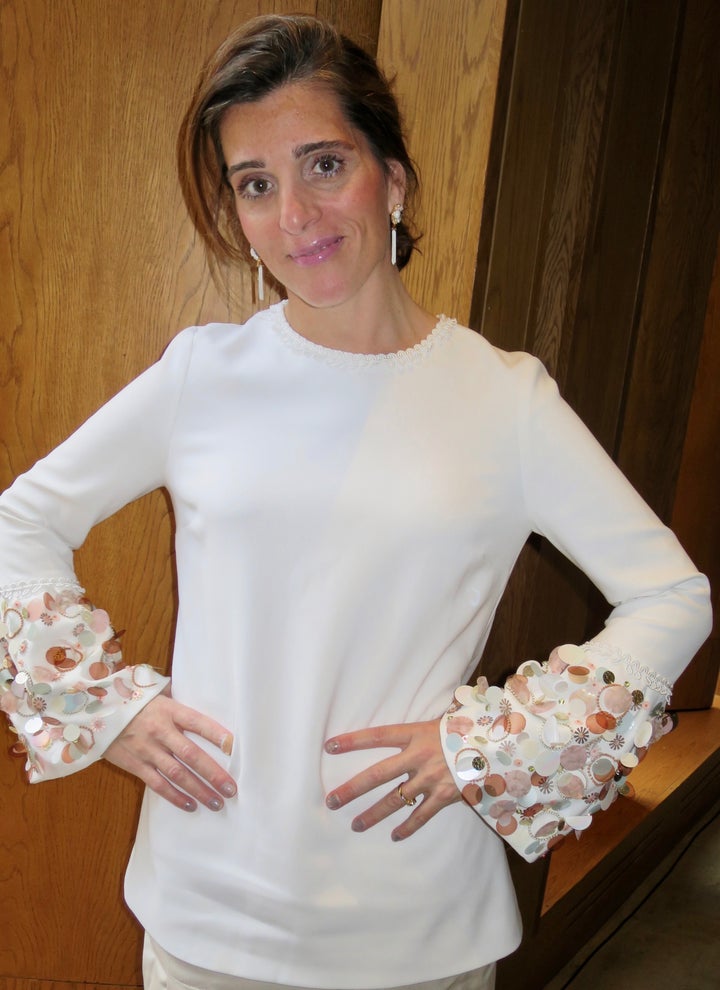 Supporter & Perfumer, Nina Christine Yacavino
The important work of the VOSS Foundation is dedicated to funding access to clean water, - improving sanitation and hygiene - as a means to enable community-driven development in Sub-Saharan Africa.
It seeks to raise awareness of the dire needs of the region and disastrous impact that a lack of clean water has on the lives of women and children – who frequently have to walk miles, barefooted, with excessive pounds of water delicately balanced on their heads.
VOSS Foundation Supporter & Attendee, Creative-Ambassador-at-large for Barneys & Fashion Commentator, Simon Doonan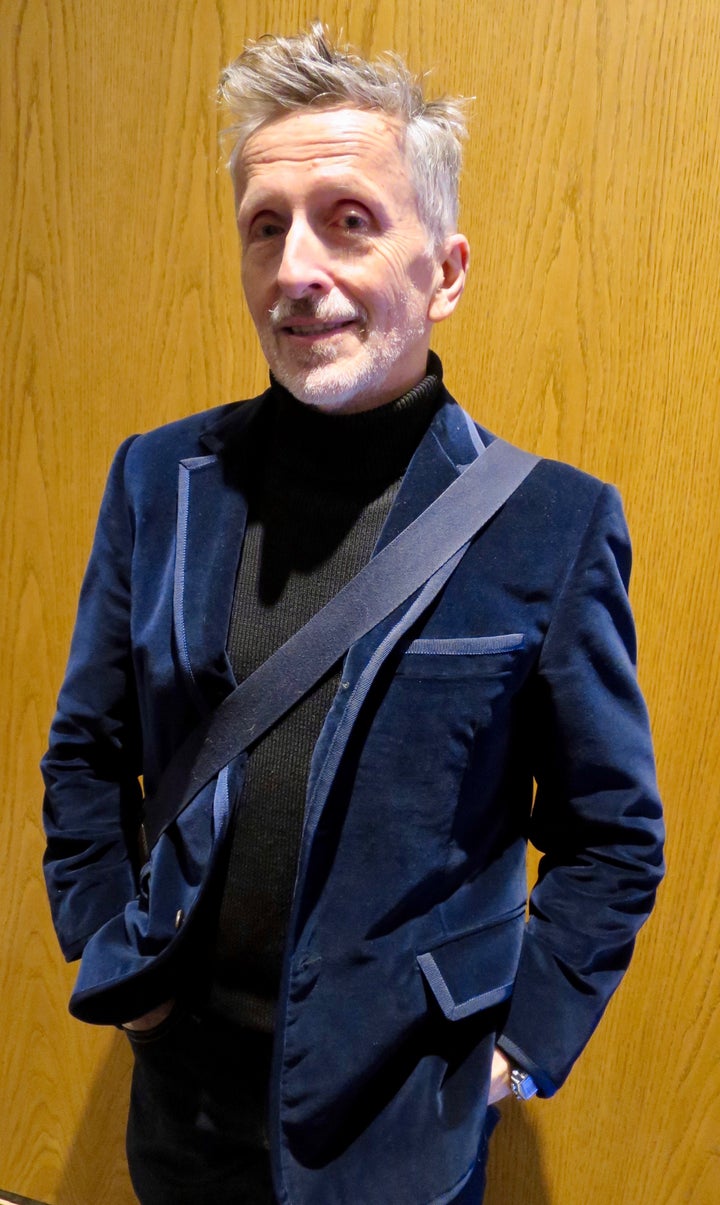 _________________________________________________________________________
DOC NYC hosted the Premiere of Maddman: The Steve Madden Story tells the unlikely rags to riches story of Steve Madden, who went from selling shoes out of the trunk of his car to becoming the mogul of a billion-dollar designer footwear empire.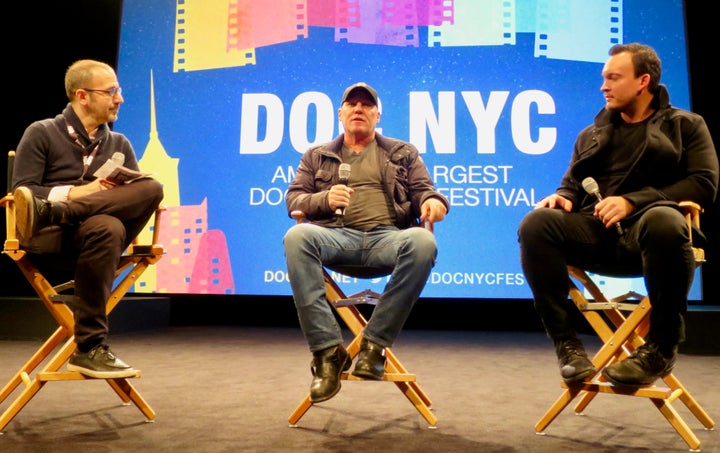 On stage for the Premiere Screening of the new Documentary NADDMAN: The Steve Madden Story, Steve Madden (center) with Filmmaker Ben Patterson, & Narrator
Then, at the height of his success, in 2002, Madden was sentenced to prison because of his entanglement with Jordan Belfort, as well as manipulation and securities fraud – recounted in the infamous Wolf of Wall Street, a Martin Scorsese film.
Filmmaker Ben Patterson offers a candid look at how the colorful Madden rebuilt his empire and his life following his release.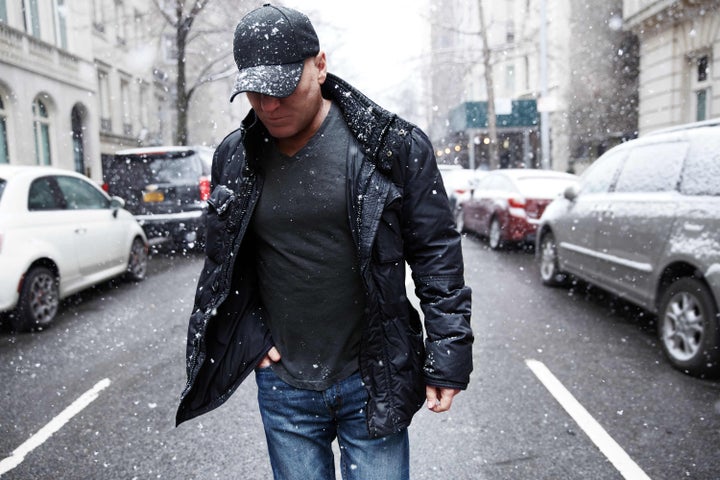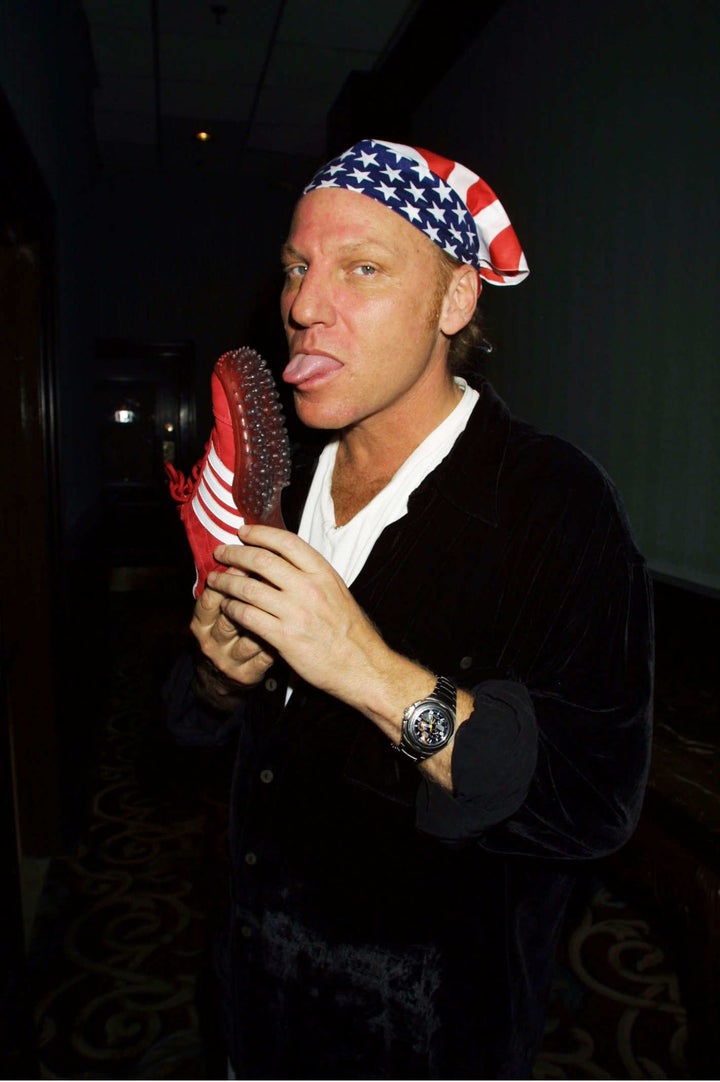 Scenes from (& courtesy of) the Maddman Documentary
During Madden's humbling episode of "doing time" he parlayed his time and experience into training inmates about the world of legitimate business so they might transfer their backgrounds as drug dealers into becoming legitimate entrepreneurs.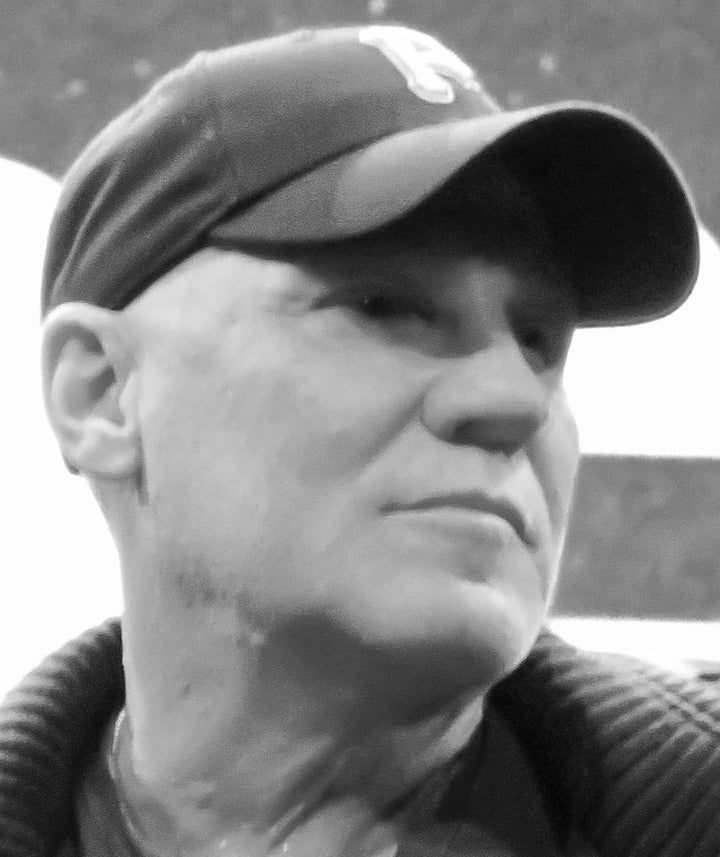 A contemplative Steve Madden
One of my favorite characteristics of the "new" Steve is his commitment to giving back and doing good. Now of a certain age, he thinks of this as his greater mission…
Not only does he employ former inmates but also Steve Madden is a staunch supporter of Dress for Success, The Doe Fund, and the American Cancer Society.
The support to the community doesn't stop there- Steve Madden applauds any organization raising awareness for just causes.
"Every little bit counts- together, we can make a difference...one step at a time!"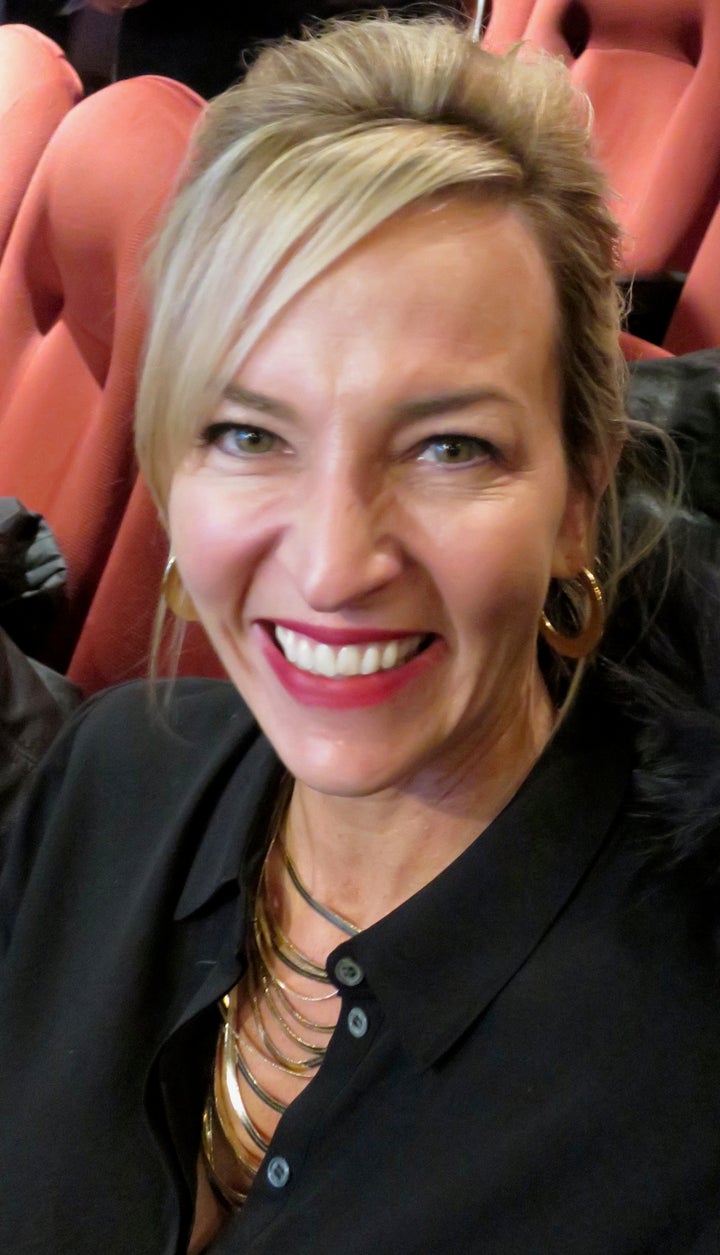 Steve's Friend and Beautiful ex-Wife Ex-wife, the ever supportive Wendy Ballew
_______________________________________________________________________________________
Surprised was I when attending a screening of the NETFLIX documentary ICARUS at the Celeste Bartos Theater of the Museum of Modern Art.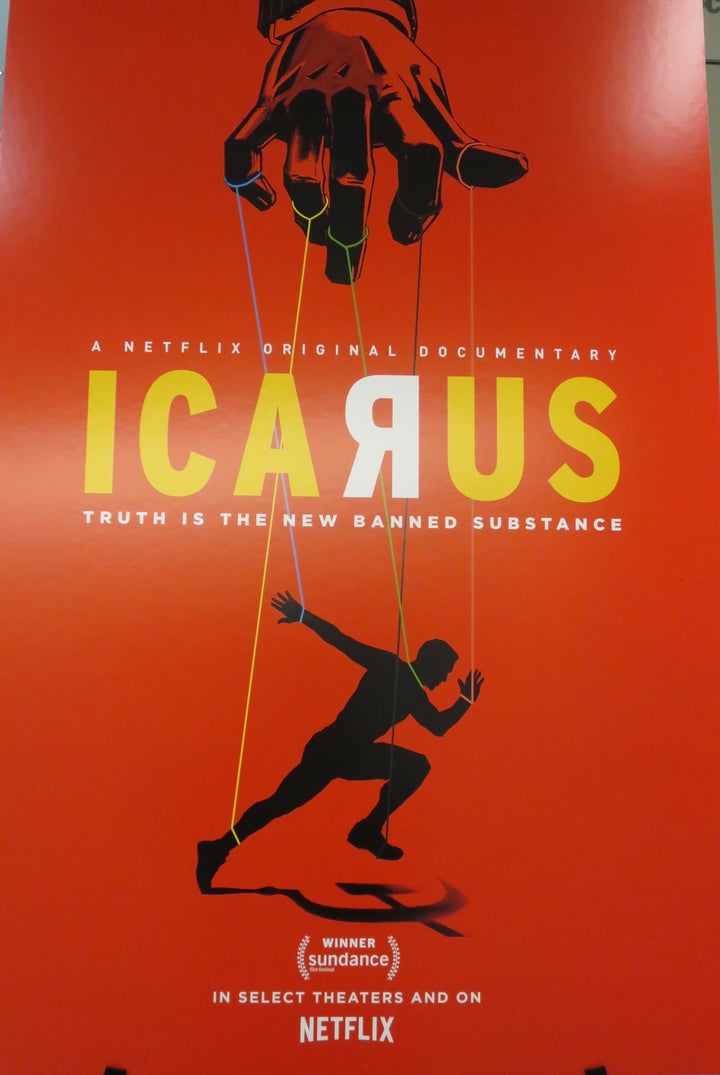 Sign advertising the Private MOMA Screening
Beyond timely, this strange but true tale follows American filmmaker and cyclist Bryan Fogel who while seeking to up-the-ante on his cycling endurance visits Russia and then inadvertently winds up in the dangerous midst of a global scandal. Revelations by Russian scientist Grigory Rodchenkov leak the details of a vast doping scheme.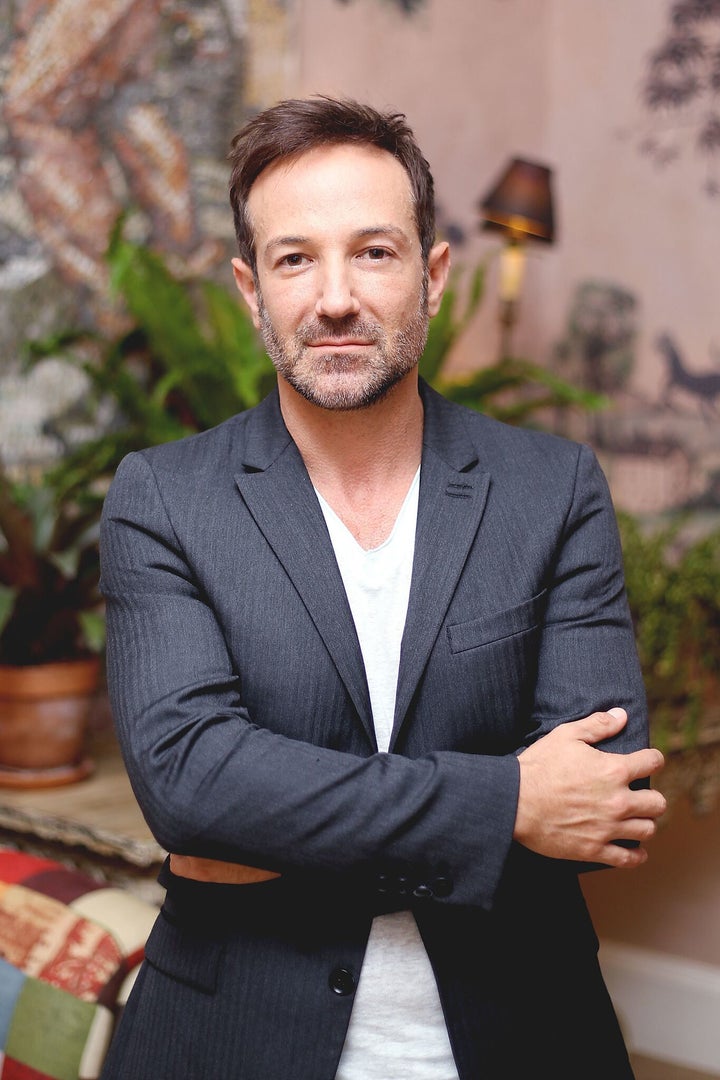 Competitive Cyclist & Filmmaker Bryan Fogel (CREDIT: Lyle Hancock Piper)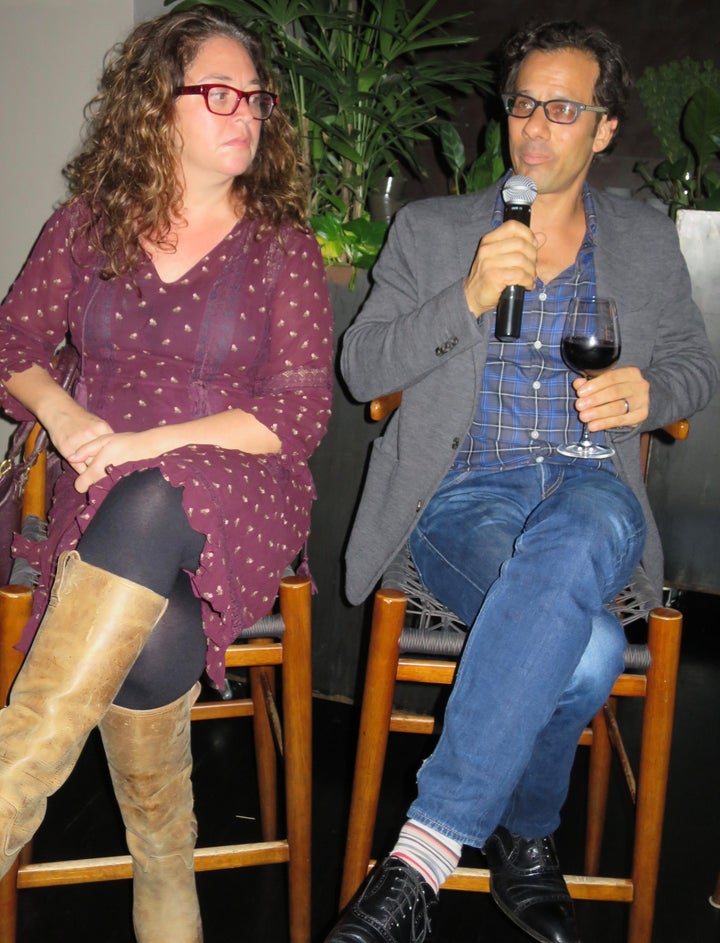 Filmmakers Liz Garbus and husband, Dan Cogan at the Dinner Party held at the wonderful Il Gattopardo
The ICARUS documentary is the excellent work of award-winning filmmakers Liz Garbus ("Love Marilyn", "Nothing Left Unsaid: Gloria Vanderbilt and Anderson Cooper…") and her husband Dan Cogan.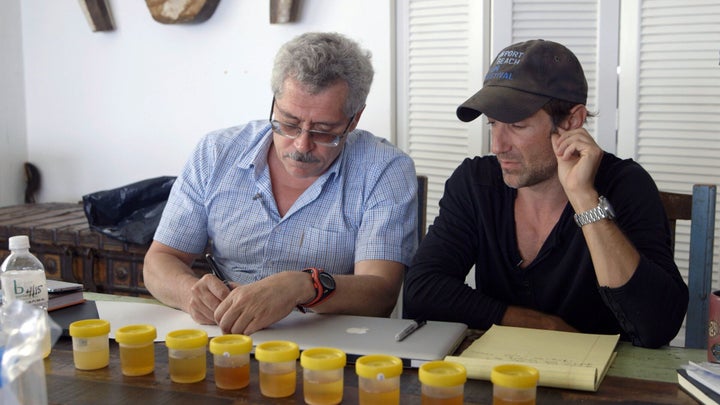 Grigory with Bryan Fogel (courtesy Netflix)
I first met Liz when she was a burgeoning young filmmaker at the home of my friend, her Mother, Ruth Garbus…How far she has come…
_______________________________________________________________________________________
Finally it is my belief that the Holidays should optimally be a time for us to practice gratitude and to contemplate the abundance in our lives.. Although perhaps as yet not representing all to which we aspire. ..we may pause to contemplate our myriad blessings.
So some gentle suggestions;
If the Holidays pose a challenge, make a list enumerating all your Blessings, surround yourself with joy – wherever you may find it – listen to the tug of heartstrings – that most sacred inner voice- and follow its guidance…
And most importantly, always be generous, remembering that LOVE and kindness should forever be our ideal response to all….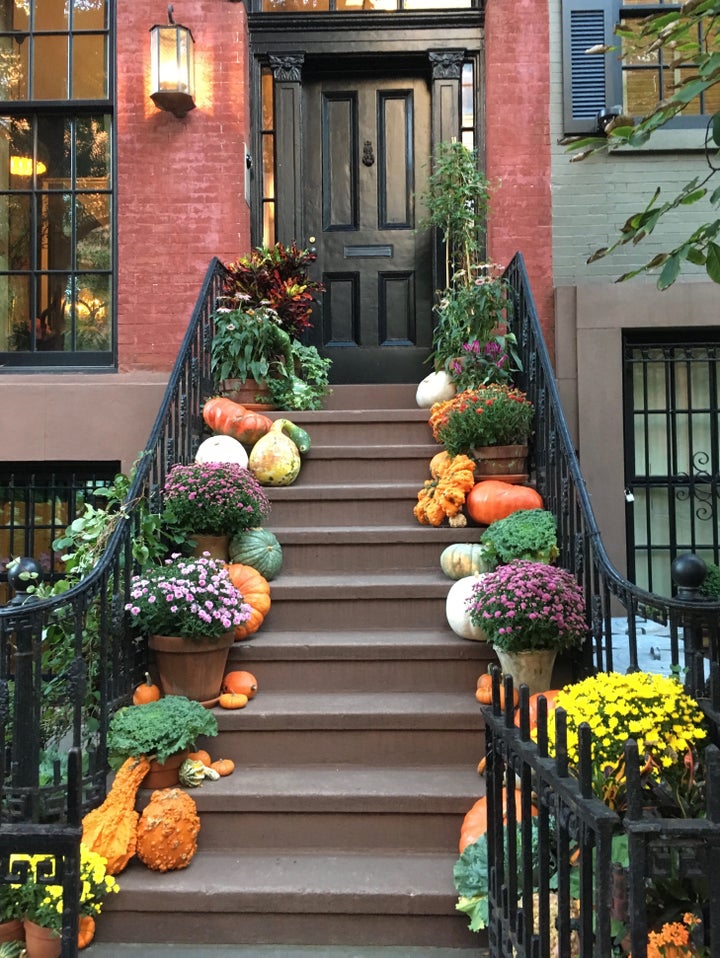 Most Photographs are © Jill Lynne, 2017,
Popular in the Community