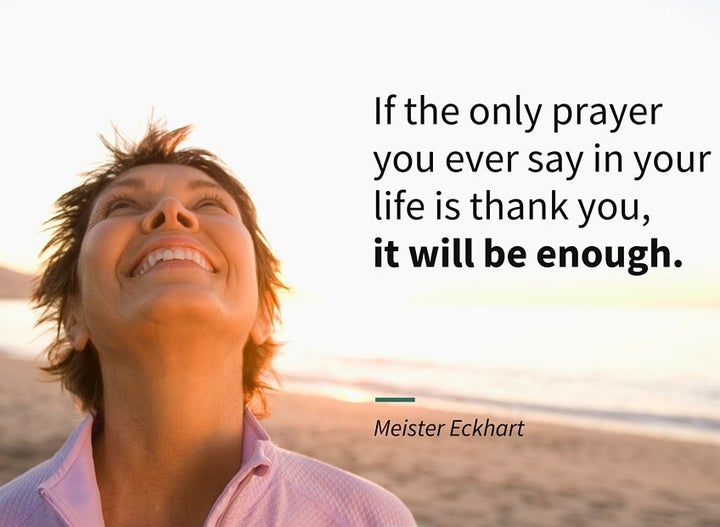 There are moments in life when gratitude sneaks up on us. You step out of the freezing winter cold and into a warm cafe. Your phone buzzes, and you see a text from your daughter saying her plane has landed and she can't wait to see you.
These pockets of joy and relief fill us up in the moment and then typically pass. And we could be doing much more to reap their benefits throughout our day and throughout our lives.
According to researchers, the full experience of gratitude is more than a passing emotion. It's a state of mind that we can cultivate daily -- even regardless of our life circumstances. Robin Stern, associate director of the Yale Center for Emotional Intelligence, and Robert Emmons, psychology professor at University of California, Davis, discuss the benefits of giving thanks in their book Gratitude as a Psychotherapeutic Intervention.
Gratitude, they write, is akin to a radio channel, and "you can choose at any time to tune in." It behooves us to do so. According to Stern and Emmons, grateful people experience more joy, love and enthusiasm, and they feel less anxiety, greed and bitterness. Gratitude takes us outside of ourselves to recognize all the many ways other people and external conditions bless our lives, Emmons wrote in an article for the UC Berkeley Greater Good Science Center.
Practicing gratitude has been shown to:
So how do we start a gratitude practice? First, Emmons says we must make giving thanks part of our daily routine, like meditation, yoga or praying. Here are nine, science-backed exercises to help us start a daily gratitude practice. Try them out and let us know which ones resonate with you most:
Pay attention. Start noticing things you might typically take for granted that make your life better and more enjoyable. Consider the ways in which even the difficult experiences can be moments for learning and can interrupt feelings of victimhood.
Express. Demonstrating your gratitude in a tangible way "completes the feeling of connection," write Stern and Emmons. Write a letter to someone you're grateful for, or try expressing your feelings through art, prayer or ritual.
Try the "Three Good Things" Exercise. Every day, write down three things that went well that day, however large or small. Write exactly what happened, and describe your feelings surrounding each event.
Write a gratitude letter. Sit down and compose a letter to someone who has shown kindness to you or helped you learn an important lesson in life. Tell that person what their actions meant to you, even if the act of kindness happened long ago.
Keep a gratitude journal. Every day, record three to five things you're grateful for and describe your feelings surrounding each item. Make a habit of it. Keep the journal by your bed so you can jot down your thoughts before bed.
Do a "mental subtraction of relationships." Think of a meaningful relationship in your life. Write down the circumstances of how you met that person and the things that led you to having this person in your life. Consider all the ways your life could have taken a different turn such that you would not have met this person, and consider what your life would be like without them. Now think back to how you met this person and feel the gratitude of having them in your life.
Take a walk. Set aside some time on a regular basis to go outside for a walk. On your way, take note of all the positive things you encounter. The smell of blooming flowers; the birdsong erupting from trees; a couple's embrace across the street. Let the acknowledgement of each of these positive things sink in.
Savor the good things in your life. Along the lines of the gratitude walk, take time to savor all the positive emotions and experiences you encounter on a daily basis. Get lost in the moment; share your good feeling with others; hone your senses to fully take in the goodness of the experience.
Consider your own mortality. This can be a difficult one, but don't be afraid of it. Being aware of our mortality, without fixating on it, can help us feel more grateful to be alive and savor every moment we have on this earth.
Try these exercises out, share them with your loved ones this holiday season, and have a very happy and gratitude-filled Thanksgiving.
How is your family celebrating the holidays? Share with us on WhatsApp!
To send us images and stories:
1. Download WhatsApp on your phone.
2. Save this number, +1 646 522 3114, in your phone's contacts.
3. Send us photos of your celebrations with a short description via WhatsApp.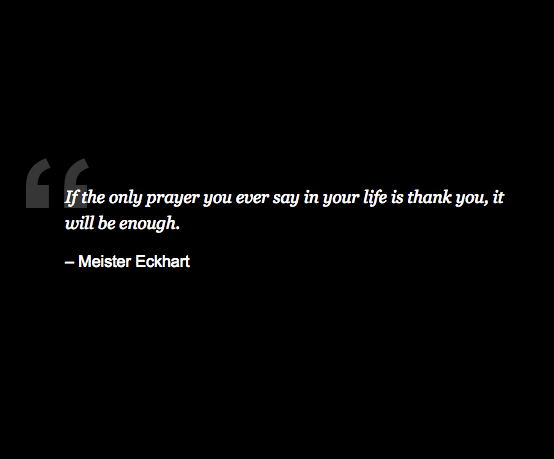 Thanksgiving Quotes And Prayers