The rear view of Hugh Jackman's portrayal of Wolverine's character evokes audible sighs from the X-Men audience. That magnificent sight is, however, no surprise to anyone who saw Jackman's Tony Award-winning performance in The Boy from Oz. His maraca- and booty-shaking "Go to Rio" finale whipped the audience into a frenzy.
I had the pleasure of seeing The Boy from Oz in 2003. After the second curtain call, as people started to settle down and stream out of the Imperial Theater, the audience politely mobbed an 85-year-old man. This gentleman who Hugh had called up on stage to sing and dance gleefully entertained requests for autographs. His onstage chemistry with Hugh convinced the audience that this elderly gent was in the cast.
Little did they know that he was "just" my dad -- George Dow -- who had flown in from St. Paul to see what would be his last Broadway play, on what he came to call the best day of his life.
George's father ran the Shubert Theater in St. Paul, Minnesota, during the Depression, when people lined up for shows several days each week. At the beginning, Dad watched vaudeville acts, seated wide-eyed in the front row with his mother and grandmother, as the comedians, dancers, and acrobats provided the town with much-needed entertainment. Silent movies and then talkies took over. George was particularly fond of large scale musicals. He'd memorize the lyrics and dreamed of performing on the Broadway stage.
World War II deferred those dreams. George enlisted, spending three years at sea, stopping in New York to see Broadway plays when he could. He came home, started a family, and gave up his Broadway aspirations for a more practical corporate life. In the privacy of his home and family, he continued to play and sing Broadway tunes.
Fast forward to six months before Dad's 85th birthday. As I sat in the front row of The Boy from Oz, I knew that Dad would love this old-school musical, with its rich emotions and over-the-top choreography. It was upsetting to think that he would never again see a beloved Broadway play. He suffered from congestive heart failure and stopped making flights East several years before.
I called Dad that night and raved about the musical. Wistfully, I asked him if he would consider flying out to see the play with me for his birthday. Without hesitation, he exclaimed, "Of course!"
The week before the performance, I checked to make sure he felt well enough to come. "Of course!" he replied. I decided to send a note to Jackman, telling him about Dad and asking if he would say "happy birthday" to him during the opener, where he banters with the audience. I mailed it on a wing and a prayer, hoping that someone kind would open the FedEx envelope, if only for security purposes.
The day of the show, we drove up from Philadelphia. We arrived and took our seats in the front row. The curtain went up and Hugh took center stage.
He walked over to Dad and said, "Is it your birthday?"
Hugh said, "May I ask how old you are?"
Dad laughed, "You can ask."
This started a string of back and forth quips that ended with Hugh asking Dad if he was a dancer. Dad replied, "Of course!" and Hugh went back on script.
After the intermission, Hugh started singing and playing a grand piano. He got up, walked over to Dad, and invited him on stage.
Dad tiptoed gingerly past the others in the front row and was escorted backstage. It was pitch black. He told us that he just headed toward the light, wondering if this was, in fact, the end for him.
He emerged on stage smiling and grabbed a microphone. Hugh generously forfeited the stage and asked him to sing. George proceeded to croon "Easy to Love," remembering every word and note.
Jackman asked Dad if he wanted to dance, to which he replied, "Of course!" Hugh dragged Eileen, the stage manager who was also celebrating a birthday, to the stage. Dad and Eileen proceeded to dance together like Fred and Ginger.
Jackman then took off his leopard shirt and buttoned it on George, who followed his lead, in what looked like a gracefully choreographed dirty dance. The audience went wild.
Hugh grabbed George's hand like a prize fighter and walked to the front of the stage. He looked right and called to the stage manager, "Turn up the house lights. I want George to get the full effect of a standing ovation on Broadway!" The crowd roared!
Dad exited the stage and Hugh bounded over to me and said, "Turn around and look at your father." George was walking down the aisle from the back of the room, kissing the hands of lucky women on either side as the spotlight and laughter followed.
During the last curtain call, Jackman took the white towel from around his neck and tossed it to Dad, saying, "This one's for you, George."
The curtain went down, the house lights went up, and the crowd mobbed George for autographs.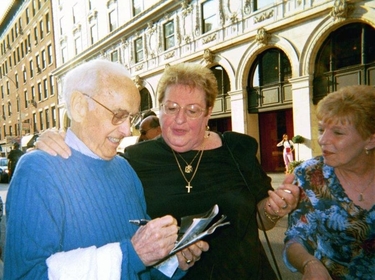 On the drive back to Philadelphia, Dad said, "Did that really happen?"
We relived this story again and again. For the rest of his life, Dad told it to anyone who would listen. As he got older and frail, I would bring it up and he perked up to relive it.
My father's dream to sing and dance on Broadway came true on his 85th birthday, thanks to Hugh Jackman.
Jackman may play a superhero on screen, but his superpower is his very human ability to be kind -- to connect with deep humanity. It is his signature generosity that will solidify him as a legend in our not-so-comic world.
This blog is about wonder at work.
Our family believes that the wonder, energy, and pure joy of this dream come true propelled Dad to live several years longer, prolonging the gift of his singing, dancing, and laughter till the very end.
Related