Gratitude Tips to Boost Happiness
by Debbie Lyn Toomey, author of The Happiness Result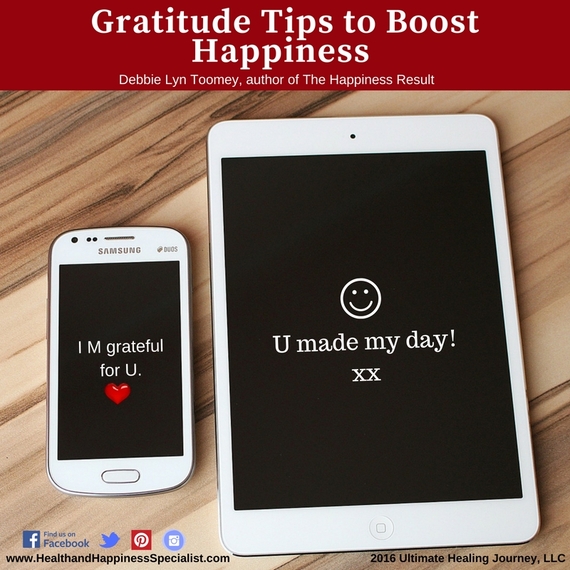 Did you know that one of the best ways to increase your happiness level is through gratitude?
In fact, the consistent and persistent practice of gratitude boosts your happiness level by 25%. According to Dr. Robert Emmons, author of the book, Thanks!: How the New Science of Gratitude Can Make You Happier, researchers have found that the gratitude practice boosts happiness, optimism, personal satisfaction, and motivates us to exercise 1.5 more often per week.
Thank Goodness
I first learned about this science a few years ago while studying Positive Psychology. I said, "Thank goodness there is finally a simpler way to feel better in the midst of my busy work/life schedule!" Since then, I have been an avid student and teacher of gratitude. What I have experienced is that Dr. Emmons was right: gratitude does indeed boost our happiness. Further, I have discovered that the grace and power behind this practice didn't just stop with me. What I was thrilled to witness was that people in my work and life also benefitted when I did this practice.
Positive Ripple
Gratitude is a gift that keeps on giving. It has a way of creating a positive ripple of happiness from everyone it touches. I see this happen when I take the time to show my gratitude to someone at work. This simple gesture provides that person a needed pause and feel good moment in the midst of their stressful day: seconds of positive interaction that allow enough time to feel appreciate. Gratitude is a powerful contagion that can be transferred to others in our life.
Practice Makes Positivity
There are so many different ways to practice gratitude. From doing a daily gratitude journal to merely saying a heartfelt thank you, I have found that no matter which gratitude practice you decide to try, the result will basically still be in the same -- that is happiness.
Here are some ways I have made practicing gratitude fun for me.
1. Gratitude journal. Write 3-5 things you are grateful for every day. This practice can be done at the anytime during the day. Personally, I have found that when I do this at bedtime, it helps me sleep more easily and soundly.
Tip: Place your gratitude journal on top of your pillow with a pen already inside the journal. Having your journal on your pillow creates an easy reminder to you to do at the end of the day. Also having a pen inside the journal keeps you from straying from this practice by looking around for a pen.
2. What went well? Instead of the usual question, "How are you?" use "What went well?" for a change. This innocent yet powerful question helps the person you are asking to think and focus on the good that went well for them. This technique instills the habit for looking for the good instead of the bad.
Tip: Ask a busy friend to do this practice with you (via text) every day for a month. This serves two positive actions. First, it ensures that you have an accountability partner and second you'll be able to help a busy friend find more goodness in his or her day. As we all know, busy people need all the help they can get to help them feel good and less stressed in their day. Try it for one week; repeat for another week if it helps both of you.
3. Gratitude Walk: Go for a walk and look for as many good things that you can be grateful for. This will help you see all the goodness around you and raise your happiness level at work. This purposeful walk is best done slowly so that you can pay more attention to what is in front of you in the moment.
Tip: Try this at work on your way from your car to your office. Challenge yourself to see something new that you haven't seen before. Remember that no matter where you are, there is always something to be grateful for.
Your Turn
It's your turn. Decide on a gratitude practice that might sound reasonable for you. As I've explained, a little bit of gratitude can go a long way. This blessing of a practice can benefit you and everyone in your life. I suggest choosing one of the three practices that I shared with you above and do it for one month. After one month, notice how you are feeling and choose another one to practice. Here's my final tip, let other people know about this practice. The more people in your life that are practicing gratitude, the more positivity you will have in all areas of your life. Now that is really something to be grateful for, right?

Thank You
This wouldn't be a proper gratitude article if I didn't properly express my gratitude to you for taking the time to read this article. I want you to know that I appreciate it very much and "thank you." If you need more assistance in the form of coaching to reach your goals and increase your happiness level, contact me at info@healthandhappinessspecialist.com to learn how I can help you. Lastly, I am also excited (and thankful) to share with you that my book, The Happiness Result, More time, More health, More love, More success. 7 Simple Technique to Create Your Awesome Life. will be released soon, so be sure to get your copy of it on Amazon at the end of August 2016.