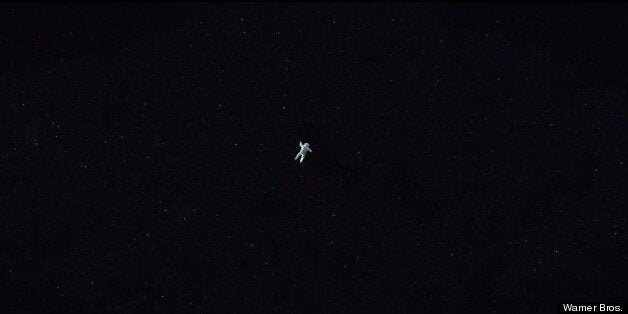 Since the first trailer for Alfonso Cuaron's "Gravity" debuted in May, audience anticipation for the space-set two-hander has been tumbling through cyberspace with an untethered excitement. Judging from the early reviews of "Gravity" after its Venice Film Festival bow on Wednesday, interested parties likely won't be disappointed.
"As scripted by Cuaron and his son Jonas, this tale of one woman's grim expedition into the unknown is a nerve-shredding suspenser, a daring study in extreme isolation, and one of the most sophisticated and enveloping visions of space travel yet realized onscreen," wrote Variety critic Justin Chang in one of the many initial rave reviews. "It falls among that increasingly rare breed of popular entertainments capable of prompting genuine 'How did they do that?' reactions from even the most jaded viewers, even as its central premise is so simple and immediately gripping that one might just as readily ask, 'Why didn't anyone do it sooner?'"
Sandra Bullock and George Clooney star in "Gravity," which, in keeping with Cuaron's previous film, 2006's "Children of Men," utilizes long-takes and precious few cuts to drive the action. Initial reports suggested that the opening of the film was shot in one, continuous 19-minute take, but the Venice Film Festival reviews suggest that the "Gravity" opener is a mere 13-minutes of unbroken cinema wizardry.
"At once the most realistic and beautifully choreographed film ever set in space, 'Gravity' is a thrillingly realized survival story spiked with interludes of breath-catching tension and startling surprise," wrote Todd McCarthy for The Hollywood Reporter. McCarthy's review, which contains a little too much information about the film's plot, does confirm something Clooney had said in earlier interviews about the film: there are no aliens.
Both Clooney and Bullock are being praised in the early reviews for their work, with many critics singling out Bullock for giving one of her best performances yet. That kind of validation is likely music to Cuaron's ears, who had initially cast Angelina Jolie and then Natalie Portman in the role, before landing Bullock.
"Without giving too much of the plot away –- rest assured there are plenty of twists and turns –- this is very much Sandra Bullock's film," wrote Mark Adams for Screen Daily. "Much has been made of Angelina Jolie turning the role down, and it only coming Bullock's way after Nathalie Portman's pregnancy, but Bullock's combination of intelligence and straight-forward charm works perfectly here, plus she convinces in the physicality of the role, whether it be flying through space or fighting fires inside a space craft."
Warner Bros. is set to bring "Gravity" to the Toronto International Film Festival in early September, and with an October release date, it's clear that the studio has awards season on its mind for the film. Regardless of what happens between now and next year, though, at least Cuaron might want to get his tuxedo dry-cleaned.
"The film's technically perfect, of course, from the terrific sound design to the impeccable effects (the exact extent of the CGI is difficult to say, because pretty much everything looks photo-realistic, even when things head indoors)," Oliver Lyttelton wrote for The Playlist. "But it's also cleverly written, and more than anything phenomenally directed, from the way that he uses every available surface to tell his story (someone's going to write a book one day on the use of reflections in this film) to the way he and [cinematographer Emmanuel] Lubezki shift the light to vary the color palette, preventing it from becoming repetitive. Almost every decision is inspired."
More "Gravity" reactions can be found in the tweets below. The film is out in 3D and IMAX on Oct. 4.
Gravity: by turns profound & uproarious fusion of Michael Bay and Jean-Paul Sartre. Cuarón has absolutely nailed this. #Venice2013

— Robbie Collin (@robbiereviews) August 28, 2013
PHOTO GALLERY
Fall Movie Preview 2013
Calling all HuffPost superfans!
Sign up for membership to become a founding member and help shape HuffPost's next chapter