We all know graphite. We know it as the interior of a bright yellow pencil, as the easily-smudged notes on paper, as the matter used to outline the start of something bigger. But artist David Bonagurio knows graphite as something more...way more. The Texas-born, New York-dwelling artist works almost exclusively in powdered graphite. Even with a love for Calvin and Hobbes, his drawings are not bold line illustrations; they are elaborate, dreamlike, masterful works of art channeling every corner of Bonagurio's universe.
Bonagurio's use of powdered graphite lends a hand to the misty, obscure aesthetic of his work. His unique canvases also add to the magic. With some pieces, like those of the Plumes series, on relatively large panel, and others such as Small, Important Things on minute raised panel (very fitting), the size of his work is almost as important as its subject. Plumes is a series of utter mystery. The composition and depth of Bonagurio's work puts the viewer in an entirely new place-- maybe the inside of a nearly erupted volcano, maybe the space between our atmosphere's layers, maybe somewhere off earth entirely. But no matter where the viewer goes, one can still immerse themselves into a dark deepness unlike any other. He comments, "Plumes explores the disconnect between what we know and what we are."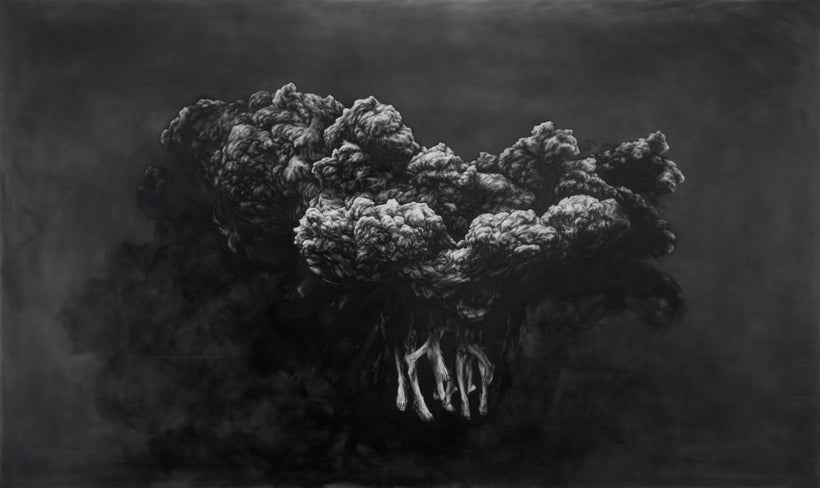 Small, Important Things as well as Thunder have a more centered subject, depicting a very personal side to Bonagurio such as his daughter or wife, but are still submerged in the mysterious backdrops he finds as his creative field.
"My piece "Endurance" is my wife. I created the image from photos of her, which I thought reflected her most admirable trait – endurance. I've always been in awe of watching her endure and persevere and be so fully immersed in life. She had a difficult upbringing and still followed her dreams such as opening her own photography business and now since the birth of our daughter I've also seen what an amazing mother she is. I wanted the piece to reflect her endurance and show how life is moving all around us. It can even be falling down at times, but we can always persevere. There is always strength to be found in staying true to ourselves."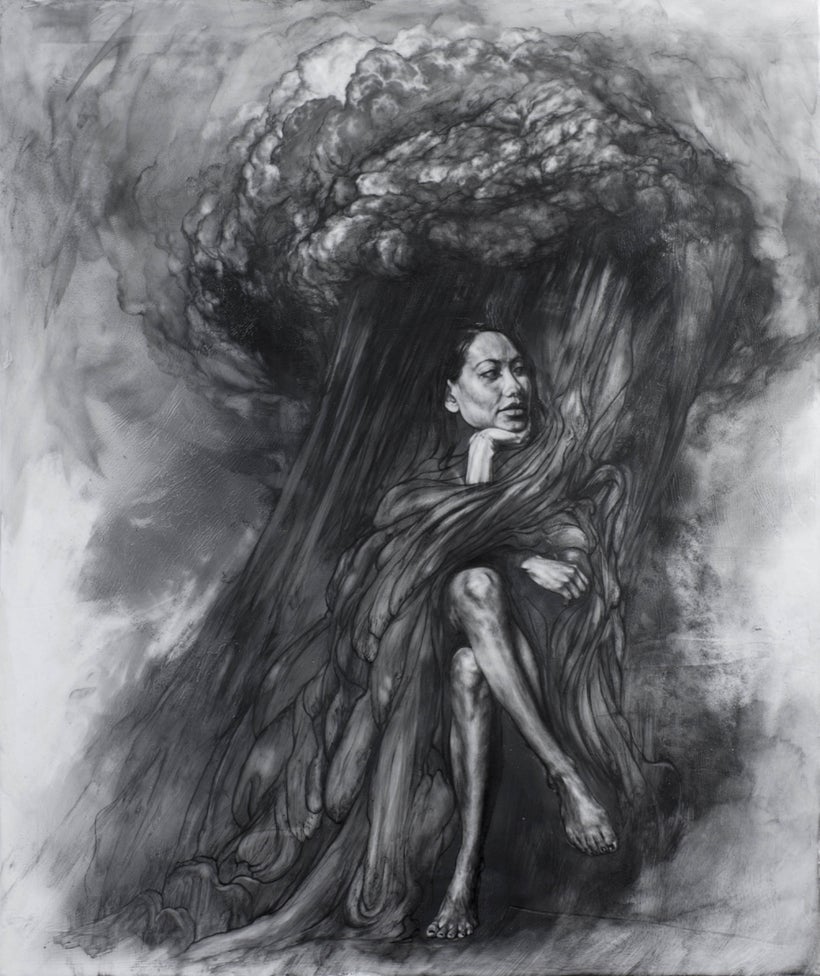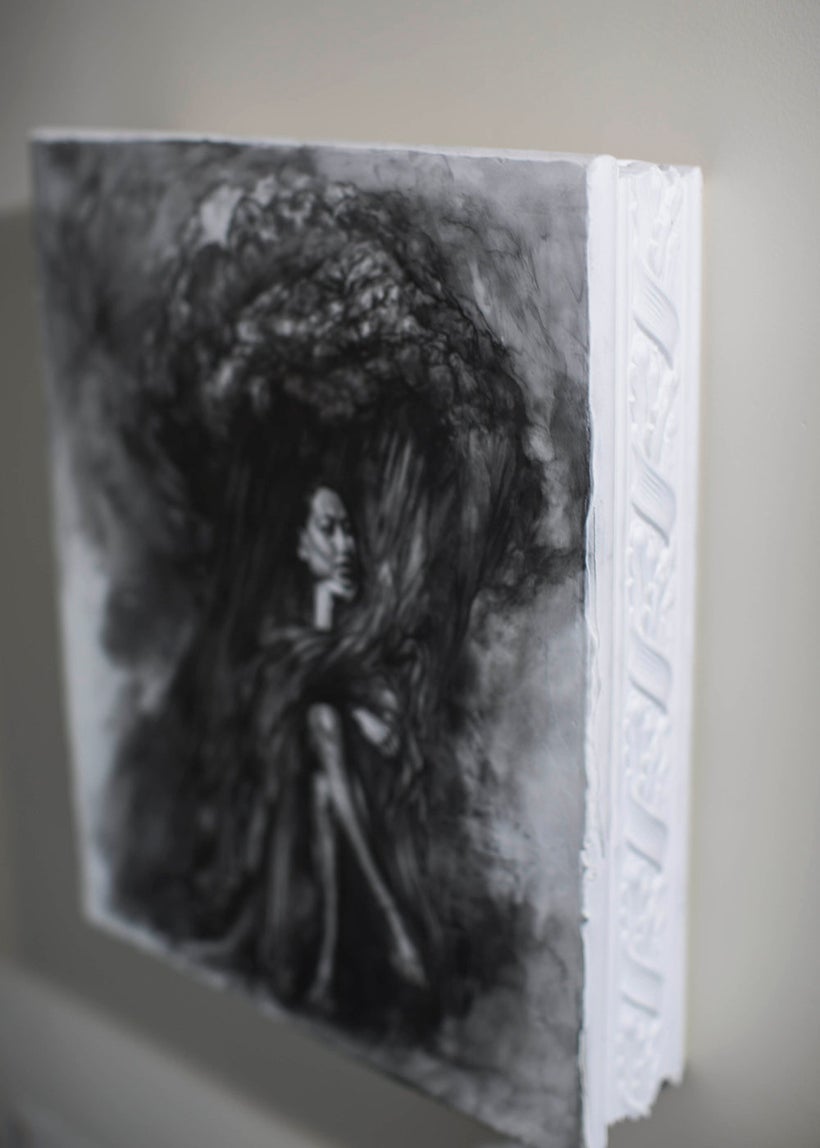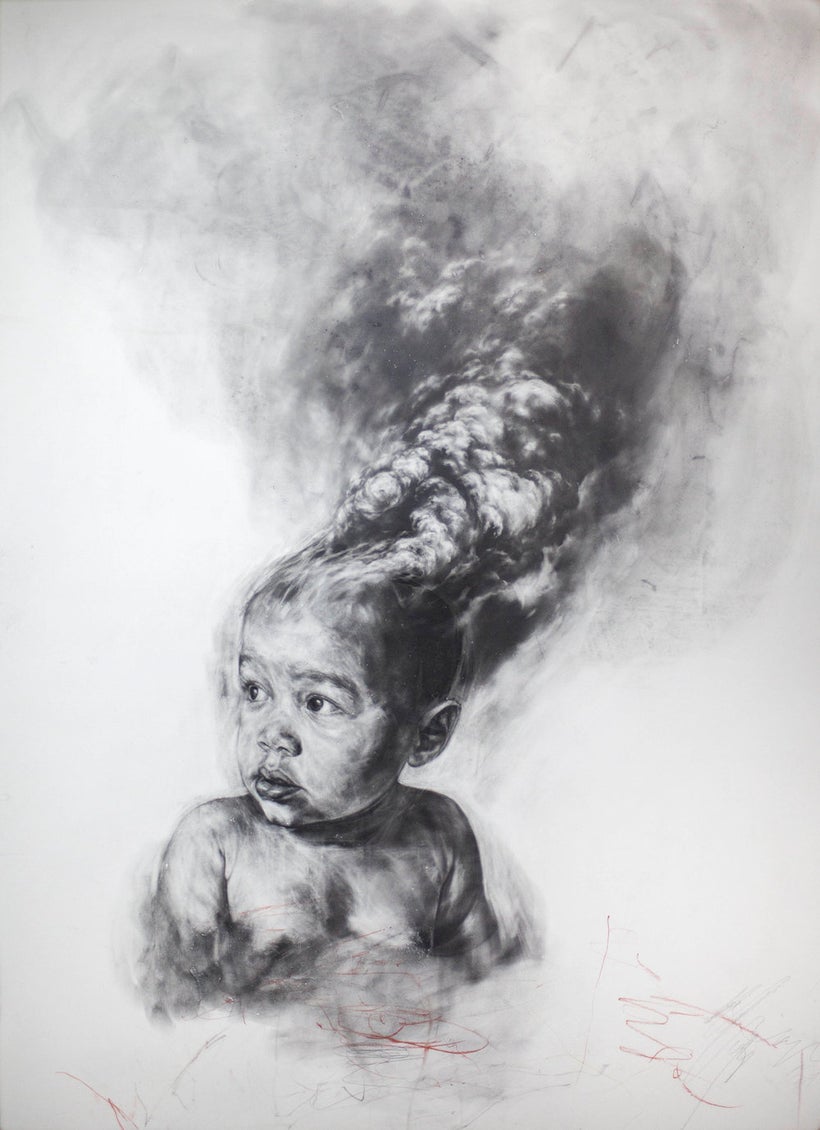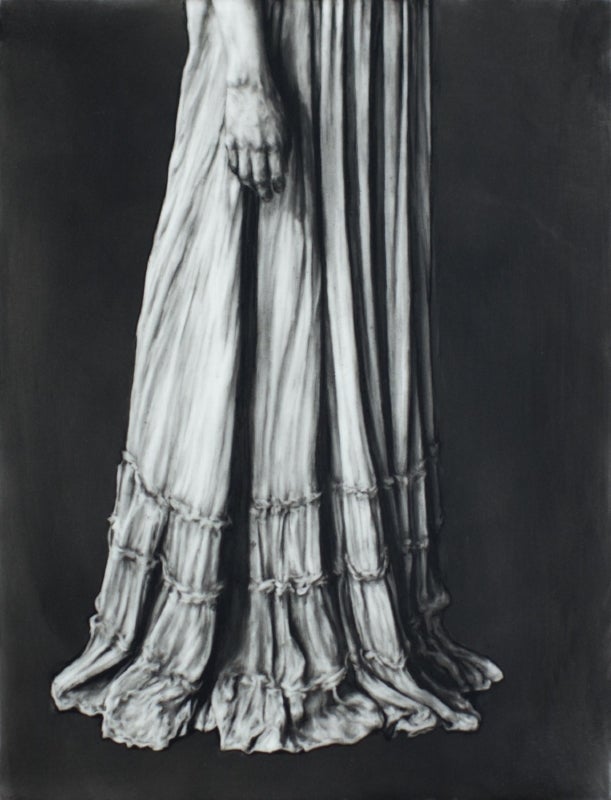 There is a surreal and weightless aspect of Bonagurio's work. His use of depth and environment seems to channel what we know as gravity's dominance. Even with a focused subject, the environment tends to create turbulence, although everything else in the work is unresponsive. It is not that the image doesn't make sense-- it's a balance of strength and an analysis of our human experience and what's present when we peel back layers of ourselves.
"I use figurative imagery to address personal and larger social issues that affect our perception. My style of work has a sense of twisted realism...there is a lineage similar to magic realism; not quite fantasy, not quite realism. It stems from my interest in observing interactions between people. How people deal with each other and often assume that what they see is real and always will be. I started looking at the reality of impermanence and how everything in the universe is fluid and even the most solid objects will experience change. This led me to explore how the fluidity of reality affects our conscious and perception through different ideas of physics, psychology and neuroscience."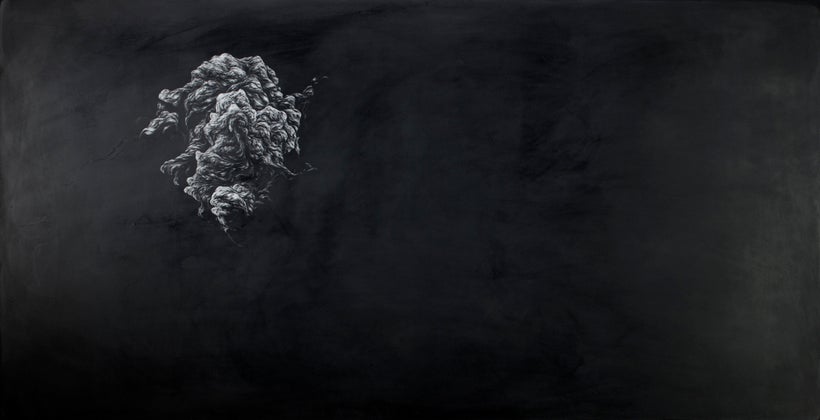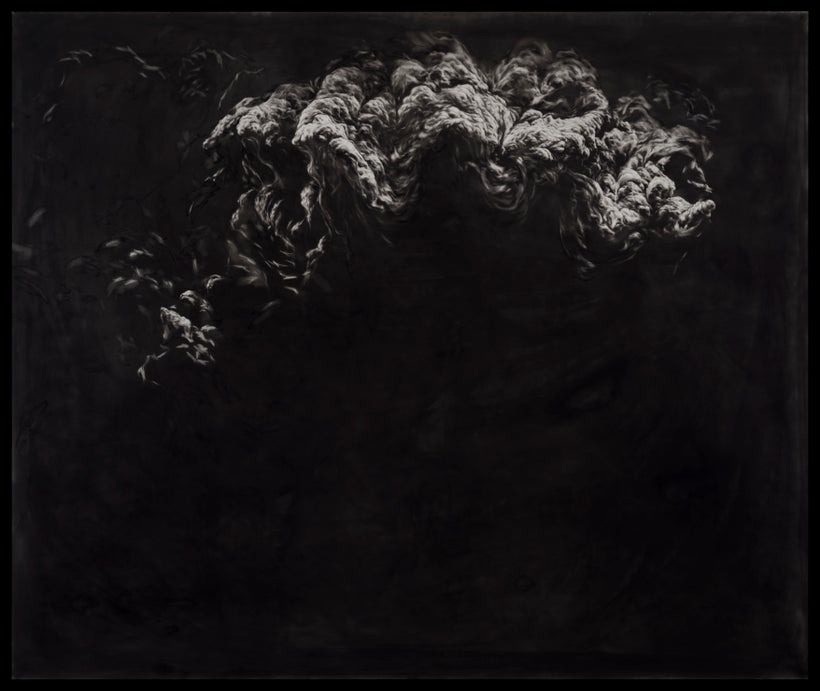 Bonagurio recently had a solo exhibition titled "A Collection of Unconnected Noises Made on a Single Subject" at the Anthem Gallery in San Antonio. In November, he will be showing at the Triangle Lab in Utica, New York. You can learn more and check out Bonagurio's work by visiting his website: https://www.davidbonagurio.com
"It's always dangerous for an artist to try and imagine what level importance their work will have but I would definitely like to have my work seen by as many people as possible. I'd like to think that my work is timeless and undefined and that it will contribute to social discourse in a way that I feel is needed."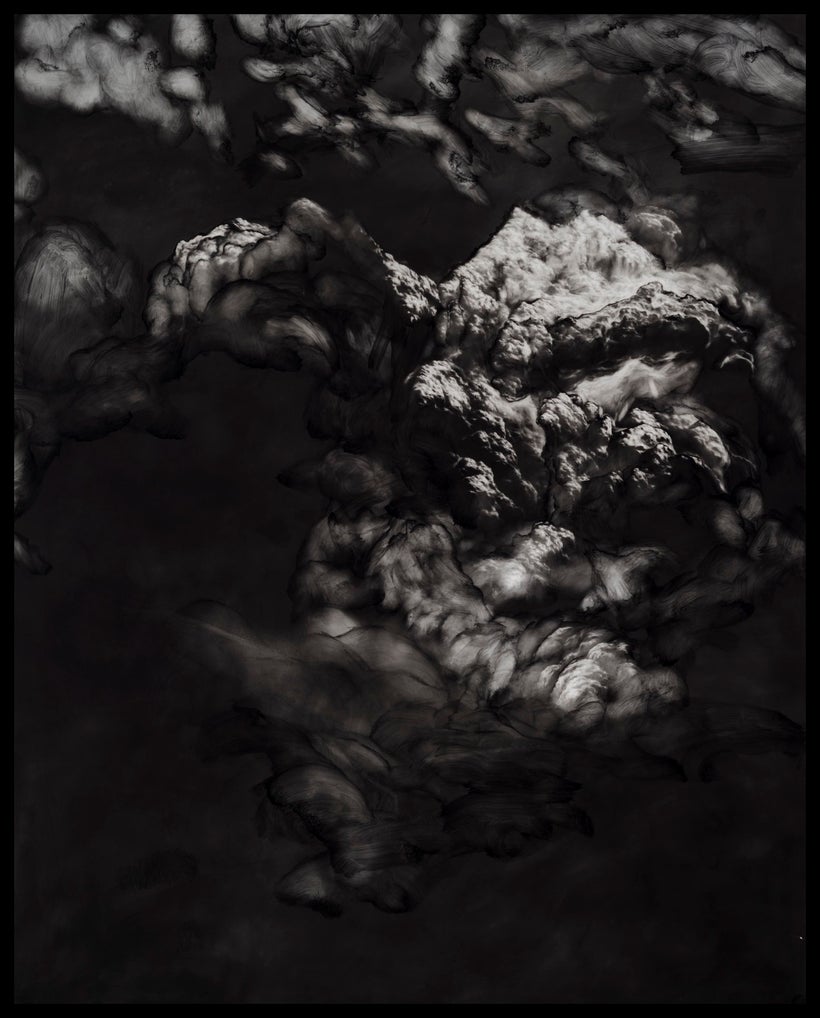 REAL LIFE. REAL NEWS. REAL VOICES.
Help us tell more of the stories that matter from voices that too often remain unheard.
This post was published on the now-closed HuffPost Contributor platform. Contributors control their own work and posted freely to our site. If you need to flag this entry as abusive,
send us an email
.