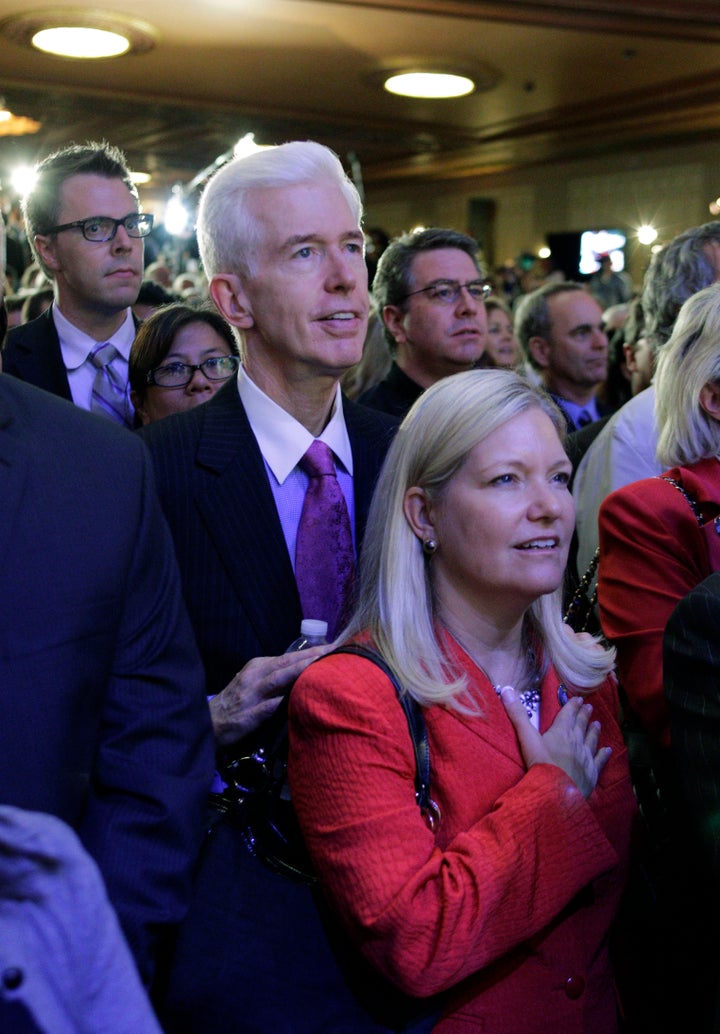 The lead pollster for Gov. Gray Davis (D-Calif.) in 2003, the year Davis was turned out of office by a recall election, says he is bullish about the prospects of forcing recall elections in state Senate districts in Wisconsin this summer and predicts that Democrats will succeed in recalling Gov. Scott Walker (R-Wis.) next year.
The recall process in Wisconsin is daunting. Only incumbents who have served at least a year in office are eligible, so Walker and the entire state assembly are exempt from recall efforts until January 2012. Sixteen of Wisconsin's 33 state senators are currently eligible -- eight Republicans and eight Democrats -- and recall efforts have been formally initiated against all but two of the Democrats.
To force a recall election in a given district, petitioners need to gather -- in just 60 days -- at least 25 percent of the votes cast for governor in 2010 in each district. The signature threshold amounts to roughly 13 percent of Wisconsin's eligible voters statewide, or roughly 15,000 signatures in each district, though the exact number per district can vary widely.
The Milwaukee Journal Sentinel's Craig Gilbert reports that little precedent exists for an attempt to recall state legislators on such a wide scale:
Scholars interviewed last week could cite only three times in American history when more than one state legislator has been recalled at roughly the same time over the same issue: two in Idaho in 1971 over a pay raise, two in Michigan in 1983 over a tax vote and two Republicans in California months apart in 1995 over their collaboration with Democrats.
But Paul Maslin, a Democratic pollster who worked for both Gray Davis and the Democratic ticket in Wisconsin in 2010 -- and who, full disclosure, I worked for from 1986 to '89 -- said he believes the efforts to force recall elections in Wisconsin will succeed. His Wisconsin clients include Sen. Herb Kohl, former Sen. Russ Feingold and Milwaukee Mayor Tom Barrett, the Democrat who Walker defeated in last year's gubernatorial race.
Drawing on his work for Davis, Maslin said he believes both sides will succeed in gathering the necessary signatures to force recall elections. "I can remember many, many conference calls," he told The Huffington Post, "where various people who were supposedly experts" doubted the ability of Davis' opponents to force a recall. "The bottom line was, they had no problem getting the signatures. And this [was] 2003, before the advent of Facebook and social networking."
The process is still more demanding in Wisconsin, however. California allowed more time (160 days) and required only about half as many signatures (12 percent of the votes cast in the previous gubernatorial election). But Maslin said he believes the Wisconsin efforts will succeed, since the bases on both sides are "inflamed" and since communication and organizing technology have "changed dramatically" in the last eight years. "If Egypt can overthrow their dictator in 18 days," he said, "Wisconsin can do it in 60."
Perhaps not surprisingly, Maslin predicted that Democrats will succeed in recalling Republican senators and reclaiming a majority of the Wisconsin Senate, which he described as the "first act" leading ultimately to a recall election against Scott Walker and his ouster from office. "We will have an election next year to see who our governor is going to be, and I don't believe that [Walker's] situation will change enough" to allow him to prevail, he said.
Maslin did note a "big difference" with the California recall. In 2003, "it was less 'I hate Gray Davis,' [though] they didn't like him, and more 'I'm just shaking my head about how many bad things are happening in California right now' -- and then you had a star emerge as the answer in Arnold [Schwarzenegger]," he said.
Wisconsin's current situation, he said, is focused much more on Walker. Maslin believes the most important survey measures will involve judgements about Walker. "The key [polling] number is going to be how independents view him, and ultimately do they view him as salvageable" as governor, he said.

Calling all HuffPost superfans!
Sign up for membership to become a founding member and help shape HuffPost's next chapter