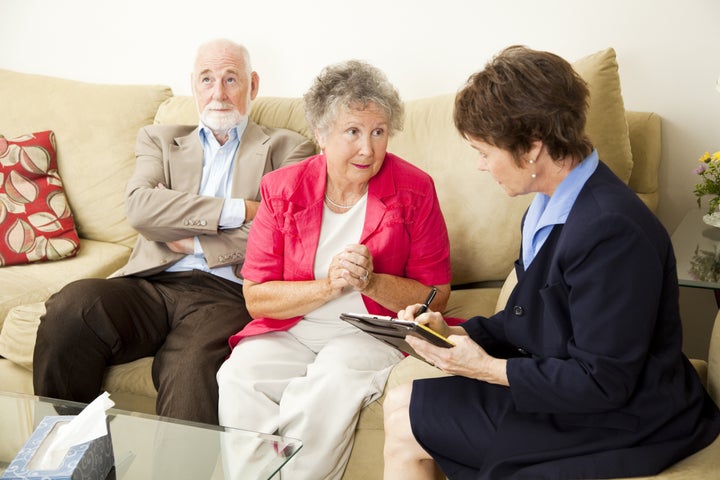 If we follow the guideposts reflected in pop culture, the answer is a resounding "yes." The new face of MAC Cosmetics is a 90-year-old woman. Christopher Plummer won this year's best supporting actor Academy Award for his role in Beginners, in which he portrayed a a 70-year-old man. Online dating services such as Gray Date and Our Time are emerging for singles 50 and up.
The phenomenon of couples divorcing after the age of 50 has grown exponentially in the past two decades. In my own mediation and collaborative law practice, I am seeing a definite trend towards what is known as "gray" divorce. While the overall divorce rate has gotten lower, according to New York State Bar Association Journal, "Boomers, born between 1946 and 1964 already have a divorce rate triple that of their parents." But that doesn't mean their divorces are more contentious than their parents' generation.
To rework a phrase popularized in the '60s, while older couples might choose to separate because they are no longer making love, it is often not because they are making war. What I see in my practice is that older couples are frequently more civil toward each other than their younger counterparts, and their interactions are less characterized by anger.
Older divorcing couples appreciate the fact that time is extremely precious and do not wish to squander it on a lengthy and protracted court battle, nor do they wish to deplete their savings with retirement on the horizon. In addition, many find great benefit when they have the opportunity to work with mediators or collaborative lawyers trained to be creative problem solvers who can find solutions that would not necessarily be available to them if a judge is charged with deciding their fate. Two particularly important issues for these couples are anticipating how to live on fixed incomes and paying for medical insurance. Additionally, as a result of the current economic climate, I have noticed that more frequently, older couples are providing some sort of support for their adult children and/or grandchildren.
I recently mediated a divorce for a couple in their early 60's who, after spending the better part of a year in court with traditional divorce attorneys, realized that they simply were not getting any closer to a resolution. At that point they called upon me, a mediator, to help them bridge what were relatively small gaps rather than continue with the long, protracted and expensive legal battle that they saw eroding the respect and care that they still had for each other after their long marriage. We reached an agreement after just two mediation sessions and in the end, the couple decided that it did not actually serve their interests to divorce at this time. For them, the most viable and practical solution was to divide their assets but to stay married for another five years so that the wife could keep the self-employed husband on her insurance plan and then retire at a time that would maximize the amount of her pension. This solution would have been impossible in a court of law, as a judge would not be empowered to order a distribution of their assets without also ending their marriage (which would thereby end the husband's right to remain covered as a spouse under his wife's medical insurance policy).
My role as a mediator and collaborative attorney is to help the parties avoid court intervention and resolve their issues in a way that will keep the focus on their needs and goals, rather than their "positions." That's why mediation and collaborative law work particularly well with couples who are divorcing later Iife. I've heard many of these couples express how important it is to them to end their marriage in a way that preserves the "good times" of their long-term relationship and accomplishes the dissolution in a way that is cost effective. They might still love each other but simply want to live apart simply because they have grown apart.
Additionally, they recognize that they still have a family unit that needs to be maintained and still want to be able to share family moments as their children get married and have children of their own.
When mediation is not the right fit for a particular couple, such as where one of the spouses doesn't feel capable of effectively advocating for himself or herself, I highly encourage that they consider the team approach of a collaborative divorce. In addition to each spouse having their own attorney, a collaborative divorce team can include a neutral divorce coach who can help the couple in bridging communication gaps in a non-adversarial manner, as well as a neutral financial professional who can help them determine how to utilize their assets and income in way that will allow them to both feel financially secure post-divorce.
In one of my collaborative cases, the wife had received a teaching degree after the children were grown and at 55, she was just starting her career. The husband was a 65-year-old partner in a law firm who was winding his career down. We brought in a divorce financial analyst who was able to help the couple look at their expected incomes from employment as well as retirement and social security and figure out how to help both feel secure enough at these different stages of their work lives.
Ideally, litigation should always be a course of last resort for divorcing couples; this is especially true for older couples who want to preserve what was good about their relationship and move into their post-divorce lives with dignity. Gray divorce clients have learned from their own parent's mistakes and are realizing that not only do they have a choice as to whether and when to divorce, but they also have a choice about how to divorce.