For Los Angeles-based photographerGray Malin, the best part about travel is how much an adventure can take you out of your comfort zone, thus "deepening your perspective and widening your mind."
Of course, Malin, 29, is aware that an extended European holiday or a backpacking venture through Asia isn't on every traveler's agenda (or within everyone's price range). Hence, he's always aimed to give exotic locales such as South Africa and Australia a playful, colloquial touch in his photos, which comprise bird's-eye views of sun-drenched beaches and other dreamy landscapes.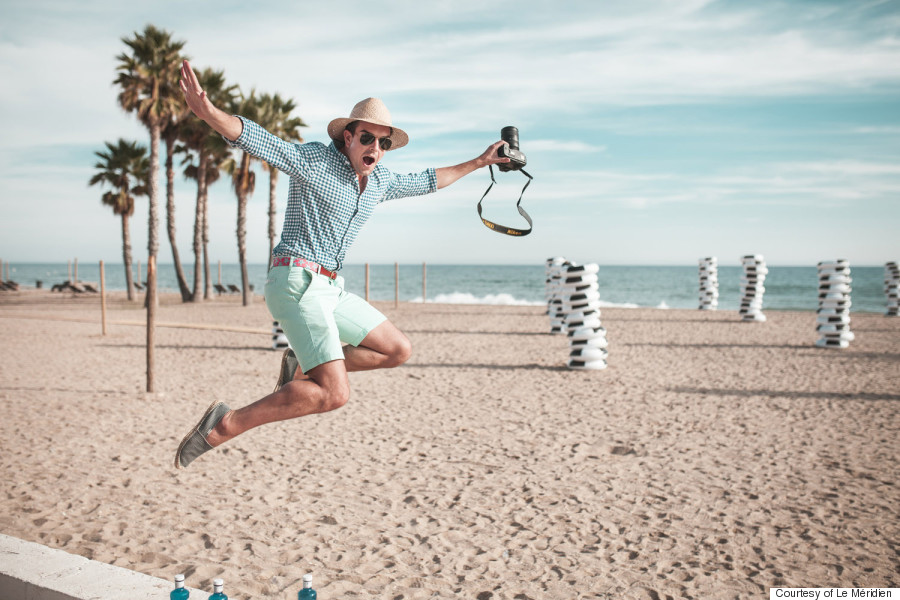 "As a travel photographer, I'm responsible for opening the minds of those who haven't been [to a specific destination]," Malin said. Still, he said he sees his finished work as more than just a series of still images: "Each one is a shared moment in time that invites everyone to an adventurous lifestyle and the idea that every day can be a getaway."
As a young gay man growing up in Texas, Malin found photography to be "an amazing outlet" for self-expression, and says he was inspired by the likes of André Kertész, Aline Smithson and Man Ray. After graduating from Boston's Emerson College, he relocated to the West Coast, and now works primarily out of his L.A. studio.
"While many other people in school were excelling at sports or literature, I excelled with a camera," he quipped.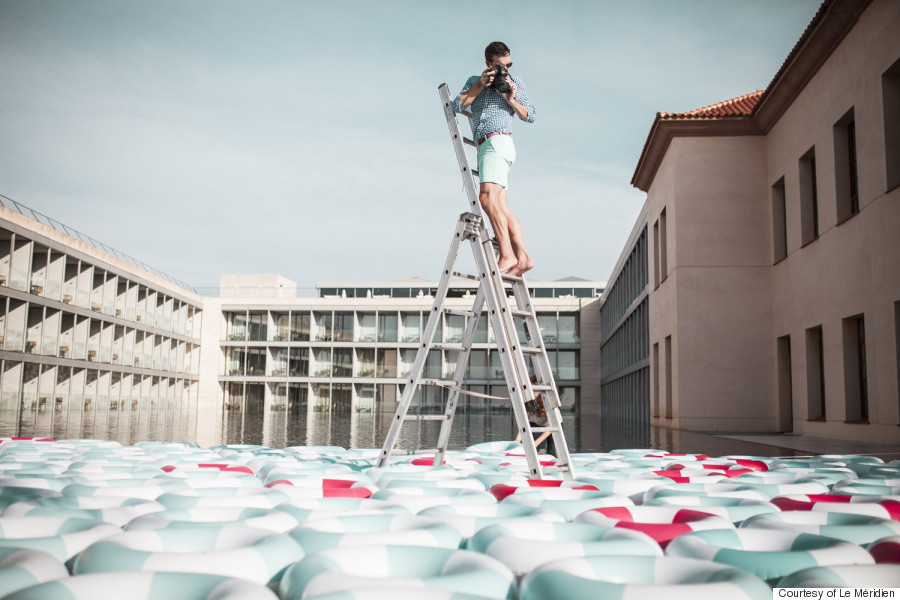 Now, however, his photos are going global as part of Le Méridien Hotels' new "Follow Me" campaign, which incorporates physical installations as well as digital media. The effort, which tales its cue from the title of the hit 2002 film, "Catch Me if You Can," allows Le Méridien patrons to experience a "24-hour visual journey" through Malin's photos in the lobbies of the hotels they visit and on room key cards.
Meanwhile, a social media contest will offer contestants a chance to share their own "spontaneous travel" images on Instagram, with a chance to win Malin prints as well as points toward a stay at a Le Méridien location.
The first of the "Follow Me" images to be released, the "Inner Tube" series was shot at Le Méridien Ra Beach & Spa Resort near Barcelona. Malin will venture to another Le Méridien location in Bhutan for a forthcoming effort, while visits to Dubai, Croatia and Seychelles are also in the works.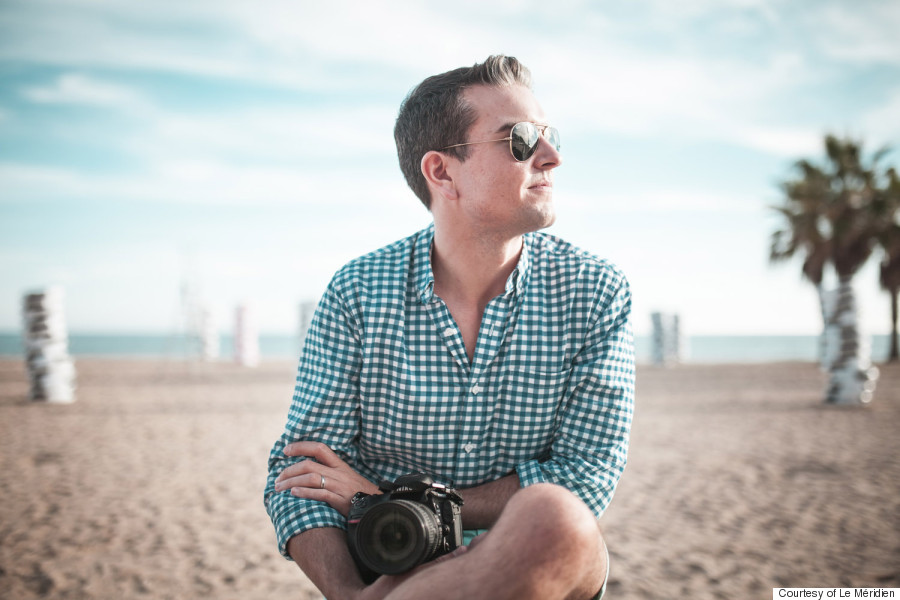 The social media element of "Follow Me" is particularly fitting, given that Le Méridien's Vice President of Global Brand Management George Fleck encountered Malin's work on Instagram after a quick glance at a piece displayed in a colleague's office, and quickly became a follower and fan.
Calling Malin's work "engaging, delightful and original," Fleck noted, "His modern perspective on photography invites the creative and curious-minded traveler into his world."
Malin, who credits the Le Méridien team for embracing his creative ideas, says he ultimately would like to publish a book of his work. Although the running list of places he'd like to visit "changes all the time," Malin said that his top destination these days is Norway, where he would like to experience the Northern Lights.
Mostly, however, he's content to see where the "Follow Me" campaign takes him next.
"The more I get to see, the more I get to learn, feel and touch," he said. "I'm inspired to create work that is, in turn, inspiring."
Before You Go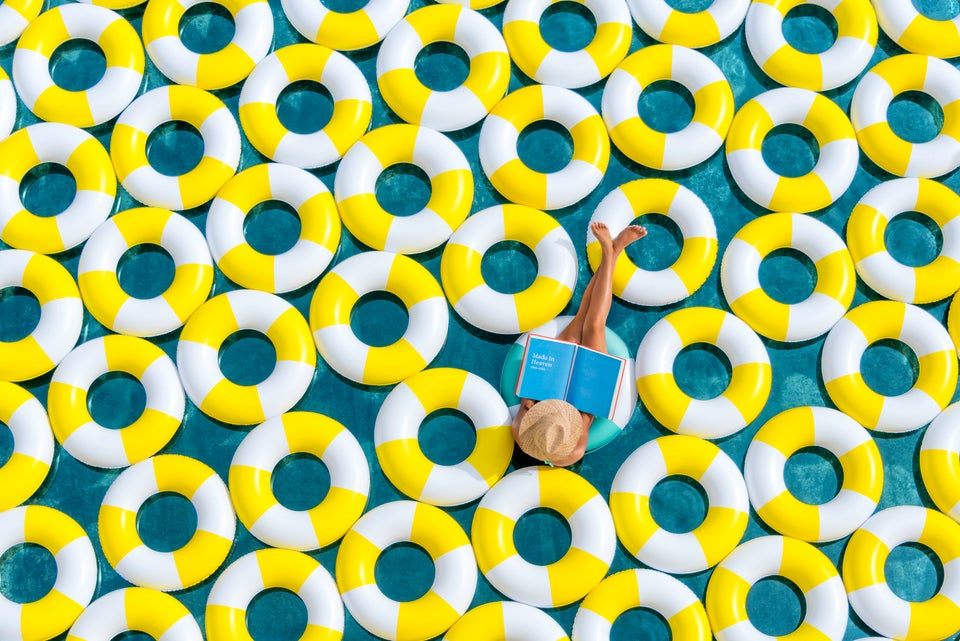 Behind The Scenes Of "Follow Me"
Popular in the Community