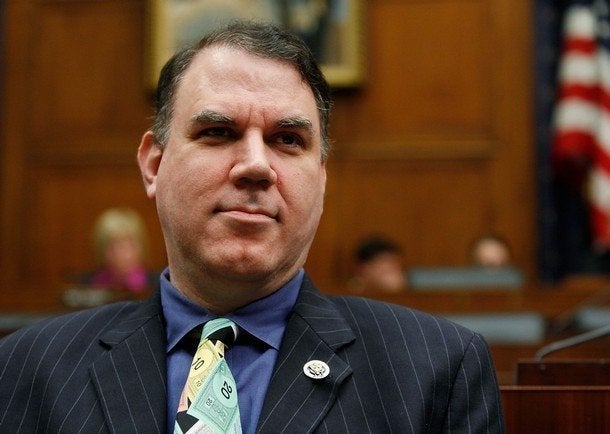 A House progressive walked over to the Senate side of the Capitol on Wednesday to push Democratic leaders to take action on health care reform -- and, with November elections on the horizon, to remind them that there will be consequences for responding with nonsense or sloth.
"We can't let people around this country think that the only choices between the political parties are the crazies and the lazies. That's not the choice of America," Rep. Alan Grayson (D-Fla.) said in front of the Senate's Hart Office building. "That's the message of Virginia, that's the message of New Jersey, and that's the message of Massachusetts. People will vote for Democrats, if Democrats deliver."
They ought to include a public option, said Grayson. He and representatives from three liberal groups delivered petitions, with 226,189 signatures collected in the past week demanding the option, to the offices of key Senate Democrats.
"The loss of Ted Kennedy's seat -- due to a lack of enthusiasm among Democrats and independents -- sends a clear message to Congress," the petition reads. "The Senate health care bill is not the change we were promised in 2008, and it must be improved. The Senate must use 'reconciliation' to pass a better bill with a strong public option."
Representatives from the Progressive Change Campaign Committee, Democracy for America and Credo Action delivered the petitions to the offices of Senate Majority Leader Harry Reid (D-Nev.), Senate Budget Committee Chairman Kent Conrad (D-N.D.) and health reform skeptic Sen. Evan Bayh (D-Ind.).
Like the petition signatories, House progressives are newly optimistic that they can bring the public option back from the dead. Passing the weaker Senate health care bill with no reconciliation "band-aid" isn't enough, Grayson said Wednesday, and he dismissed Republican calls to start the reform process over.
"It's time for us to move ahead and do our jobs, to provide something to this country to show that the Democratic Party is actually worth electing," he said. "That's a point that I hope to hear from the president today, that's a point that I think that members of the House have been making for a long time, and I think it's a point that 51 senators understand."
Calling all HuffPost superfans!
Sign up for membership to become a founding member and help shape HuffPost's next chapter