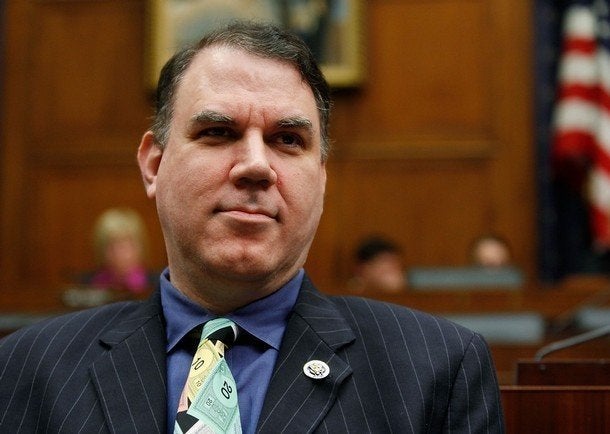 WASHINGTON — The Florida Democrat who said Republicans want sick people to "die quickly" is apologizing again for his inflammatory rhetoric, this time for insulting a senior Federal Reserve adviser using a derogatory term for women.
Amid growing criticism from across the political spectrum, Rep. Alan Grayson said late Tuesday it was inappropriate for him to call Fed adviser Linda Robertson a "K Street whore" during an interview last month on the "Alex Jones Show," a syndicated talk radio program.
Robertson is a former top Enron lobbyist and Clinton administration adviser who was hired by Fed Chairman Ben Bernanke this summer to help with congressional relations as lawmakers are seeking more oversight of the agency. Washington's K Street is where many lobbyists have their offices.
"I offer my sincere apology," Grayson said in a statement, just hours after his spokesman defended his comments. "I did not intend to use a term that is often, and correctly, seen as disrespectful of women."
Rep. Anthony Weiner (D-N.Y.), in turn, apologized for calling Grayson "one fry short of a Happy Meal."
"Alan Grayson is a friend and an extraordinary member of Congress. No obviously playful comment from me should distract from the important role Rep. Grayson has played in focusing on the true and tragic costs of our broken health care system," he said in a statement. "He is a leader and a patriot."
In the radio interview, Grayson took exception to Robertson's role, saying she was not qualified to criticize such efforts.
"Here I am the only member of Congress who actually worked as an economist, and this lobbyist, this K Street whore, is trying to teach me about economics," he said.
Erin Matson, a vice president at the National Organization for Women, called the slur "absolutely inappropriate."
"Would he have singled out a male lobbyist and said the same thing?" she said in an interview Tuesday.
Republican National Committee Co-Chairman Jan Larimer called on Grayson to apologize, saying the insult was "disgraceful" and "disrespectful to women."
But Grayson's spokesman, Todd Jurkowski, initially defended it, saying Robertson was a career lobbyist who "advocates for whatever she gets paid to promote."
A spokeswoman for the Federal Reserve declined to comment.
Grayson drew strong criticism last month for saying the GOP's health care plan amounted to wanting people to "die quickly" when they get sick.
He stood by the comments, leveraging the attention into a series of national television appearances in which he ridiculed Republicans as "knuckle-dragging Neanderthals." He boasted that the controversy has helped fill his campaign coffers.
Grayson did apologize for later likening the deaths of Americans without health coverage to a "holocaust." He then set up a Web site called "Names of the Dead," inviting people to list the names of loved ones who have died for lack of health care.
Popular in the Community