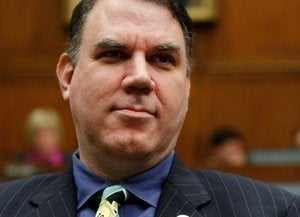 Republicans like a politician who stands up for what he believes -- even if he believes the Republican Party is populated by a bunch of "knuckle-dragging Neanderthals."
The candidate leading the Florida GOP primary to determine who will take on Rep. Alan Grayson, the Democrat who represents the Orlando-based district, is none other than Grayson himself, according to a poll paid for by his campaign. Grayson is a freshman congressman who has drawn scorn from the GOP and has quickly built a nationwide following of progressives.
The poll has Grayson leading the 13 Republicans -- among Republicans -- with 27.8 percent of the vote. The congressman who mocked the GOP health care plan by saying that it amounts to telling people not to get sick and if they do, to die quickly, received more support than all of the Republican candidates combined.
No GOP candidate scored above 3.7 percent; 57.7 percent said they were undecided. Grayson did particularly well with women, undercutting the notion that referring to a Washington lobbyist as a "K Street whore" would turn female voters away. (Grayson later apologized for the word choice.)
The poll was conducted on Feb. 26th. There were 324 respondents, all registered Republicans in Florida's eighth district. The poll was conducted by Middleton Market Research.
Naturally, the national GOP establishment dismissed the results -- "This is the most bogus thing I've ever seen in my life," said Andy Seré, Regional Press Secretary for the National Republican Congressional Committee.
Grayson told HuffPost that some of the support comes from Republicans who appreciate that he speaks his mind, while some is due to his far-superior name recognition. But the poll also found at least one area where Republican voters thought favorably of him.
In 2009, Grayson, who carries a copy of the Constitution with him, passed a resolution calling on schools to teach the document for one week in September each year.
Over half of the Republicans polled said that they were more likely to vote for Grayson because of the resolution. He has distributed tens of thousands of copies of the Constitution throughout the district, including one to each high school senior. This September, he said, he plans to go to high schools and teach the Constitution personally in the district.
Popular in the Community