Fox's Grease Live! this Sunday (8 p.m.) isn't quite any of the things it's nominally selling.
That's not a dismissal or a prejudgment. It just means viewers should assess it by what it's really aiming to be, which is bubbly and fizzy fun.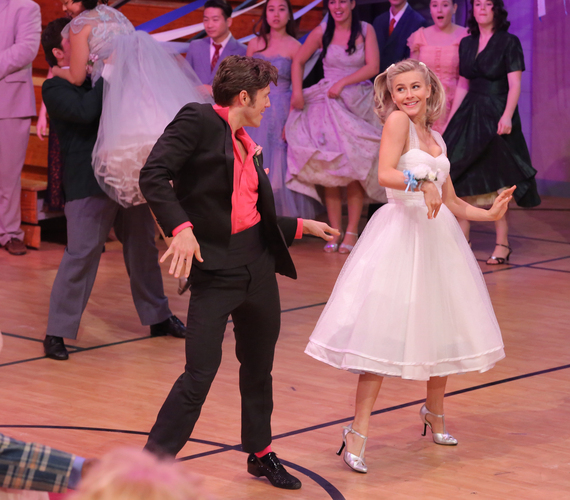 It isn't real live theater because, sorry, no TV show can match live.
It isn't the '50s, because it never was and never tried to be. It's a cartoon '50s, aiming to sell the spirit.
It isn't even the Grease that scored so well in the '70s as a Broadway show and the John Travolta/Olivia Newton-John movie. The Fox Grease is a hybrid, mixing-and-matching songs, noodling with plotlines, adding its own shang-a-lang.
Consider, for instance, the planned conclusion as outlined to TV writers earlier this month by Carlos PenaVega, who plays Kenickie Murdoch.
"At the very end of the show," he said, "the entire cast, all of the ensemble, all of the dancers, we all get on these golf carts and go to the back lot, and we have this huge carnival scene. It's crazy."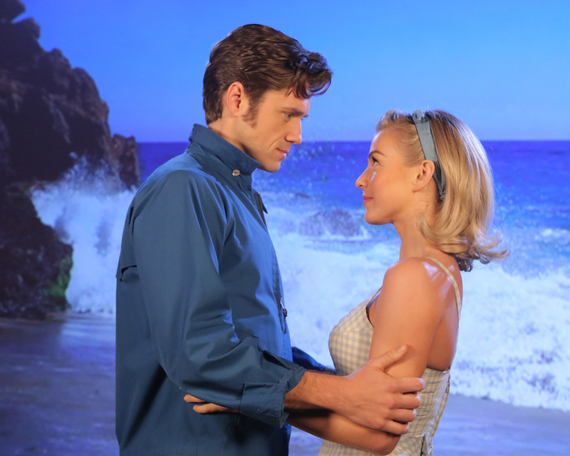 You'll still recognize Grease. There's Danny (Aaron Tveit) and Sandy (Julianne Hough), above, and Rizzo (Vanessa Hudgens), who still thinks she may be knocked up.
"That's the thing that's so great about playing Rizzo," said Hudgens. "Even though Grease does have this fun, lightheartedness about it, there's some real stuff going on.
"Rizzo is a really awesome character. She's a badass. She has a really tough shell, but inside she's got a tender heart.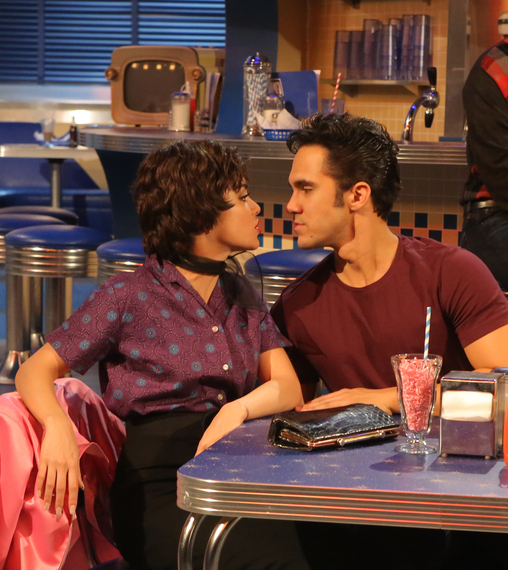 "It's a lot of fun," said Hudgens (above with PenaVega). "The costumes I get to wear, the silhouettes from the '50s, like the pencil skirt and the little pixie cut, it just makes you exude this energy that I feel like women these days don't necessarily have. So it's very empowering."
Watch for empowerment Sunday night.
The costumes in Grease were always among its most authentic parts - unlike the music. In contrast to its fellow early-1970s production American Graffiti, which used the actual music of the '50s, Grease aimed to evoke the era with signature sounds like the three-chord minidrama "Beauty School Dropout."
Grease music was show tunes and later pop tunes, few of which would be confused with real-life early rock 'n' roll.
The movie's title song spells it out: "Grease is the way we are feeling."
That makes no sense. So what? It was a No. 1 hit for Frankie Valli 1978.
"We Go Together" in Grease is a dance workout. "We Go Together" in the real-life 1950s was a wholly different song, a breezy love ballad sung quite nicely by the Moonglows.
If you want to know what the '50s really sounded like, pick the Moonglows song 100 times out of 100.
But Grease isn't a musical history class. It's teen drama with songs, the direct ancestor of High School Musical and even Glee.
It's on TV partly because NBC has scored well with live productions of The Sound of Music and The Wiz. Mostly it's on TV because broadcast networks are looking to create events that make you want to tune in live.
It will use modern techno-tricks to look more flashy than the movie, though the fact it's on a broadcast network means it can't use the equally common contemporary practice of making the content rawer and rougher.
"Summer Nights" will still have the guys asking the locker-room question "Did ya get very far?" and the girls asking the airheaded "Like did he have a car?" But a couple of other semi-notorious lines will discreetly disappear.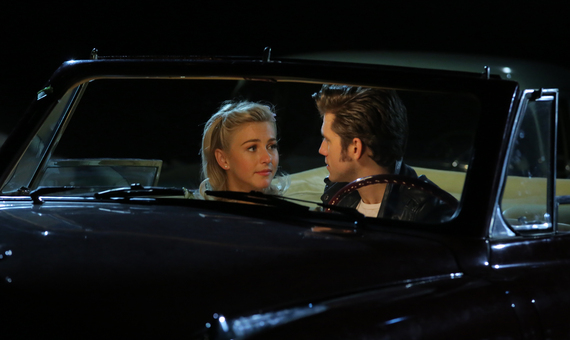 Still, the whole sales pitch here is that the new Grease will be a show of the moment, not the past. It's directed by Thomas Kail, who also directs the white-hot Broadway smash Hamilton, and he says he'd like Grease to make live theater itself a hot ticket.
"Theater is cool," says Kail. "One of the things we're trying to convey is that there's a reason why theater has existed for thousands of years, because we all want to get together and sit around the campfire and have somebody tell us a story. Now the campfire might be a 42-inch television, but it's about coming together and having a community experience.
"It's really about a celebration of live performance, whether it's on theater or on television."
Calling all HuffPost superfans!
Sign up for membership to become a founding member and help shape HuffPost's next chapter