The tradition of custom Harleys and choppers is in many ways a uniquely American story, with a cultural influence similar to the impact that American rock and roll has had worldwide. Old school choppers and American style bobbers are now being made with much fondness and fervor all over the world. And, for those of you who are into the American custom motorcycle scene, the end of this year is serving up a sack of treats.
For example, on December 14 the 11th Annual Chopperfest roars into town at Ventura County Fairgrounds. Then there's the release of much anticipated documentaries like The Greasy Hands Preachers and Choppahead 4, along with a jam-packed, motorcycle movie site that likens itself to an iTunes for bikers.

Chopperfest, originally the brainchild of David "Huggie" Hansen and in tribute to famed artist David Mann, is "dedicated to the design, function and art of the motorcycle." Now in its 11th year Chopperfest features a custom bike show, new and used parts swap meet, custom bike builder displays, live bands, vendors, beer, food and more.
Then, there's an impressive motorcycle documentary, The Greasy Hands Preachers by Clement Beauvais and Arthur De Kersauson, which is devoted to the idea that the "real pleasure of two-wheel culture lies in doing everything by hand." Greasy Hands, which is Exec-produced by actor Orlando Bloom a long-time avid motorcycle enthusiast himself, explores the "values and the benefits of manual work amongst motorcycle enthusiasts" and highlights the builder, the people behind-the-scenes, alone in their garages late night, creating motorcycles with love, sweat and greasy hands.
And if you're searching for an authentic, gritty, garage culture bike documentary, you may want to check out Choppahead 4, the newest in a series that pays homage to the home-builder and the underground chopper/custom motorcycle scene. Set for digital release this month, Choppahead 4 is exclusively available at One World Studios Ltd.'s motorcycle movie site, Choppertown.
Of Choppahead 4, One World/Choppertown's co-founder Zack Coffman enthuses: "The Choppahead producers are these crazy, cool, underground guys from Boston who have this huge following. In the film, you get to see the real guys who build in their own garages, driveways, wherever. It's an inside look into the madness and ingenuity that surrounds this 'Kustom Kulture' world. And it's played out to a soundtrack that features legendary hardcore punk, and metal music."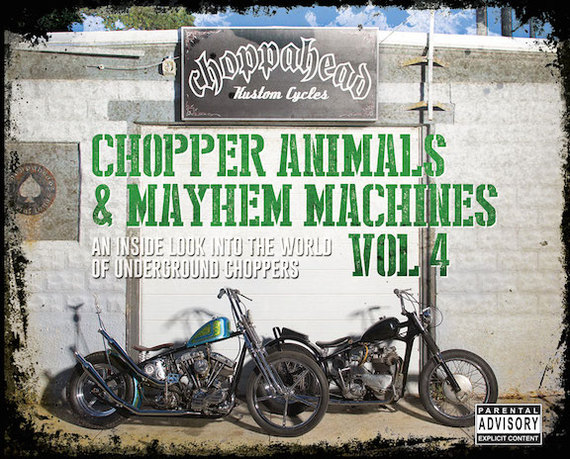 Coffman describes his own motorcycle culture movie site, Choppertown, as "an iTunes for bikers." He has several widely respected motorcycle documentaries already under his belt as a producer, including Choppertown: The Sinners, The Harbortown Bobber and Brittown. He initially created his bike movie site to support the Choppertown documentary he produced with co-founder and film director Scott Di Lalla. Coffman explains:
Interest in our documentary never seemed to wane, in fact it's still as popular as ever. That's why we took on more films and developed the site into a destination for biker movies. Now, Choppertown delivers the Choppahead series and others, garage-built films about garage-built bikes to people that love them.

Nick Dee of Rebel Social, a social media company focused on motorcycle, pin-up and kustom culture, weighs in:
Over the past few years there has been this huge wave of motorcycle culture movies and shorts. Many of them are produced by aspiring filmmakers, advertising guys or independent motorcycle shops -- maybe to boost their exposure but more likely for the love of bikes. I'm personally not that into the pretty films with 'feel' music. I prefer to hear the rumble of the bikes, see the dirt in the garage, feel the experience and be left wanting more. Zack and Scott's Choppertown documentary has this grit and authenticity to it, and that's why it's lasted. Choppertown is legendary because it follows real people who love to ride and is more about people living their dream than about creating some fantasy with bikers riding through scenic backgrounds to 1970s elevator music. As much as bikers like freedom they also crave realism. Zack gets that and their Choppertown site is a really cool place to check out authentic movies, if you're into bikes.
REAL LIFE. REAL NEWS. REAL VOICES.
Help us tell more of the stories that matter from voices that too often remain unheard.