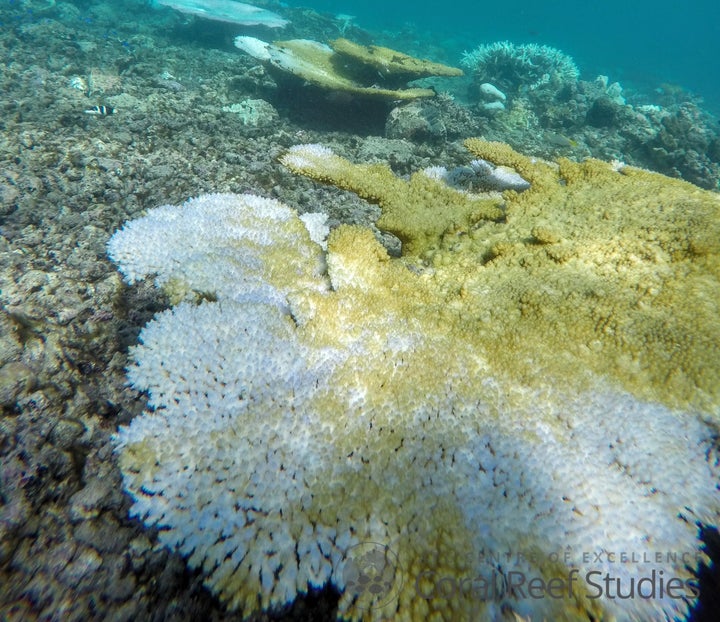 Those numbers continue a streak of horrifically bad news for the largest living structure on the planet. Just a month ago, researchers said 93 percent of the reef had been affected by the mass bleaching event.
Terry Hughes, convenor of the National Coral Bleaching Taskforce and the scientist responsible for the latest aerial surveys of the reef, said in a press release this was the "third time in 18 years that the Great Barrier Reef has experienced mass bleaching due to global warming, and the current event is much more extreme than we've measured before," spurred by an unusually strong El Nino weather event.
This repetitive cycle of bleaching, he warned, would only make it more difficult for the already fragile structure to recover in the future.
Perhaps the only good news to come from the latest research points to regions along the southern Great Barrier, where just 5 percent of coral has died. Scientists said they expect the "mildly bleached" coral along that part of the reef to recover in a few months.
Coral becomes bleached most frequently when water becomes too warm. During such times, the colorful algae that live in the coral leave it, causing it to turn bright white. Reefs are able to recover from bleaching if temperatures drop again, but if water remains warm for too long, the coral can die in droves. This is the case with the latest bleaching event.
Scientists have been ringing warning bells about the state of the Great Barrier for months, after Hughes and his team first reported the scale of the bleaching. UNESCO had planned to list the World Heritage site as "in danger" just last year, but the Australian government successfully lobbied to avoid such embarrassment, claiming the reef was still mostly healthy.
The same day the report was published, the study's lead author published a blog with the information meant to be included in the original report. He called for urgent action after the ongoing "degradation of the reefs and the likelihood of much worse to come."
Australia has promised to address the reef's bleaching crisis, allocating some $200 million annually towards conservation efforts. But scientists have long said the only way to ward off climate change-induced ocean temperature increases is to curb greenhouse gases.
"The key threat to the Great Barrier Reef is climate change -- the government has recognized that many times," Hughes told the Sydney Morning Herald. "[But] there is a disconnect in the policy around governments issuing permits for 60 years for new coal mines and how that might impact on the Great Barrier Reef and reefs more generally."
Related
Popular in the Community