In what has been hailed as a "big win" by the Australian government, the Great Barrier Reef has yet again escaped an "in danger" listing by UNESCO's World Heritage Committee despite suffering back-to-back mass bleaching events.
In a decision released Thursday, UNESCO said it "highly welcomed" the reef conservation initiatives — particularly the Reef 2050 Long-Term Sustainability Plan — undertaken in recent years by the Australian federal and Queensland state governments. It noted, however, that the committee still has "serious concern" about the devastating bleaching that decimated the reef in 2016 and 2017. 
Federal and state governments need to "accelerate efforts" to meet the targets of Reef 2050, paying particular attention to land clearance and water quality issues, UNESCO added.
Government officials in Australia celebrated the United Nations agency's decision on Thursday, though appeared to disagree over who deserved more credit for the positive outcome.
Federal Environment Minister Josh Frydenberg called the announcement a "big win for Australia and a big win for the Turnbull Government," referring to Prime Minister Malcolm Turnbull.
The Queensland government, however, disagreed with this assessment. The state's environment minister, Steven Miles, told the Australian Broadcasting Corp. that Queensland had done most of the "heavy lifting" to prevent the reef, which is located off the state's coast, from getting the "in danger" listing.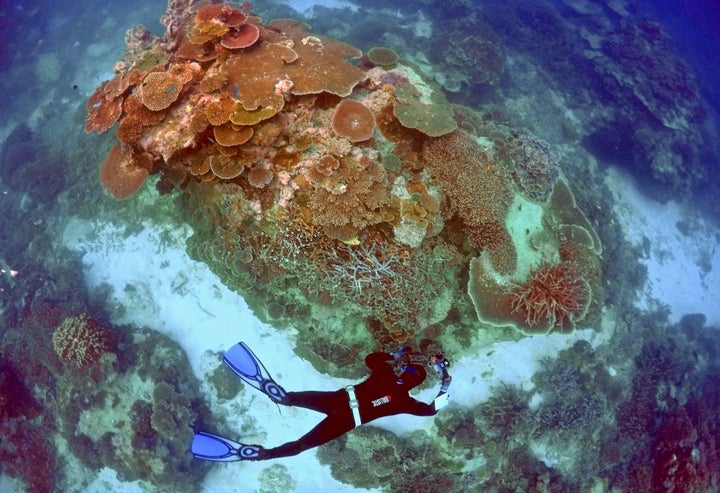 This is the second time in recent years that the Great Barrier Reef, which was added to the UNESCO World Heritage List in 1981, has escaped the "in danger" label. As The Sydney Morning Herald reports, the reef "narrowly avoided" the designation after lobbying efforts by the Australian government in 2015.
UNESCO's criteria for the "in danger" listing includes looking at how much deterioration of "natural beauty or scientific value" has been suffered by a natural site and whether human encroachment threatens its "integrity."
On Thursday, environmental groups disagreed with the UNESCO decision, with climate scientist Will Steffen saying if the severe bleaching it's endured "isn't enough to put the Great Barrier Reef in danger, I'm not sure what is."
"We've had 67 percent mortality on the northern section of the reef, the most pristine section," Steffen, a professor at Australian National University, told ABC. "There is only one reason why that happened and that was the high ocean temperatures caused by the burning of fossil fuels." 
Greenpeace Australia expressed its disdain of the plan this week, sharing this statement on social media:
The Great Barrier Reef, the world's largest living structure, has suffered from severe mass bleaching four times in recorded history ― in 1998, 2002, 2016 and 2017. Scientists said earlier this year that, because of climate change, decline of the reef is now inevitable. 
Calling all HuffPost superfans!
Sign up for membership to become a founding member and help shape HuffPost's next chapter
BEFORE YOU GO
PHOTO GALLERY
Great Barrier Reef