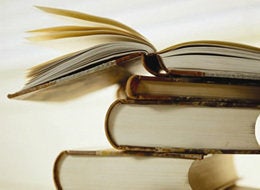 I've thanked the women authors who made my year great. Now it is time to name the male writers who have made my life good in 2009. I wouldn't ordinarily list these thank-yous by gender but Publisher's Weekly Top Ten Y-chromosome dominated list gave me a way to get around the constraints of the "Ten Best" list. First, I reacted with a list of great books by women in 2009. Now I am free to come up with as many lists of great books as I want: written by men, mysteries, memoirs, books for kids, books involving a dog (cat/hamster/golf club). My point is that publishing houses come out with great books every year; to try and list just ten is just too hard. Give me as many categories as you want and I'll come up with great books. I've named the women writers of great books of 2009 and now I'll name the men. Next week? Check in and see.
My list of men to thank doesn't include authors of three books I loved but have already mentioned on The Huffington Post, Hold Love Strong by Matthew Goodman, A Terrible Splendor by Marshall Jon Fisher and Nocturnes by Kazuo Ishiguro. I also left out Little Bee by Chris Cleave because it was first published in 2008 in Great Britain under the title The Other Hand. I loved Little Bee and offer my greatest thanks to Mr. Cleave for writing a superb novel about two women brave in heart and in deed, whose story of connection and responsibility affirm the very power of life, even in the face of unspeakable horror.
All that winnowing leaves me with this final list of five male authors to thank for their great books published in 2009. Thank you, men, and keep it up.
1) Asterios Polyp by David Mazzucchelli is a brilliant, touching and sincere story of love, delusion and recovery. It is as richly cast in supporting characters as it is with its original and yet familiar leads of Asterios, scholar/philosopher/aesthete, his wife Hana who is his opposite and soul mate and his friend Ursula Major, goddess/twin/opposing force. Mazzucchelli's illustrations are mesmerizing in their variety and skill, and his dialogue is an engaging and vivid exploration of the basic human struggle for self-definition and self-realization against all the odds of life.
2) Spooner by Pete Dexter held me from first page to last. This is a wonderful novel that makes big statements about life but hides them within a wonderfully looping plot that alternates between tragedy and comedy (I cried tears and laughed out loud many times reading this book). Spooner is a moving homage to under-paid school teachers; a devotional to dogs and the people who love them (and a condemnation of people who leave them); a guidebook on writing (with lots of attention paid to how to tell a story, the part we all play in a story, and the importance of caring about your story); and most of all, it is a damn good yarn.
3) Stitches by David Small is a memoir of the author's childhood and a chilling depiction of the wounds and scars, literally and figuratively, imposed on him by his parents. The drawings are varied in style and consistent in effect, the effect being an incisive, nowhere-to-hide exposure of pain. The only relief Small had from pain was the pleasure he found as an artist. There is a wonderfully compelling sketch of the young Small diving into a drawing pad, being taken down through the page and into a world of his own creation, a world safe for being his own, and for being unreachable by his family.
4) Brooklyn by Colm Toibin moves as real life moves, in passage that is sometimes sudden, sometimes slow, but always unstoppable. Eilis, a young Irish immigrant to America, is carried forward, away from everything she knows and into a new world that is strange and lonely. Life in Brooklyn leaves her off balance, rendering her unsure of identity or purpose amidst the widely diverse community surrounding her. As time passes, she begins to find her own place within the crowds of Brooklyn but when a tragic event brings her back to Ireland, she is thrown off-keel again, pulled in by her old way of life, and caught up in the old, familiar ways of how she defined herself and is defined by the people of her town. This novel is a beautifully- written, quiet and supremely moving study of self-determination and identity.

5) Let The Great World Spin by Colum McCann folds a series of coupled lives together, connecting the stories of two brothers from Ireland; a mother and daughter both "on the stroll"; two mothers from different worlds but sharing the loss of their sons in Vietnam; and a married couple trying to find salvation through their Art but ignoring it in their lives. The stories are loosely built around the day in August 1974 when Philippe Petit walked a high wire secured between the Twin Towers. McCann explores the chance connections of lives, the magnitude of certain moments experienced and remembered, shared or hidden, and the wonder of life's sudden and unexpected offers of possibility, hope, awe, redemption and grace.

Related
Popular in the Community