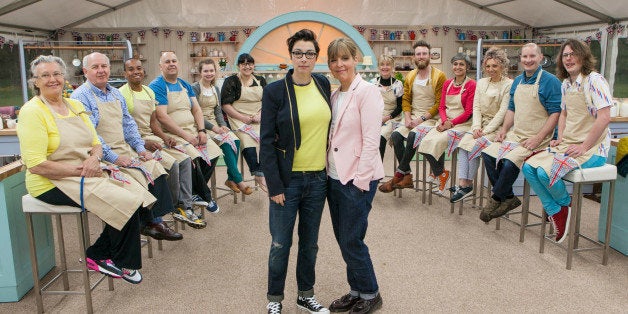 PBS will premiere the fifth season of the show, its most recent, on Sunday, Dec. 28, at 8 p.m. ET. The network tweaked the series title to "The Great British Baking Show" for American audiences. Season 5 of "Downton Abbey" debuts on January 4, at 9 p.m., immediately after the second episode airs, so the two will form a mini-block of anglophilia for PBS through the beginning of 2015.
"The Great British Bake Off" has grown into a wildly popular cultural phenomenon in the U.K. since its original premiere on BBC Two in August 2010. Over 12 million Brits tuned in to BBC One to watch the season 5 finale of the show on Oct. 7 -- half the country's total TV viewership that night. It was the most popular non-sports TV broadcast in the U.K. in two and a half years.
Whether or not American audiences will warm to the original remains an open question. The show offers none of the high drama and bombast that characterize most reality shows on this side of the pond. Yet once you accept its unusual pace and format, "The Great British Bake Off" can become strangely addictive, as I discovered while writing a story on its runaway success in the U.K. Moreover, adaptations of the show have been hugely popular in several other European markets -- and if anyone could get excited about a series so quirkily British, it's anglophilic "Downton Abbey" watchers.
If the PBS broadcast is a hit, it may help the show's creators get another American adaptation off the ground -- a goal they affirmed when I spoke to them in October. CBS no longer owns the rights to the property, so they are currently exploring other possible venues for a revival.