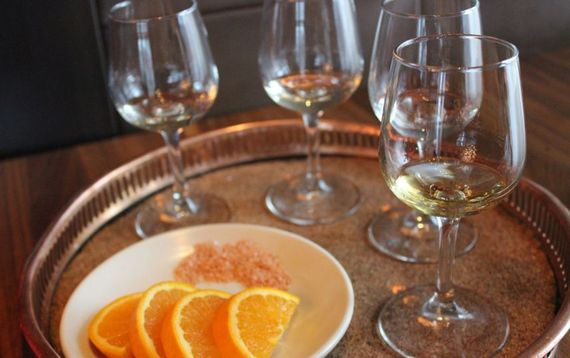 Tequila shots and syrupy margaritas don't have to be your fate this Cinco de Mayo. We found some classier drinks that still have a Mexican flair.
Bengali restaurant Haldi has an utterly delicious drink called Highway Lassi, made with mango, a generous shot of tequila and topped off with Champagne. This tall drink is creamy and refreshing, and without any overbearing flavors.
The Ludlow Hotel's outdoor garden, or its lobby bar, if you forgot your sunnies, is where you'll find the Zaragoza, which blends tequila, vanilla yogurt, crème de peche, fresh lime and a hint of clove.
This has to be one of the most handsome drinks in town: Davio's Manhattan makes the Albiccoca with tequila, apricot jam, lime juice, a drop of simple syrup and just three dashes of housemade habanero bitters, which leaves a hint of pepper on the tongue. The top-off of pinot noir complements the apricot and balances well with the tequila.
At Cherry Izakaya in Williamsburg, the signature Cherry Bomb pairs tequila, cherry jam, black pepper agave and lemon. Even better news: During happy hour, from 5:30-7 p.m. daily, it's a mere $7. You'll be surprised how well tequila drinks pair with most sushi, or try it with one of their new brunch dishes.
At Bar Primi, La Paloma #7 includes mezcal, tequila, grapefruit, mint and Casoni 1814, an Italian aperitif with a bitter flavor, similar to Campari.
Olio e Piu's Levatte Tutti blends tequila and another Campari relative, Aperol, with equal measures of lemon juice and strawberry puree. The sidewalk weather is perfect to enjoy this sunny looking drink on the Italian restaurant's newly reopened pretty sidewalk patio.
Want to get better acquainted with mezcal? Connoisseurs can celebrate Cinco de Mayo with PRINT. Restaurant's flight of regional mezcals: Fidencio Unico -- unlike the method, the agave is smoked in a pit, but cooked in a radiant heat oven so it is not as smoky and has more agave flavor; Siete Misterios Doba Yej, which has a big citrus note; Venonosa Costa, which tastes a lot like olives; and vegetarians should stay clear of the Fidencio Pechuga, which involves chicken in the brewing process. Just remember to sip.