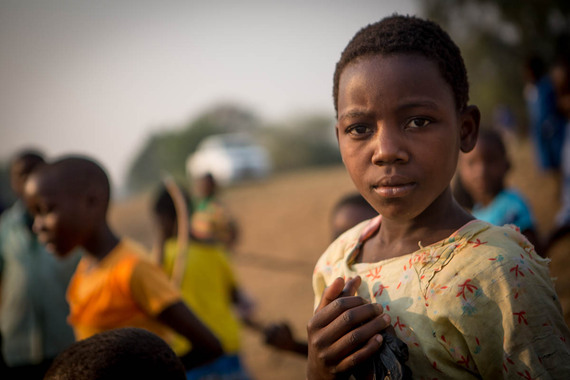 ©UNICEF/Malawi/Schermbrucker/2014
Girls are at risk. Globally, an estimated 64 percent of the 250,000 new HIV infections among older adolescents (15-19 years) in 2013 were among girls.
As we celebrate the unprecedented footing gained in ending the AIDS epidemic this, the 26th World AIDS Day, I have some alarming facts to share:
The leading cause of death among adolescents in Africa, and the second-leading cause of death among adolescents worldwide, is AIDS. Furthermore, there is a haunting statistic that all of us in the AIDS movement are following with great worry: the number of adolescents (10-19) who are dying from AIDS is not decreasing. Zeroing in, 80 percent of new adolescent infections are in sub-Saharan Africa, among these, 70 percent are infections among girls 15-19 years old.
And this, while the situation improves markedly among all other age groups. Simply put - adolescents are being left behind.
Allow me to point out the obvious: we are talking about an increase in deaths in the years of life known for their apparent invincibility, not for disease and death.
These adolescents are, in many ways, victims of our own unprecedented successes with treatment and survival. As more children are on treatment and reaching adolescence, they grow out of our established services and prevention platforms geared toward prevention of mother to child transmission and other programs and services that cater to children from infancy through five years old.
Because life is complicated, these children fall off the radar and out of treatment. Perhaps their parent falls ill, perhaps they never knew they had HIV (disclosing to a child that they have a life-long illness is not easy for many caretakers) and perhaps, like most of us, they just want to fit in and be "normal". These sorts of realities make it obvious that medication is not enough to fully treat HIV, and that other aspects of a child's life must be considered. Also, what is clear, adolescents are still very much children and they are still very much in need of advocates as they enter an age of experimentation, questioning, interdependence, or worse, an increase risk of exposure to sexual violence.
Take Evelyn, 18 and living in Ghana. She did not learn she was living with HIV until she was nine years old, and she quickly had to transition to an adult clinic, all the while grappling with schooling, planning her career and dreaming of a future family, knowing that living with HIV could present any number of barriers to these hopes.
UNICEF is focused on supporting governments, partners and adolescents to move more efficiently and ever closer to an AIDS-free generation. We must both test and treat adolescents living with HIV, and reach the most at-risk adolescents by investing in high impact, proven interventions such as access to condoms, antiretroviral treatment, voluntary medical male circumcision in sub-Saharan Africa (where the majority of the cases persist), harm reduction interventions for adolescents who inject drugs and investment in other supportive sectors such as education, social and child protection, while also strengthening health and community systems.
Stigma and ignorance about HIV, along with policy and legal barriers (such as age of consent or punitive laws), make accessing treatment and prevention services difficult or impossible for many adolescents. This is a particular issue for key affected populations, including adolescent males who have sex with other males, transgender women, adolescents who inject drugs and adolescents who are sexually exploited.
This is where you, the reader comes in. While discrimination has persisted since the early days of the epidemic, now we have the global mobilization tools at our disposal to combat stigma related to HIV once and for all. Our direct action can have an immediate impact globally through the instant channels of social media.
Let's all work together - young, old, protesters and #protesters alike, to end the AIDS epidemic once and for all. Join me, especially this World AIDS Day and #ShowYourLove #ProTestHIV and #EndAdolescentAIDS.