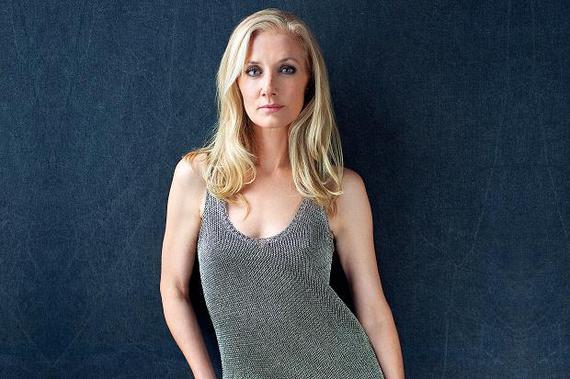 I interviewed actress Joely Richardson on the patio of the Chateau Marmont in 2005. She had just wrapped her third season of FX's Nip/Tuck, which we discussed at length, among other things. What struck me at the time and has stayed with me since was how grounded she seemed, in spite of having literally grown up in the spotlight with famous parents, grandparents, aunts and uncles. Her work continues to stand out from the pack.
JOELY RICHARDSON BEATS AS THE HEART OF NIP/TUCK

Joely Richardson is a third generation actor. Grandparents Rachel Kempson and Michael Redgrave were one of the most glamorous and renowned couples of the English stage and screen. Mother Vanessa Redgrave is an internationally celebrated actress and Academy Award winner. Father Tony Richardson (who died of AIDS related illness in 1991) was the Academy Award winning director of Tom Jones (1963), as well as the seminal British "kitchen sink" dramas Look Back in Anger (1958), A Taste of Honey (1961), and The Loneliness of the Long Distance Runner (1962). In addition, Aunt Lynn Redgrave and uncle Corin Redgrave are celebrated performers, as is older sister Natasha Richardson.
Born Joely Kim Richardson in London January 9, 1965, she made her screen debut in dad's epic Charge of the Light Brigade in 1968, next to her big sister. A self-described tomboy as a child, Joely excelled in sports such as gymnastics and tennis, but soon found the acting bug in her DNA dictating where her true calling lay. After studying with the Royal Shakespeare Company, Joely made her feature film debut in David Hare's Wetherby (1965), playing the younger version of her mother's character, Jean Travers. An ethereal beauty who seems equally comfortable in comedy and drama, Joely went on to grace the screen in such diverse productions as Peter Greenaway's Drowning by Numbers (1988), Ken Russell's adaptation of D.H. Lawrence's Lady Chatterley (1993), James L. Brooks' I'll Do Anything (1994), Disney's 101 Dalmatians (1996), and the Mel Gibson epic The Patriot (2000), to name but a few.
2003 brought Joely to the small screen, with her twice-nominated Golden Globe turn in the hit F/X series Nip/Tuck. As Julia, the estranged wife of plastic surgeon extraordinaire Sean McNamara (Dylan Walsh), Joely shines once again, playing a strong, yet vulnerable woman, herself a gifted physician, whose self doubts start with the fact that she gave up a potentially brilliant career in medicine to be a full-time housewife. Nip/Tuck begins its third season in September.
Joely Richardson sat down over breakfast at The Chateau Marmont to discuss her latest acting turn, as well as her legacy as part of one of the world's great theatrical families. Here's what transpired:
Tell us about your first foray into episodic television with Nip/Tuck, and what's it's been like working with your mom.
Joely Richardson: It's been terrific, especially getting to work with my mom. We worked together once before, in a play in 2002, in London, and it was very interesting because I had no idea what it would be like. You know those times in life when you wait for the right moment for something to come along, and you wind up waiting for eternity? Well, we did this play, that I wasn't wild about frankly, and I was so nervous. I think the mother-daughter bond is too close a connection to be completely divorced from when you're working together. But I swear to God, we both were! It was just like she was another actress. It was a really, really good experience, and I got to see one of the things that mom does best, which is work on the stage. To actually be on the same floor as her, in that arena, it was really fascinating, because it's almost the time when she's most alive, and most present: when she's on the stage. And then when Nip/Tuck came along, the creator, Ryan Murphy, mentioned a few different actresses they were looking at to play my character's mother on the show. The next day I got a call from my real mother, saying that the job she'd signed on for had fallen through! So that gave me the idea: Ah ha! (laughs) But the experience of doing Nip/Tuck with mom has been very different: I've felt very protective of her, maybe because it's been taking place in my environment, or that she joined us after we'd already sort of formed a cohesive company. It was quite a strange dynamic. The third season has just been brilliant, and we're really having fun. There's one scene where we get to smoke a bong together. (laughs)
She claims she never smoked one before, even though she was around in the 60s, and I never had before, so the props guy had to give us lessons! (laughs) It was quite funny. She was much better at it than I was. It was nice to do something light with her for a chance, since last season we were always shouting at each other. What I really find inspirational about my mom, is that she constantly remains a student, always open, always learning. That's what really stuck out in my mind. She's also a good company person, being part of the troupe, as it were.
That's not surprising since she was raised in a theatrical family, as you were.
She was certainly brought up in that environment, but in those days, parents weren't as hands-on as her generation or my generation. I think the children stayed at home with the nanny when mom and dad were off doing plays, or films. It was a little bit on an upstairs-downstairs existence. But if you are from that background, there is the sense of it being a team effort and everyone being happy is in everyone's best interest.
Let's talk about your character, Julia.
Julia's a funny one. I have such problems talking about her. I really enjoyed playing her, but sometimes I think that we only see one side of her, which has been primarily the unhappy housewife. When I was originally cast, Ryan told me that she was the heart of the piece, and I think what he meant by that was that Julia is the one who internalizes the emotions that the rest of the characters on the show feel: the anger, the joy, the pain, the disappointment. So, I've loved the lighter moments, also. The big, dramatic scenes have definitely been the heaviest I've ever played. That's one of the great things about television: you can really do very intricate themes that go on because you have so much time, whereas in film, you just get small glimpses of those things in a two hour time frame.
The portrait of the divorce between you and your husband on the show, played by Dylan Walsh, is probably the most realistic I've ever seen portrayed, either in film or television.
It's funny because for some reason a few of the men who work on the show had a similar reaction to that and there are just a gamut of emotions that you go through. It's such a nightmare. I'm glad in a way, (laughs) that you felt that way, though.
What else has episodic television been like for you?
I think in many ways, maybe not in America, but for Europeans, it's the best kept secret in terms of an actor's job, in regards to going into work every day and having some semblance of structure to your life. If there's such a thing as training, going back to the student thing we were talking about, it's really brilliant, because you spend so many hours in front of the camera, and you get so relaxed, but at the same time, you have to force yourself to stay sharp, and fresh, and excited and always come up with new approaches to the material. It sounds so ridiculous when you're an actor to say that it takes a lot of guts or nerve to hold it together, because a lot of people think that an actor's job must be so completely easy, but when the whole crew is waiting and you've got four pages of dialogue to remember, and if you blow it, everyone's just groaning, the pressure is just enormous! I don't know how public speakers do it. I would be an absolute disaster as a public speaker. (laughs) The one down side would be that you never know what you're signing up for in the beginning. You have no say what happens in the beginning when you sign up, and you're really in someone else's hands. That said, I think it really is the second golden age of television. I know that in every country right now there's this incredible boom of reality shows, but the drama and comedy shows that are on right now, especially on the cable channels, are really fantastic.
Let's talk about your background. First off, your father Tony Richardson is one of my heroes. He brought such realism and honesty to the entire canon of his work that he directed, that when you watch them today, they still feel contemporary in many ways.
It was nice because at the photo shoot for Venice a couple days ago at Greg Gorman's studio, Greg had shot some photos of my dad, and he gave me a couple of black and white prints. It's really lovely when people come up and pay you compliments all these years after he died. It's so lopsided in a way that my mom was so famous obviously, that people kind of forget about my dad, and as an artist, he was completely up there with her, if not more so. At the time, he was very much part of inventing of whole new era in film.
He really took a page from the Italian neo-realists and put it through his own filter. If you look at Tom Jones, there had never been a period piece shot like that: with handheld camera, natural light, and actors with no make up! Even 42 years later, it still has a rawness and an immediacy to it, like it could be a new film.
Yeah, I remember him telling stories about that, when he said "I really don't want anyone to wear makeup." And they'd say "Yes, yes, yes, but..." And he'd be like, "No. I really don't want makeup, and I don't want hairspray, either!" (laughs) It was really strange, because when I was growing up, being a teenager and all that, I saw some of my parents' work, probably more of my mom's, and it wasn't until after my father died that I went back and saw a lot of the films he'd made before I was born, or when I was very small. And that's when you want to ask all the questions, and of course, it's too late.
When you were growing up did you and your sister have a sense that you were perceived differently because your parents were both celebrities?
I think in a way we did. The ironic thing is, the older I got, I realized how universally across the board, we're all the same. And that's the great joke, that we all think we're so unique, when we're not. But certainly when I was younger, I think I did. I don't think I liked it. I hated being aware that I had to be careful in what I did and said. I was aware of the press, even though it wasn't like it is now. It was a different sort of responsibility for a child. It also made me very aware of people's projections on us because of who our parents were.
Your mom was a controversial figure in those days.
Yeah, but I meant on a more basic level. With friends saying "My mother said your mother did this, because it was in the paper." It wasn't on a political level, because I didn't have a sense of that, as a child. Even in my early teens, I really wasn't interested, probably because she was a single parent and we didn't have that family set up where we'd all get around the dinner table at night, so I didn't know about the politics. When you're a kid it's all about you, and your friends and interests. What your parents are up to is completely boring! Hence, why I didn't see my dad's films until after he was dead. It was interesting, though, that even at that young age, I had that gut reaction, the one that goes back to that old saying that we can criticize our parents or family members, but the minute anyone else does, watch out! It was like that. It was a real dichotomy to me. People's projections usually involved them imagining what my life was like, when the reality was so different. My mother gave away all of her money, which I really respect her for. She funded a little nursery school where we lived, and any big money she ever made was given away to schools, political causes, and so on. And this was a blessing, in retrospect, that we didn't have a privileged, silver spoon upbringing. And that perception was so far removed from reality. But if someone wants to believe something badly enough, there's little you can do to stop them.
When did you know that you were an actor?
You know, when I look back, or when I'm having a bad day at work now (laughs), I think 'My God, I've been doing this since I was five years old!' Maybe the first time I got a paycheck for acting, for about sixty pounds, in a little theater company, I had my first concept of being a professional actor. But prior to that, it was just always something that Natasha and I did, and was part of our lives: doing plays, and reading. It was everything I knew.
You were raised by your mother, right?
Yes, and actually when we'd visit dad on holiday, his life was a very different environment: he was always surrounded by actors and other filmmakers, journalists and musicians, whereas my mom was very private, and then it was just us and the television. (laughs) We were TV kids, part of that generation.
You came here, to Ojai, for boarding school as a teenager, right?
Yes. Dad moved over here and Natasha and I fell in love with American culture via the television. Now, looking back on it, maybe there was some deeper need to break away and get away from London. 14 is a pretty young age to decide that, consciously or unconsciously, I suppose.
Do you consider yourself an honorary Yank?
It's certainly been a big part of my life. Where we come from forms us, though, and I've never felt that I will shed that, no matter how much time I might spend some place. But is America a big part of my life? Yeah, absolutely.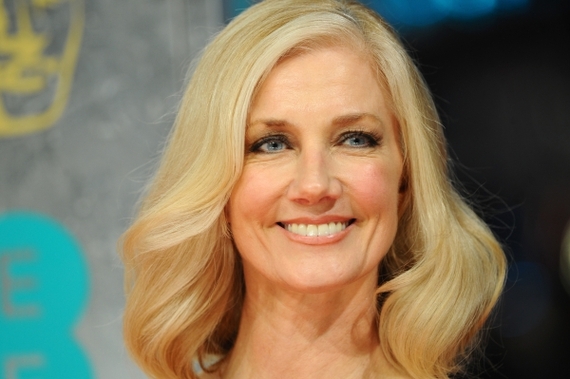 Calling all HuffPost superfans!
Sign up for membership to become a founding member and help shape HuffPost's next chapter