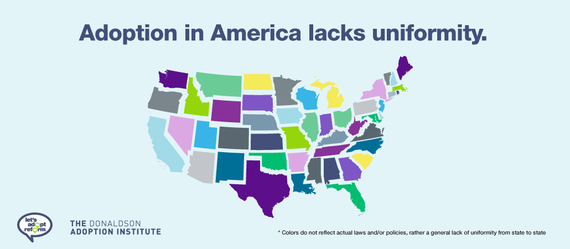 As temperatures soared in many parts of the U.S. these past few weeks, the campaign trail heated up. Amid the fanfare of each party's national convention, Hillary Clinton and Donald Trump have been officially announced as candidates for President of the United States of America. On many levels, this is a unique and historic election year. But within disparate party lines and unique backgrounds, there is one universal aspect of our humanity that each party, in different ways, has and will incorporate into their political agendas - family.
As each candidate offered perspectives of their respective platforms from the convention stage, The Donaldson Adoption Institute (DAI) issued their own platform for needed changes in an important, and not so niche, area of American family life - adoption.
According to public opinion research commissioned by DAI and conducted by J. Walter Thompson's Research In Kind, around 60% of Americans have some connection to adoption through either a family member or friend. We are an expansive and diverse group of people who often face difficulties because the laws and policies that guide our adoption experiences are as disparate as our community. Lack of uniform laws, regulations and consistent standards, coupled with a lack of education, can leave children vulnerable and parents and professionals unprepared.
In this same research, DAI discovered that the majority of Americans rank fixing the adoption and foster care systems very high on a list of national priorities, and there is also broad agreement among Americans that we need to increase funding and support for families who have experienced adoption. The constituents have spoken, and adoption is a critical issue that is on their minds. We now need to ensure it is on the minds of policymakers who can influence the practices that impact these families.
A commitment to families is espoused in political platforms, although contrasting solutions are offered. An entire day of the Democratic National Convention was themed "A Lifetime of Fighting for Children and Families;" the recently released Republican platform includes a segment on family as one of the key institutions in the United States. The reality is policies that have not been critically examined in years and/or quick fix policies that don't account for the complex realities of families today don't serve families, communities or our country.
Policies and practices that may needlessly separate families will never be in anyone's best interest. Policies that limit opportunities for children to join potentially qualified families by evaluating parents based on their sexual orientation will never be in anyone's best interest. Partisan politics should have no place in a conversation about what strengthens children and families, yet too often this is a dialogue that devolves into the kind of ideological rhetoric or religious hypocrisy that is not in the best interest of the vulnerable children adoption is intended to serve.
Ultimately, families will be stronger when the diversity they represent is celebrated and when they have the economic and social supports necessary, not just to survive but, to thrive. In adoption, this means that processes and practices are ethical, parents and professionals are informed, and the best interest of children is at the center of any decision making. When this is achieved, the extended family of adoption can be a model for a truly evolved definition of family.
Healthy and happy families are the bedrock of any society, and ultimately the foundation of humanity. For those who form their families through adoption, foster care or donor origins, the challenges they face will be unique, yet the essence of the family experience is universal. The reality is, family is family, regardless of how they come together.
The notion of one "typical" kind of family no longer exists. Today's family can be formed in a multitude of ways including moms and dads, grandparents raising grandkids, a blending of races and cultures, and an extension of different families. Ensuring strong families is more complicated and necessary than ever before. Strengthening families must become a national priority, and for those of us who live the experience of adoption and foster care, it is critical that the conversation shifts to ensure that adoption, when in a child's best interest, is safe and healthy.
DAI has laid out a path to reform that, among other areas, includes greater education so the public better understands the issues impacting the adoption and foster care communities, advocacy efforts to ensure policies incorporate a broad definition of modern families and are exceeding the needs of our diverse families, and a multi-system approach to engage professionals in the many spheres that interact with families and kids who have experienced foster care and adoption, such as schools and medical facilities.
What I have learned as a transracially adopted person, daughter, professional, mentor, friend and human being is that the willful ignorance must end, and we must do so much more to protect and support children and families experiencing adoption and foster care. Ultimately, what we do to support and protect the families that need the most help can be supportive for all families.
We urge our politicians to join us in our path to adopt reform. Yes, we are "stronger together." And if we want America to be "great again," this must start with strengthening our families. Strong families build strong communities, and strong communities make a better world for all of us.
REAL LIFE. REAL NEWS. REAL VOICES.
Help us tell more of the stories that matter from voices that too often remain unheard.